Some of the greatest inventions of all time have been accidents. Ivory soap, the microwave, penicillin, and The Bottle Bro are all some examples of lucky creations. What might the single greatest discovery in adult beverage opening and lacrosse technology; all came about by chance. The founder, Alex Witten, who I was lucky enough to talk with, made the original Bottle Bro out of a broken old shaft. Instantly Alex knew he had a useful tool for himself, but he didn't suspect he had stumbled upon a magnificent creation for all that'd become a comapny.
The idea behind The Bottle Bro goes deeper than opening bottles, it is a way to connect players to the game they love. It's the same connection Alex and I discussed as he drove to play at the Lake Placid classic. A connection that we all feel within the lacrosse community between a player and their stick. That special connection is one that you formed from having a stick in your hand for so many hours while practicing the game you love. It's also the half-smile and handshake you receive when you meet someone who played lacrosse and you have a common friend or randomly played each other. Lacrosse is a community of connections and friendships that make the game so special to us as players, and without that connection to your stick and the game it just wouldn't be the same. That's where the Bottle Bro gives you a friendly reminder of the game we all love. Did I also mention it opens bottles really easily?
The Bottle Bro Isn't Your Bro, It's Your Friend
Obviously, the main purpose of The Bottle Bro is to open bottles and they understand that most of those bottles contain beer. It is also obvious that lacrosse has an unfortunate history with alcohol that has tarnished the sport's good name. Bottle bro is very aware of this reality, and luckily the company is very against alcohol abuse and irresponsible consumption. The vision of the Bottle Bro is one of connection with a game that we all know and love. I am incredibly thankful that Alex was able to better explain their mission and values to me. As an outsider, I see where their company can attract some negative attention, but they are as good as they come.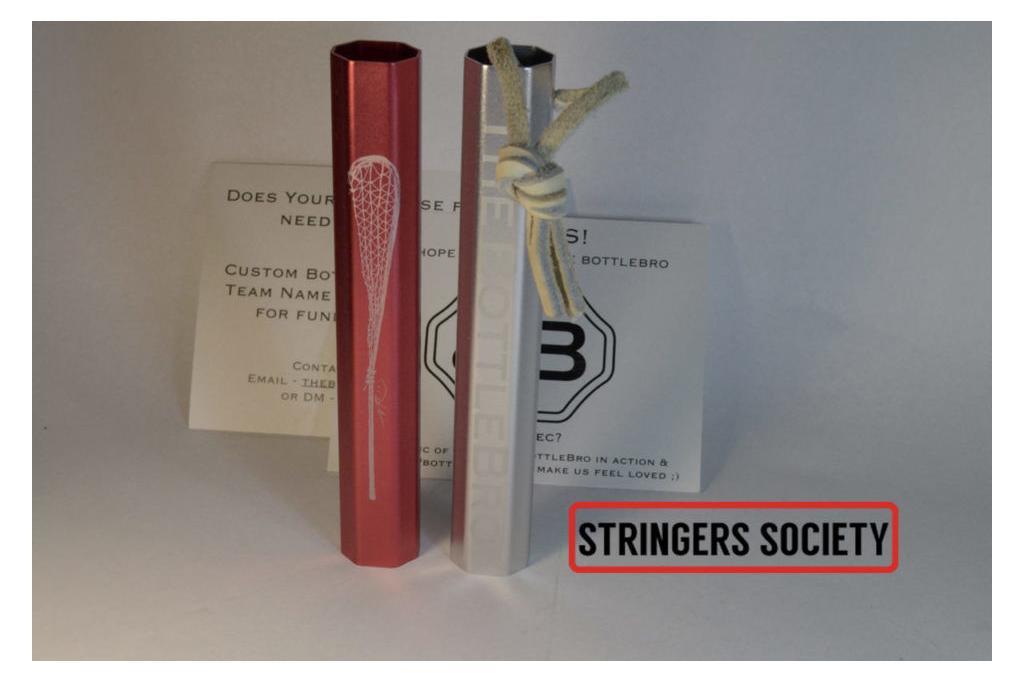 Bottle Bros Open Up More Than Bottles
Lacrosse is what Alex Witten knows. He lives it, breathes it, and loves it. Alex even went far enough to credit all of his success and well being to the game and what it has taught him. He is not only a coach and player, but he is a student of the game. I don't mean that Alex is a big X's and O's guy, but rather that lacrosse has taught him life lessons he uses all the time. This includes looking out for those within the lacrosse community, being a better person than others are to you, and always respecting what deserves respect.
Alex has taken these lessons and applied them to his life to become the man he is today. He created The Bottle Bro Lax on accident but he has devoted himself to it greatly, exactly like many lacrosse players. It's unfortunate that lots of players late in their athletic career, and there are even more people that wish they played. I know and meet so many people who never had lacrosse available to them but are still fans of the game. Bottle Bro gives them a way to connect with lacrosse or remember the times that they had playing while enjoying a brew.
Bottle Bros are also a perfect tailgate toy and conversation starter. Tell someone about what it is and you can excite more people about lacrosse or spark their interest. Is the Bottle Bro the perfect bottle opener? I haven't tried them all, but for now, it's my favorite. Is the Bottle Bro the perfect way to remember the game we all know and love? Absolutely.
Bottle Bro Lax is for the Boys (& Girls)
Along with having a fun backstory and a nostalgic feel Bottle Bro Lax also has a great fundraising program for teams. They offer custom Bottle Bros you can sell to help with equipment or travel. This is not only great for you because you can get one for yourself; but, you can also help coaches, parents, and age appropriate players get them too. Lots of parents want to spend the day enjoying the game and a tailgate beforehand can always use some Bottle Bros. This can also be a convenient gift for any fan of your team.
The best part is that you will be helping your team the whole time. New uniforms or a spring trip can be taken care of in no time all thanks to Bottle Bro. Along with the great work they do helping teams fundraise, Bottle Bro Lax also works with the military. Alex was really adamant about how much he enjoys helping people with lacrosse and the Bottle Bro allows him to do that. As a coach, and a player, Alex is always connected with players and meeting more people in the community. Like I said before, doing more for others is just Alex's way. His connection with the lacrosse community is the driving force for the company, so why not do right by it?
For All That Is Bottle Bro Lax
Bottle Bro Lax has an Instagram, Twitter, and website that all can help you find out more about them. For any custom orders be sure to contact Alex and make a new friend. Any problem you have in the bottle opening realm can be solved with a Bottle Bro. I guarantee that fact. I'd recommend the Art Of Lax edition if you aren't buying custom because it features some amazing art from Vinnie Ricasio. If you have any questions I'm sure that Alex will be able to help you out. If you have any doubts, don't.