Best Lacrosse Goals
Ever been an avid lacrosse player? If so, you know how nice a well made net or goal can be. Being able to quickly and easily set up your net before the game starts is crucial. In this article, we'll provide a list of the best lacrosse nets and goals, to purchase for your team or to use at home!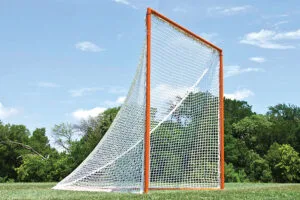 How to Buy a Lacrosse Goal
Buying a lacrosse goal is like buying a pair of shoes, -if you don't buy what's best for you, it will be an uncomfortable process. Check out the lacrosse goals we have below that are separated into categories so you can easily find the best lacrosse goal for you. Once you know which category of lacrosse goal will work for you, do your research with our helpful links.
Lacrosse Goal Types
The main difference between backyard lacrosse goals and practice lacrosse goals comes down to a couple different factors including the thickness of the lacrosse net and the ability for the goal to fold.
Lacrosse practice goals have thicker nets because they receive far more shots than backyard lacrosse goals. Conversely, backyard lacrosse goal frames a little weaker than practice lacrosse goals and are foldable for storage at a home.
Lacrosse Goal Dimensions
Lacrosse goals come in two sizes for two different versions of lacrosse. Most of the lacrosse that is played uses 6 x 6 lacrosse goals, they are also known as field lacrosse goals.
Some forms of lacrosse, primarily indoor box lacrosse, use 4×4 box lacrosse goals. These are the two varieties of lacrosse goal sizes used in professional lacrosse leagues, as well as 99% of all lacrosse played today.
Lacrosse Goal Price
In our lacrosse goal guide research, we found that the average price for a lacrosse goal depended on the type of lacrosse goals, the lacrosse net, the quality of steel, and the size of the lacrosse goal.
We were able to categorize goal types by four main categories – 4×4 box lacrosse goals, 6×6 backyard lacrosse goals, 6×6 lacrosse practice goals, and 6×6 lacrosse game goals. Jump to the Average Cost Per Lacrosse Goal
How much are Lacrosse Goals on Amazon?
Average Price for a 4×4 Box Lacrosse Goal was $96.
Average Price for a 6×6 Backyard Lacrosse Goal was $131.
Average Price for a 6×6 Lacrosse Practice Goal was $120.
Average Price for a 6×6 Lacrosse Game Goal was $472.
How big is a lacrosse goal?
4 x 4 – Box Lacrosse Goals
6 x 6 – Field Lacrosse Goals
What are the types of Lacrosse Goals?
Box Lacrosse Goals
Backyard Lacrosse Goals
Lacrosse Practice Goal
Lacrosse Game Goals