My name is Dominic Veloso, and I am a 2024 Goalie and three-sport student-athlete at Gulliver Prep in South Florida. I want to be a part of a championship culture that strives for high standards in academics and athletics. I aspire to be one of the very best ever to play goalie and understand the sacrifice that is required and necessary that leads to future success in the classroom and on the playing fields.
Dominic Veloso Lacrosse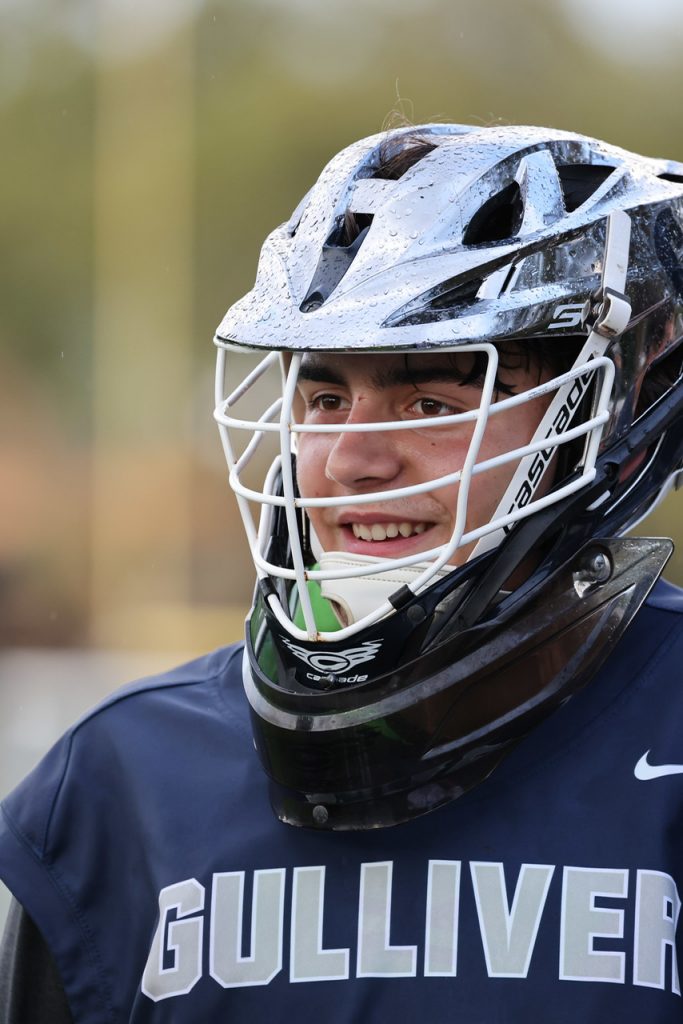 This year I attained a 5.0 GPA in the classroom while competing in Varsity Football, JV Basketball and Varsity Lacrosse.
My save percentage was 72.95% and Goals Against Average was 4.71. I can provide a list of references that speak of my character, ability, intangibles and coachability.
I look forward to learning more about your program and for you and your staff to get to know more about me. Thank you for your time and I look forward to connecting when the opportunity permits.
You can contact me at: domveloso@icloud.com and View My Transcript Here
2024 Lacrosse Recruit, Lacrosse Goalie, South Florida
Furthermore, here is an article from a recent event Dominic attended, The UND1SPUTED SHOWCASE, in Long Island where he was selected as an All-Star. He was also selected to the Call Back game for the Under Armour All-American South Region tryout earlier this summer in Tampa.
Dominic Veloso Summer Circuit – June 2021
The Under Armour Underclass South Region Tryouts – Tampa, FL (6/4)
The UND1SPUTED SHOWCASE – Old Westbury, Long Island – (6/6)
11th Lacrosse Masters Boys High Academic Summer Prospect Camp – Avon, CO – (6/7-6/8)
US Lacrosse National Team Development Program Southeast Regional Tryout – Atlanta, GA – (6/11)
Lacrosse Masters Summer Prospect Camp – Bel Air, MD – (6/14-6/15)
Tar Heel 100 Prospect Day 1 – Chapel Hill, NC – (6/22)
Sweetlax Summer Showcase – Webster, NY – (6/25)
2021 Sweetlax Summer Invitational Tournament – Webster, NY – (6/26-6/27)
2021 Legacy Summer Invitational Tournament – Devens, MA – (6/29-6/30)
Dominic Veloso Summer Circuit – July 2021
2021 Summer Sizzle – Baltimore, MD – (7/10-7/11)
Johns Hopkins Radar Camp 2 – Baltimore, MD – (7/12)
2021 UPenn Quaker Prospect Experience – Philadelphia, PA – (7/13)
The University of Michigan Top Prospect Camp – Ann Arbor, MI – (7/14)
Great by Choice High Academic 1 day Showcase – Hanover, NH – (7/19)
Future Phenoms Newport College Combine – Newport, RI – (7/20-7/21)
The 2021 Goaliesmith Experience – Columbia, MD – (7/22-7/23)
Lacrosse Masters 3rd Annual Boys D1 High Academic Philly Prospect Camp – Haverford, PA – (7/26-7/27)
Lacrosse Recruiting
View the entire guide on how to get recruited.