HPLax Power Lace: The Strongest Lacrosse Sidewall in the game
For a couple months now, we've been testing the HPLacrosse Power Lace sidewall lacrosse string. This product is impressive right out of the package and built to last. There are some things that I don't love about HP Lacrosse Power Lace, but we'll discuss that later.
Advantages of using HpLax PowerLace
With a guarantee that its the strongest current (as of Nov 27th, 2017) lacrosse sidewall, players can expect HP Power Lace to last. We will keep you updated on if our's breaks, but I'd imagine several seasons will go by before that.
Players who string very strategic lacrosse pockets like That Kiwi Guy will be huge fans of HPPower Lace. Imagine stringing your sidewall with StringKing shooting cords, you can achieve much tighter stringing and precise placement. That's what it's like using this lacrosse sidewall string from HPLax, every knot can be perfectly placed with the diamonds attached to the sidewall.
Players who don't change their sidewall patterns often will love the consistency of HP Power Lace. There are a few kids I have strung sticks for since they were in fourth grade (now college), who practically never adjust their own stringing and instead just give it to me. Usually, every few months I will be asked to tighten their sidewalls due to the string slacking. HP Lacrosse Power Lace sidewall will eliminate this problem because if strung properly it'll never need any adjustments.
Longer lasting and more consistent lacrosse pockets for everyone! Anyone who strings will enjoy how easily they can create consistency. You can reuse HP Power Lace in different patterns and always get a constant result.
Disadvantages to HPPower Lace Lacrosse Sidewall?
$29.99 for a 25-yard spool of power lace is a bit steep. Normal lacrosse sidewall retails at $20.00 for 100 yards and will clearly get you more sticks strung. Now, you can also buy 50 yards of HP Power Lace for 48.99 and get a slightly better value. Unfortunately, you're getting a fourth of the material and paying an extra ten dollars, so it's a player preference choice. This seems steep, but they are a new company that is likely trying to cover their initial investment. I wouldn't be surprised to see lower prices later when they're more established. They also use feet on their website instead of yards like most other suppliers. This could confuse consumers into thinking they are getting more than they are, but converting is your responsibility as the buyer.
While being able to string very tight knots is a positive of HPLax Power Lace, it's also a negative. If you're like experimenting with stringing like me, unstringing and restringing this sidewall can be difficult. The knots can be hard to undo and the lace doesn't burn like traditional sidewall. It instead bubbles and hardens quickly, making it a pain to get through sidewall holes.
Concluding Thoughts on HPLax Power Lace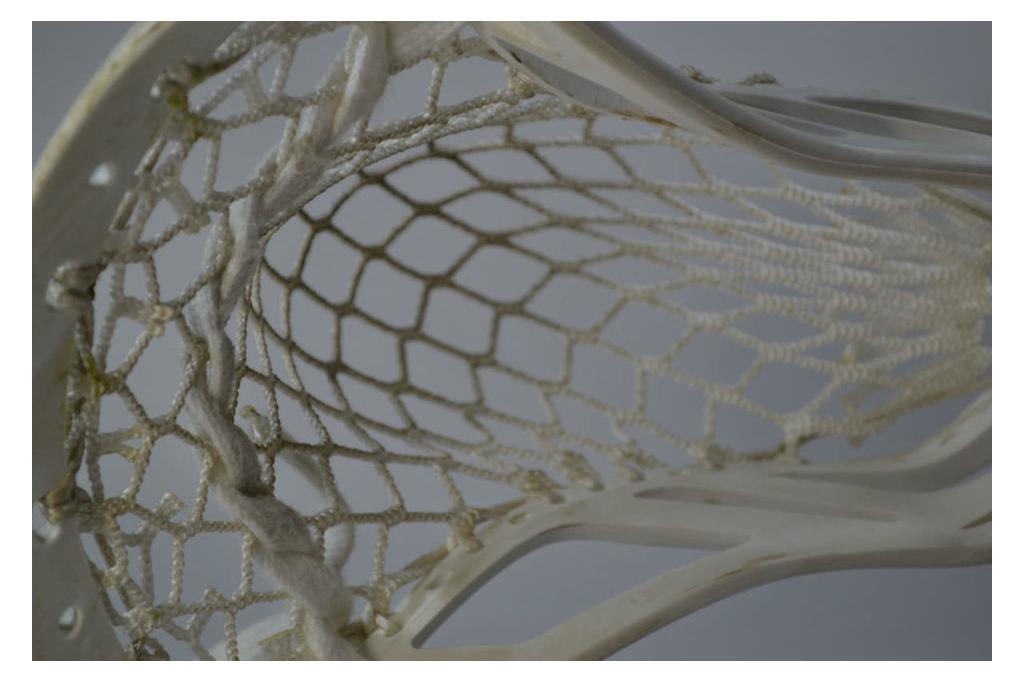 Admittedly, the quality is there with HPLax Power Lace sidewall; but, it's all about your stringing budget here. With such a high cost, I can't see myself keeping a lot of this on deck. I love being able to use it for my stick, and select others, but it's not an everyday material. To be fair, I don't think HPLax Power Lace is an everyday material compared to other strings and it's clearly a step above in longevity; however, it's not a product for all players at this point.

Experienced stringers, elite level players that know what stringing the like, and teams looking to order in bulk are going to get the most out of this product while others will be turned off by the price. In my opinion, if it were even $20 for the 25-yard option and $40 for a 6o-yard these would be a much more accessible option for all players.