The lacrosse market is saturated in many areas where it seems that lacrosse companies are just piggy-backing off of other's ideas, but Sidewallz Lacrosse is able to shine through the shroud with their custom lacrosse heads. Lacrosse style preferences shift back and forth from loud and colorful to clean and monotone every ten years or so, which means lacrosse companies have to adjust with trends. And we normally see that with retro lacrosse gear never failing to eventually come back into being "cool" again. Sidewallz Lacrosse has found a way to subvert the cyclical nature of trends by offering complete customization on their lacrosse heads that puts the player in control. With only your own imagination limiting the possibilities, Sidewallz Lacrosse custom lacrosse heads are and endless frontier for lacrosse creativity and style.
SIDEWALLZ LACROSSE CLOSED
DECEMBER 15, 2021 – Sidewallz Lacrosse announced that they closed.
Custom Lacrosse Heads Made Easier – Sidewallz Lacrosse
It's frustrating to have a great idea inside your mind and then not be able to execute that idea in real life. Obviously, imagining is easier than doing, but maybe imagining is now all that it takes to get an unbelievable lacrosse head that's sure to get attention anywhere when you choose Sidewallz Lacrosse. Their site now has a complete customization station that allows you to design your own lacrosse head and see exactly what it will look like before you get your hands on it. All it takes is about fifteen minutes, and a little creativity, to get your own custom lacrosse head that you designed all on your own.
Making A Custom Lacrosse Head With Sidewallz Lacrosse
Luckily for us, Sidewallz Lacrosse has made the entire process of getting a custom lacrosse head super simple. The first decision you need to make is deciding between the Offense 2.0 or the Defense 2.0 lacrosse heads, which have different designs for either speed and accuracy or strength and dominance. But once you know which Sidewallz Lacrosse head will suit you best, you just need to think of the design you'd like and put it into the customizer.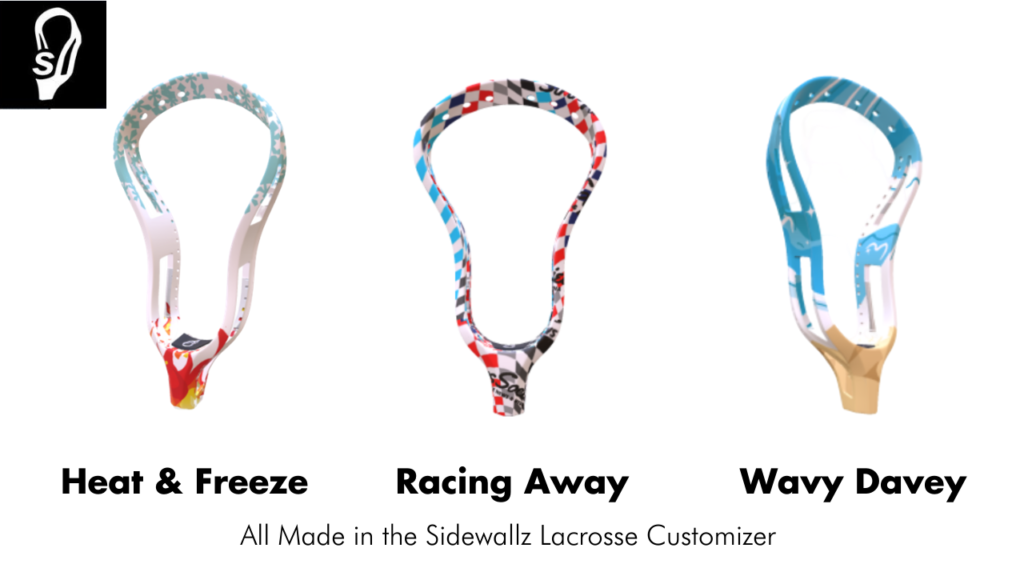 You can start with one of the pre-loaded Sidewallz collab or club designs or create your own design and upload it to the customizer. Any design program like Photoshop, Illustrator, Gimp, or Canva will let you create a design that you can then adjust and fit to your Sidewallz Lacrosse head within the customizer so there's no question about how it will turn out. This lets you see exactly what your brand-new custom lacrosse head will look like before you buy it, and you can make sure you'll be getting just what you want. All in all, the process is very simple and user-friendly for anyone who has basic design skills or can operate a computer. And I haven't had any problems with bugs or a lagging program, which says a lot about the work that went into this. Even the big brands out there have issues with interfaces like this, but Sidewallz Lacrosse has a smooth operation that will make customers feel very comfortable.
Custom Lacrosse Heads Without the Dye
The Sidewallz Lacrosse customizer reminds me of the NikeID (now Nike By You) customizer that's both interactive and addicting. I could spend all day talking about, or just using, the program and how it allows you to bring your ideas to life in real time. It lets you work with your design on your own time and without any materials, which is a huge plus over dying a lacrosse head. Don't get me wrong here; dying a lacrosse head is a lot of fun, but ruining a lacrosse head while dying it is very easy to do. And nothing's worse than making a mistake with a brand new lacrosse head. Thankfully, Sidewallz has blazed a trail for the future of custom lacrosse heads.
So say goodbye to messing with cutting out vinyl to dye your own lacrosse head, and say hello to a custom lacrosse head that only takes minutes to create. And at $139.29, a Sidewallz custom lacrosse head is very competitive with custom dyes on brand-new lacrosse heads. It seems like the convenience factor of the Sidewallz Lacrosse head customizer really puts this idea over the top for me because you can truly be the designer, and that's really what makes a custom lacrosse head so much fun. I'm looking forward to seeing what else Sidewallz Lacrosse has up their sleeves, because new lacrosse heads are supposedly coming soon; and if they're anything like this new customizer, they're sure to be a hit!