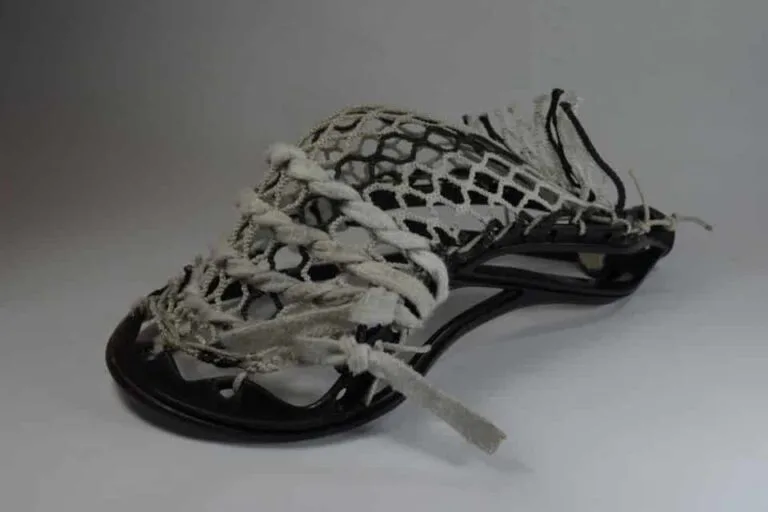 Is just plain lacrosse mesh that is coated or infused with wax at a low temperature. There are multiple types of wax that can be used, such as microcrystalline, paraffin (refined or fully refined) or beeswax. There are two main sizes of wax mesh which are 15 & 20 millimeter. The majority of most lacrosse mesh is 15 mm, which Greg from East Coast Dyes describes as the standard diamond size for the majority of players.
On the other hand, 20mm lacrosse mesh is something that you don't see as much, especially at the younger level. Due to the larger diamond sizes, it typically is harder for a beginner player to string, but provides many benefits if strung properly. I never really saw many players using 20mm wax mesh until I started playing in college. Since then I have become a big fan of 20 mm.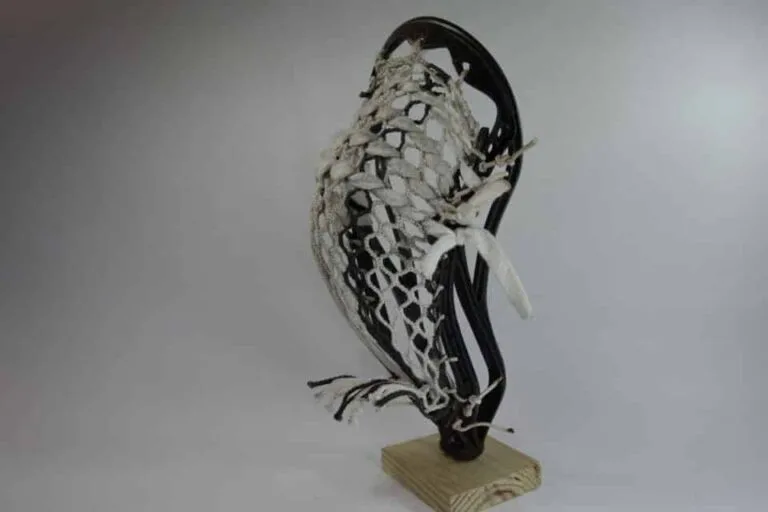 Advantages to Wax Lacrosse Mesh
Wax Mesh can either be soft or hard. It is a mesh that has been coated in wax (often beeswax) that gives the mesh a tackiness that can improve the way that the mesh grips the ball. Much like Hard Mesh, Wax Mesh is very good for all types of weather because water does not saturate the mesh. This means more consistency during play, but with added hold and whip in most instances.
More whip and hold can translate to being a huge threat with the ball. Being able to hold onto the ball better means fewer turnovers and more opportunities to make plays. The wax on the mesh also can improve shot speed because it creates resistance against the ball, turning into a harder release and faster shot.
Disadvantages to Wax Lacrosse Mesh
While Wax Mesh can increase the hold on your stick and can also add to the whip, this doesn't mean it will always improve those parts of your game and it can hurt some player's game.
Increased whip is not the answer for any offensive player that is trying to be a quick release feeder. The waxiness of the mesh can limit the quickness of your release and also can mean a downward throw with an "un-true" release.
Having a "true" release is often desired by many players and those looking for that release should likely stay away from wax mesh because it creates an altered throwing motion in most cases to account for the inherent whip that the mesh causes. This also doesn't even bring the stringing of the mesh into account.
Stringing Wax Mesh can be a difficult task to ensure a smooth release (if that is the desired result), but another issue the comes from stringing Wax Mesh is how it can cling to the sidewall. The waxiness of the mesh means it is sticky and can cling to the sidewall in ways that you don't want to over time and after play. While adjusting you stick after playing with it is normal; the bagging out, sticking, and shifting of this mesh can all create problems if not maintained well.
What Players Should Use Wax Lacrosse Mesh?
Any player that craves superior hold should consider Wax Mesh because they can get the hold they want without using lots of shooters or an overly tight channel. The mesh will do the work rather than the stringing, which means more consistency and fewer errors.
This is the same deal with whip which can be gained with shooters or a channel, but Wax Mesh can provide a "natural" whip. A "natural" whip will not be as severe as whip that you string purposely and just adds a little more mustard to your shots and passes. AIM HIGH WITH WHIP! ALWAYS!
Since there are many versions of wax mesh it can be used for many styles of players. More often than not though it should be used by outside shooters, dodgers, players in bad weather, those who need more ball security, and players that enjoy some whip for their wild side.
Types of Lacrosse Mesh
Hard mesh is like a fine wine that takes time to mature into a wonderful pocket. This mesh lasts too. If you look at college or pro players that use Hard Mesh you can even notice that throughout a season they will restring their stick with the same mesh, but different sidewall strings because the mesh outlasts the strings. I have even used Hard Mesh that outlasted the head I put it on, and had to transfer it to another stick.