It is hard to say if we are in the future of lacrosse mesh. Because we are living in a time when the mesh is advancing greatly, yes. But also no, because many of the advancements are not the future; just part of it. Instead, it is more correct to say that they are stepping stones on the way to the future. And I believe we are close.
Well, Are We in the Future of Lacrosse Mesh? The Warp, Channel Mesh, & Phantom Pockets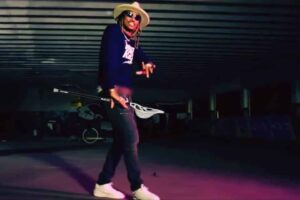 To no one's surprise, Stringers Society isn't the only group in the lacrosse industry making major advancements. Companies like Warrior, Channel Mesh, and Phantom are all striving to make the next big step in lacrosse stringing. These companies are doing so by introducing new mesh and mesh alternatives for consistency. These products may seem foreign and different, but it is because they truly are different. The technology is these products is not only pushing the limits of product innovation, it is changing how we will approach stringing.
---
Channel Mesh U Lacrosse Pocket
Channel Mesh is our first company and their flat knitted "All-Weather" mesh is gaining lots of traction. Channel Mesh provides the player with three options of Channel mesh products: Channel Mesh U, Protech mid-low pocket, and Protech mid-high pocket. All three options are made with a hydrophobic yarn that repels water and allows for the "All-Weather" play. All three are also NCAA/NFHS legal. The difference in the pieces is the diamond size and placement that varies from Protech to Mesh U. Protech has bigger diamonds that resemble the style of The Warrior Warp. This Protech style was embraced by the MLL and pros will be using it during the next two seasons. Now Channel Mesh has established themselves as an MLL partner and we expect more great things from them.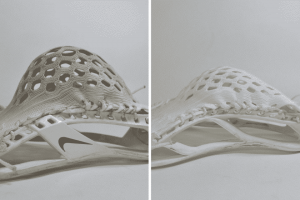 Just like regular mesh, Channel Mesh requires stringing. This requires some stretching of the mesh (again similar to regular mesh) and a pattern to attach it with top string and sidewall (see previous parentheses). Shooting strings are not necessary but are an option, which makes the mesh different from most brand's meshes. The ProTech pieces offer more customization than the Mesh U when it comes to stringing; which is slightly addressed on their site. More examples of Channel Mesh stringing are needed so players can use it to its full potential. This is a problem because players that get Channel Mesh are getting frustrated with their results. If they understand how to use it to its full potential it is a consistent and reliable product for the All-Weather player. If not, they're at a loss.
While Channel Mesh may not replace regular mesh it does offer an interesting option. It also could be a pioneer in the fight against rain, sleet, cold and heat. I believe many other companies will be changing to experiment with alternative weather resistant materials much like Channel Mesh. I also believe that more companies will experiment with mesh that incorporates varied diamond sizes like Channel Mesh, ECD Vortex, and The Warp.
---
Warrior Warp Lacrosse Pocket Overview
The Warrior Warp is next on the list. Warrior Lacrosse claimed to be changing Lacrosse forever with its release of the Warp and since then they have tweaked it due to resistance from the community. The steep price of the initial release and the versions for advanced players deterred people from buying. This was not the only issue, as The Warp is also very different looking and the only head I've seen that incorporated mesh into the product since this: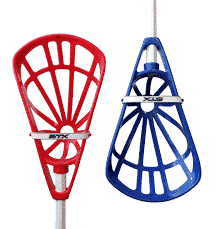 Despite initial pushback and some problems getting people on board The Warp-train, it is getting significantly more use as a NCAA/NFHS legal product, as well as a pro used product.
Warrior Warp Lacrosse Head Models
The Warp currently comes in several different variations for advanced players. There are two lines of Warps: the Warp H's and Warp S's. Each line has a high, medium, and low Warp to fit the needs of the several styles of players. The two lines also offer different benefits for these many playing styles. The H's resemble the feel of hard mesh with a short channel, and the S's are soft and long channeled. Both lines are made up of Kevlar and polypropylene and offer weather-resistant performance. There is also a cheaper option just released at $180 called the Evo Warp Pro.
This model is being pushed by Warrior Pro Rob Pannel and it incorporates much of the same technology. This option comes in two choices of a low whip or high whip. As mentioned before, The Warp features large diamonds of varied sizes which are similar to channel mesh. I believe these diamond sizes will be seen more in the future because they increase consistency and allow for less variability.
There is also the option of buying The Warp Next for a newer player at the reasonable price of $100. This is a great choice for a younger player that needs a consistent stick for learning. This could eventually become a staple in teaching fundamentals to players. If all players have sticks that allow them to perform then they will have to adapt to become better. This also reduces the trouble of not knowing how to maintain a stick or string one as a young player.
The Warrior Warp might not be the exact future of lacrosse mesh, but I do believe it has a place in the industry. It is unfortunate that the price is so high and that it was introduced poorly because The Warp is a great product. Stringing is one of the parts of lacrosse that makes it so special and trying to get rid of that is wrong. Customization breeds excellence in my opinion and if Warrior created an adjustable Warp first and then created specialized versions after I believe it would have been more successful. I also think that creating player style Warps similar to how hockey sticks come in specific player curves or how basketball players have signature shoes would create a huge desire to truly have that player's stick in your hands.
One problem with this would be convincing players to abandon mesh and support The Warp entirely. Accepting The Warp is the next major step. Paul Rabil doesn't even use The Warp in games and he is Warrior's premier lacrosse athlete. While tailoring a Warp to their needs could sway them, this would also mean more specificity in the Warp than there already is.
---
Phantom Lacrosse Pocket
The Phantom Pocket from Phantom Lacrosse is the final product and it is a great beginner item. Much like Channel Mesh, it comes separate from the head in one piece that doesn't require modification. Phantom is different from Channel Mesh in many ways though. The ready to use and immediate application sets it apart from many styles of mesh. This product is also attached to the head, unlike regular stringing. It is a very simple process and they even have some attachers in the works. This product is intended to give beginners the ability to learn fundamentals without having to adjust their mesh or deal with inconsistencies. It also is a great product for ground balls because the flat, top area of the pocket allows the ball too easily enter the pocket. The ideal goal of Phantom is to give every player a pocket that works.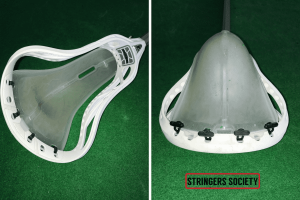 This product also incorporates a hybrid pocket for the benefits of both high and low pockets. The Phantom pocket designed from a 3-D scan of a traditional lacrosse pocket. It even resembles one to an extent. There are ABS support ribs that act like leather runners, with a urethane base to act like cross lace. This design offers the benefits of a traditional, without having to adjust the materials of the pocket. This means a constant feel of consistency to perfect form. The Phantom Pocket is NFHS legal, but it is not currently considered NCAA legal. This isn't an issue as the product is not intended for college use.
The weather consistency and non-existent break-in time make the Phantom pocket a cheaper, but less inclusive, option comparable to a Warp Next. While the Phantom offers some qualities that a Warp Next doesn't (hold, 1 handed cradling, the ability to change head/shaft), it is a singular product that I don't feel consumers (parents) will flock to considering it must be accompanied by a shaft and head. I would say that it is more of a learning product rather than a game use product at this point and I hope Phantom comes and proves me wrong. I don't see this as the future though because it again takes away customization and won't accent player's best qualities. While learning players may see it as a great tool to learn fundamentals and avoid stringing/maintenance, I feel that they will gravitate to alternatives to specialize their game later in their career.
---
So When is The Future of Lacrosse Mesh?
Truthfully…never. Lacrosse mesh will also be a changing field with innovations across the board, but there will never be an "end all be all" product. You still see traditional stringing for the same reason. People will only pick up aspects of new meshes that they see as valuable and continue creating even more ones. Always keep your eye out because there are recent advances all the time, and you never know when something that is going to be YOUR future might be coming out.