There's a whole new way to improve your lacrosse goalie training and development thanks to the convenience of the internet, and the Lacrosse Goalie Summit is the most impressive collection of goalie knowledge to date. Lacrosse goalies and coaches of all experience levels can benefit from four days of experienced speakers with hundreds of years of lacrosse expertise under their collective belt.
Lacrosse Goalie Summit 5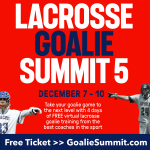 You can learn new ways to improve your training and your in-game performance for free just by signing up for the upcoming Fifth Lacrosse Goalie Summit on December 7th through 10th and 13th. VIP Pass provides lifetime access and is linked below.
Event Meta
Name
VIP Pass "Lifetime Access"
Start Date
November 7, 2021 6:37 pm
End Date
November 10, 2021 6:37 pm
Lax Goalie Rat Puts on An Excellent Display for the Lacrosse Community With the Lacrosse Goalie Summit
Not much is easier than watching videos on your computer, and watching free videos that can help you become a better lacrosse goalie should be an easy choice for any goalie who wants to improve their game. And lacrosse coaches of teams of all ages can benefit from tuning in to some lacrosse goalie training, coaching, and advice videos as well, because goalies are often the most underserved players on the lacrosse field. Many lacrosse coaches have no experience playing goalie, and therefore it's hard for them to relate to the in-game reality goalies face.
But starting on December 7th, anyone with internet access can tune in to the Lax Goalie Rat's 5th Lacrosse Goalie Summit from the comfort of their home or place of choosing. Signing up for the Lax Goalie Summit gets you access to 17 different sessions that are guaranteed to help you become a more knowledgeable lacrosse player or coach. Some of the most talented lacrosse players and coaches to ever grace the cage are stepping out of the crease and onto the mic to drop some facts for you to digest at no cost to you. How could you say no?
Who's Coming to Speak At the 5th Lacrosse Goalie Summit
The guest list this year for the Lacrosse Goalie Summit is fully star-studded, and you won't be disappointed with the cast of characters set to put their tricks of the trade out there for you. The entire summit starts off with a bang, as sole goalie tewaaraton winner Meg Taylor shares knowledge from her tenure as a 4x Big Ten Goalie of the Year award winner and dominant legend for the University of Maryland. That first day is then finished by a man who needs no introduction – the great Scotty Rodgers. Once the Big Rig is done for the day, there are still four more days of amazing lacrosse goalie content to go!
Day two is highlighted by Mr. Wanderful, professional lacrosse stringer Tommy Bruno, who is sure to help point out some of the intricacies of stringing a lacrosse goalie head. This is a can't miss session for any lacrosse goalie who doesn't know how to string their own head, and it's followed by another doozy run by new head lacrosse coach for the Hill Academy, Dave Page. After serving as an assistant coach specializing in goalies at the University of Pennsylvania, Coach Page is now running things for one of the best lacrosse programs below the collegiate level.
The final day of the summit is set off by a few days, but the 13th is sure to be one of the most memorable sessions when John Galloway tunes in. A legend for Syracuse who shined in the MLL and PLL, Galloway is now leading the Jacksonville University Dolphins and spreading his wealth of knowledge for the next generation. But before Galloway finishes off the entire shabang, there are plenty of other speakers you don't want to miss.
The entire list of speakers contains many other experienced collegiate and professional lacrosse players and coaches who have enough drills, techniques, and tips to last you a lifetime. You'll be able to catch the talks at 2, 4, 6, & 8 PM ET from the 7th to the 10th of December, with John Galloway cleaning up at 6 PM on the 13th. And all of the speakers are listed with their times below so you can be sure to mark your calendars.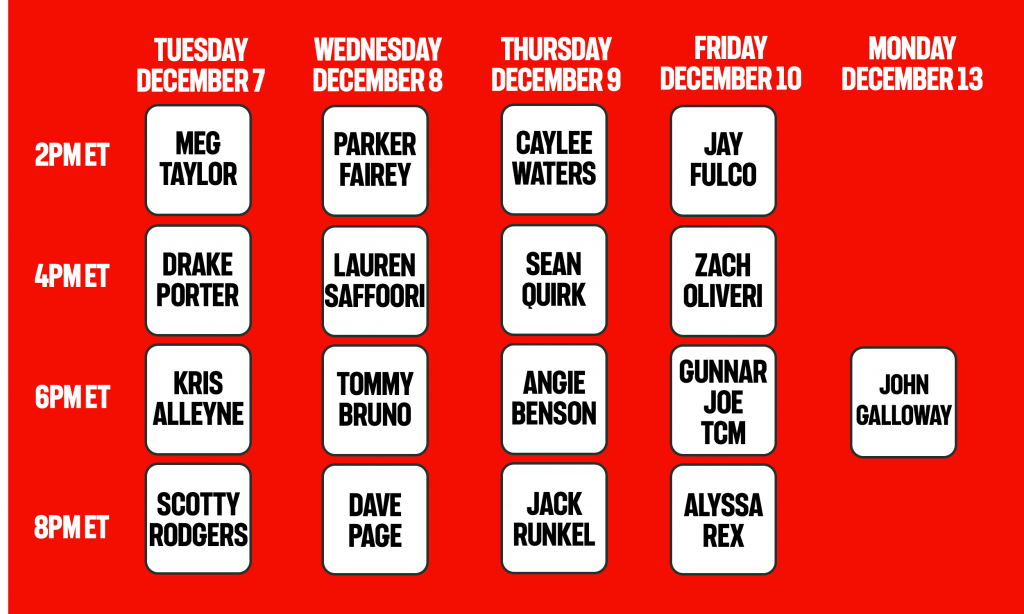 What You Can Get At the Lacrosse Goalie Summit
For the low cost of nothing, you can learn all you need to know to become a better lacrosse goalie or coach than you were the day before. And there are technically five days of the summit, which means you'll get better at least five times. That's some easy math that we can all get down with.
But, in all seriousness, you'll learn at least one thing that you didn't know about being a goalie that can help you or one of your teammates or players during a game. And any bit of help is always welcome when you're a lacrosse goalie, because the difference between a goal and a save can be extremely minimal. That little bit can be the difference between a win and a loss when you're a goalie in lacrosse, and a whole team of players and coaches is ready to help you gain that difference for FREE!
Sign up below and don't forget to make the time to actually watch the talks.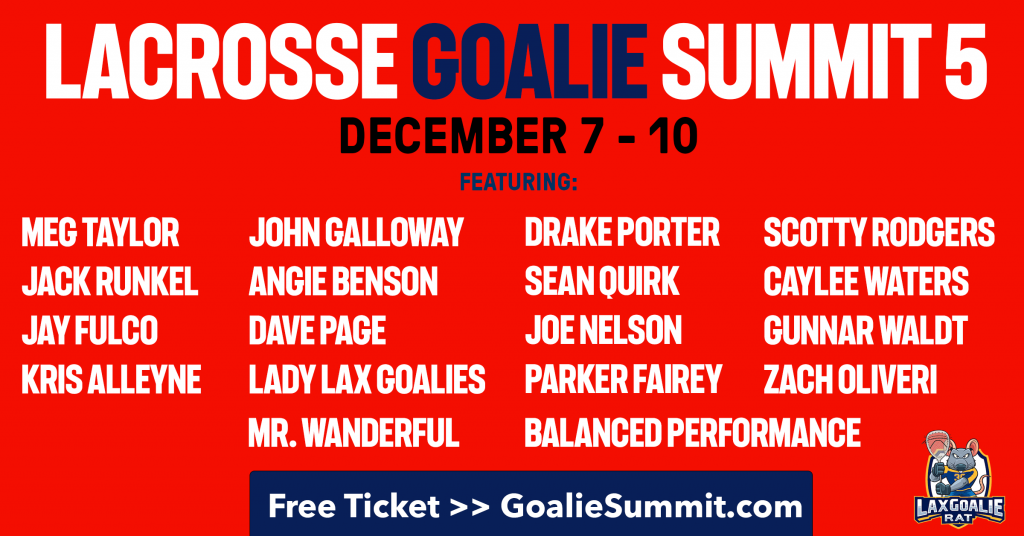 New Lacrosse Goalie Sweatpants
Proudly representing the next generation of lacrosse players and coaches, Jackson Hallman and Stringers Society teamed up to bring you the JH x Stringers Collection. Apart of this collection is our exclusive Lacrosse Goalie Sweatpants which are perfect for suiting up for practice or a game and being the last line of defense for your squad!