Deciding whether or not to play women's college lacrosse can be a difficult decision. Many players aren't ready to give up the sport they love, but they have questions. Knowing where to play isn't a cut and dry answer. Even deciding on which NCAA women's lacrosse division to play in is tricky. You may want to play in the highest division, but are you committed enough? Is D3 competitive enough for you? Do you really know what to expect? I interviewed three girls who play women's college lacrosse in Ohio, and got their insight into each division. All three girls play NCAA lacrosse, but this may help you understand the difference between that and club lacrosse.
What to Expect When Playing D1 NCAA Women's Lacrosse
Class of 2018
The Ohio State University
Defense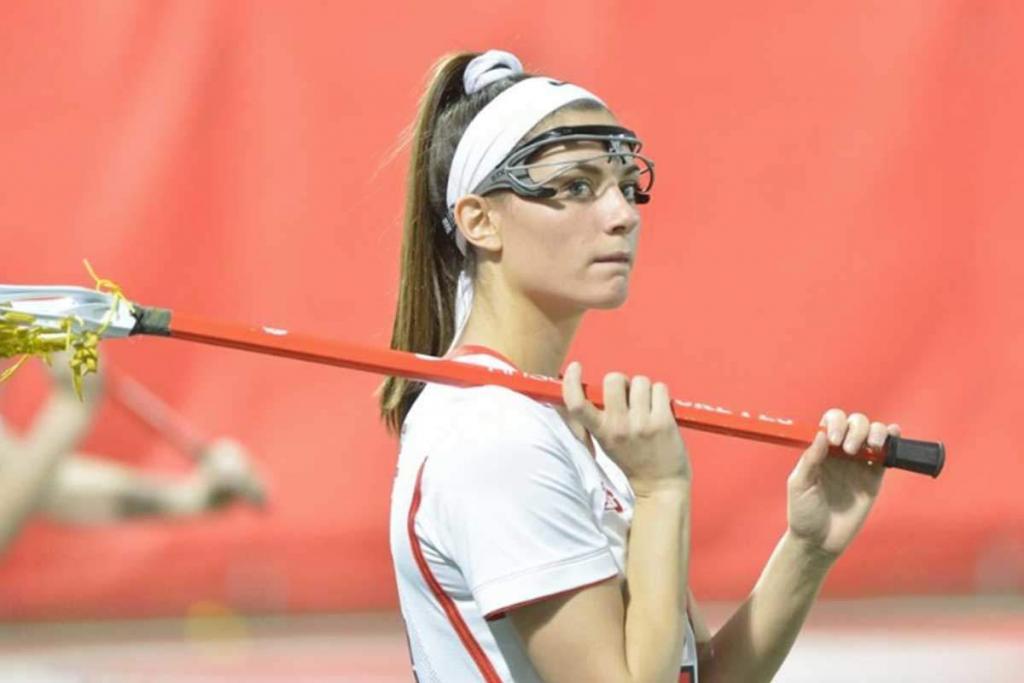 Did you always know you wanted to play in college? If so, did you always know you wanted to play at the Division 1 level?
No, I didn't always know that I wanted to play lacrosse in college because I didn't even know that was an option. Once I hit high school and colleges and started to recruit me, I made a pact to myself. If I was going to play collegiate lacrosse, I might as well try to play for the best, most competitive program that could.
What was the process of recruiting you went through like? How did you become noticeable to schools and coaches?
Thankfully, my recruiting process was pretty seamless. Ohio State was the first and only school I talked to. When I committed, there were barely any age restrictions on when players could verbally commit. That being said, I was fortunate enough to commit at a fairly young age. Ohio State was the first offer I received and I accepted two days later.
I was noticed by the Ohio State campus. I attended a small clinic at OSU in the winter with about 50 other players. Since it was a much smaller, more intimate camp, I was able to stand out. I also played club all summer which helped me develop and grow as a player.
What was your collegiate lacrosse life like with practices, games, and overall time commitment?
Playing a collegiate sport is a full-time job. You are committing at least 40 hours of your week if not more to that sport. Whether it be 6 AM lifts, or flying across the country in the middle of the week for an away game, you are constantly on the go.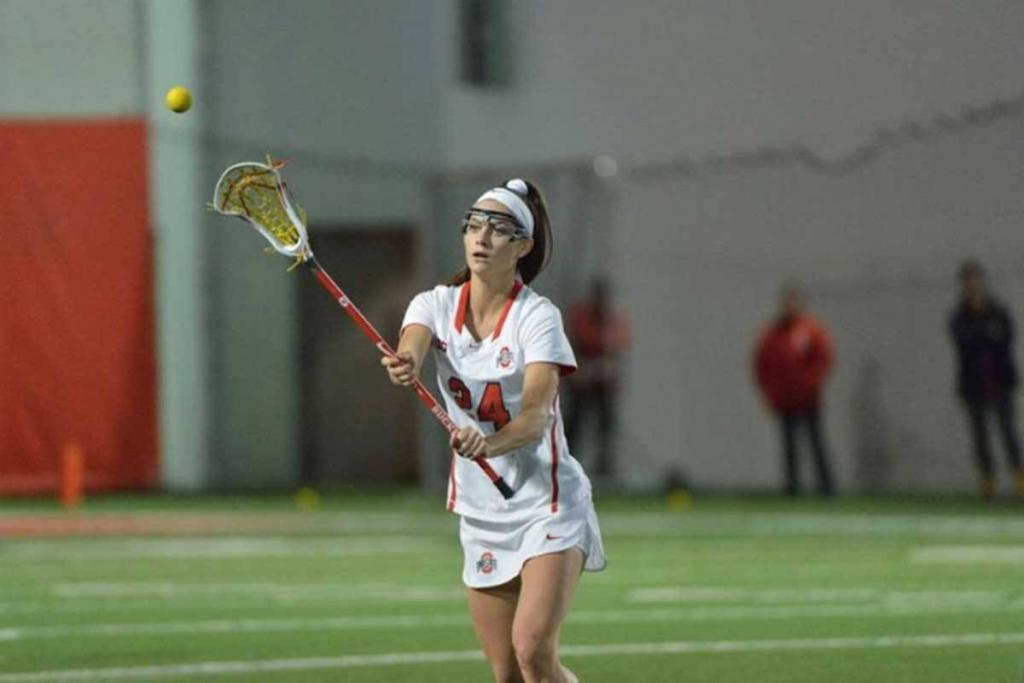 Can you talk about juggling school while playing lacrosse?
It's all about managing your time and prioritizing. Freshman year, I had a really tough time adjusting to the lifestyle of a student-athlete. But over the years I got much better at balancing school and lacrosse as well as my social life.
What were some benefits of playing D1 lacrosse?
Well, there are obvious benefits like scholarship money, free food, athletic apparel, tutors, and extra resources to help you academically succeed.
But really the biggest benefit is how playing lacrosse shapes you into a better person. Over the past 4 years, I learned how to be not only a follower but, also a leader. I learned how to speak my mind and how to bite my tongue. I learned how to be patient and wait for my shining moment as well as how to fight and earn what's yours.
I believe the skills and life lessons I've learned through athletics correlate directly with those used in the professional world. Playing D1 lacrosse at Ohio State gave me the best four years of my life, at the best school, with the best people.
Do you have any advice for girls looking to play in college?
College coaches want to see athletes. Any good coach can teach a player skill but they can't teach athleticism. Work on your speed and agility as much as you can. I would also recommend going to smaller clinics/camps. You will have a much better chance of getting noticed.
Favorite part of playing D1 lacrosse?
All the little victories we celebrated together as a team.
Any advice for those going into D1 athletics?
Have fun and work as hard as you can but don't let it consume you. Make friends outside of your team, it's always nice to have other people to go to. Join clubs and get involved as much as you can.
What to Expect When Playing D2 NCAA Women's Lacrosse
Sarah McCormick
Class of 2018
Walsh University
Midfield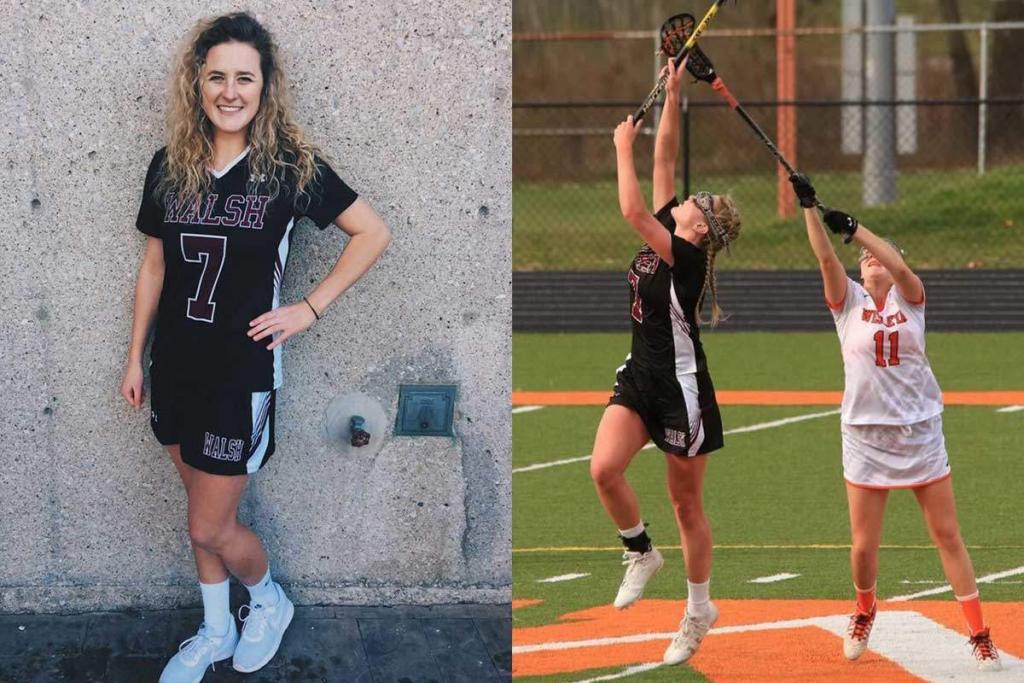 Did you always know you wanted to play in college?
Playing in college was never a thought of mine throughout high school. However, when I was accepted into Walsh University, I saw they had a lacrosse team. I did not like the thought of not playing ever again, so I decided to check the team out and I loved it!
What is the D2 college career like (practices, time commitment)?
For our team, we would usually practice 6 out of 7 days a week. Sometimes twice a day. Practices would be for 2 hours at a time. If we had two-a-days then we would either be lifting or running for an hour or so before we had our actual practice on the field. We would also be expected to do workouts and wall ball on our own time multiple times a week!
What were some pros and cons of playing D2 lacrosse?
One of the cons of playing D2 is commitment! Balancing classes and lacrosse is always tricky, but doable! However, the amount of time spent playing lacrosse at Walsh was also a pro! Getting to spend all that time with a great team is a true blessing and breaks up your day to have some fun and blow off some steam from the stresses of school.
What was the team dynamic like? Coaching dynamic?
Since we are together every day, our team is super close! I personally made some lifelong friendships with my teammates. We all worked hard for ourselves but more importantly for the rest of the team. We would always be happy for each other's achievements and cheer one another on. Our coach was the same way! She is a great mentor to us and also a great friend. She pushed us always to do our best as well as be the best people we could be off the field too.
Can you talk about balancing school while playing collegiate lacrosse?
It was extremely hard to balance throughout all four years of school. I want to say it got easier, but there was always struggles and late nights of studying after games. But playing lacrosse helped me stay very structured with my work ethics and time management, which I feel like I wouldn't have had if I didn't play lacrosse.
Favorite part of playing D2 lacrosse?
My absolute favorite part of playing D2 lacrosse is all the time I got spend playing the game I love while building some great relationships with my teammates. There is nothing quite like working so hard together at practice to build the chemistry needed to win games.
Any advice to girls looking to play in college? Advice on being recruited and choosing schools?
My advice would be to go for it! I was on the fence about whether or not I should play in college because of the commitment. I will admit there were times that were very hard and I wanted to quit, but looking back I wouldn't change anything. Playing lacrosse for Walsh gave me so many amazing friendships, structure, life lessons, maturity, and unforgettable memories. I wish I could go back and live it all again! The recruiting process and picking schools might be stressful, but it is all worth it in the end when you find the place that is right for you!
What to Expect When Playing D3 NCAA Women's Lacrosse
Kara Hines
Class of 2018
Capital University
Midfield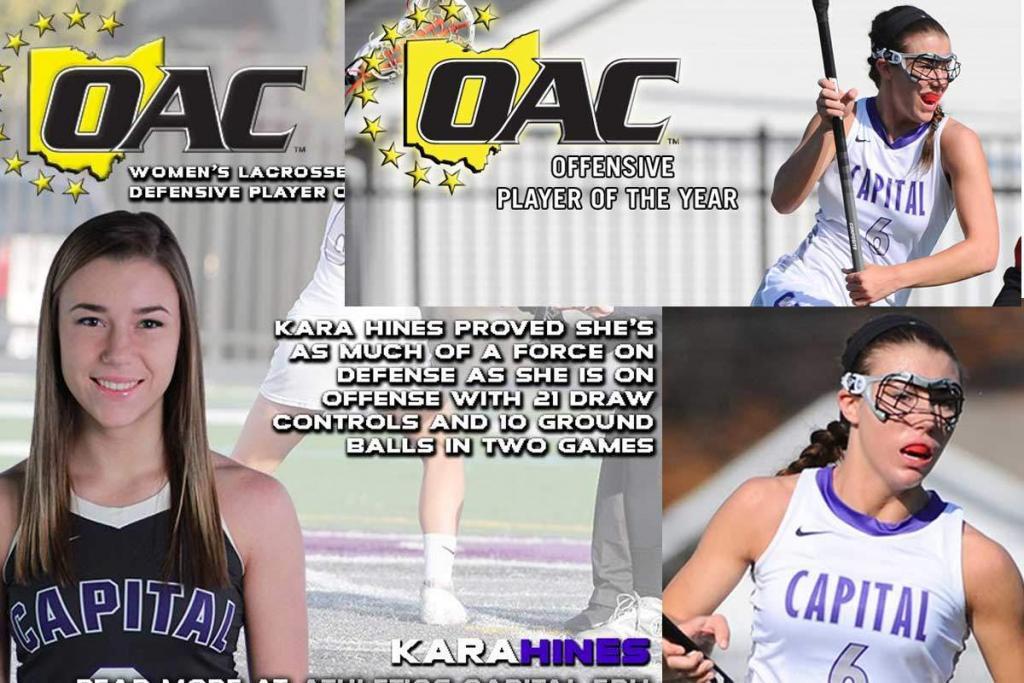 You had quite a different experience choosing a school to play for in college. Could you talk on committing D1 and where you went from there?
During the summer of my sophomore year, I was spending a lot of time traveling and playing in recruiting tournaments. Towards the end of the season, I got a letter from San Diego State's lacrosse program. Granted that I was only halfway through my high school career, it never occurred to me that playing at the D1 level was on my radar, let alone in such a beautiful city across the country. So immediately I jumped on the opportunity and didn't look back until halfway through my senior year. After returning from my official visit to San Diego, the incredible time commitment of a D1 program and the distance from home began to set in. Making the decision to go the D3 route and stay close to home was one of the hardest decisions I've ever made, but looking back on it I wouldn't change anything.
What did you do to be recruited and prepare for playing in college?
In my opinion, joining a club team is the best way to approach the recruiting process. It provides you with multiple opportunities to showcase your talent in front of college coaches. In my experience, I was also coached by people that had played at the collegiate level and had been through that process, so they were able to offer a lot of helpful advice.
What is the D3 lacrosse life like in terms of practices, time commitment, etc?
The D3 time commitment isn't one that should be taken lightly. It is a huge time commitment especially when you're trying to balance school and have some sort of social life. We do get a longer offseason than D1, which was super helpful, but when the season came it could get overwhelming at times.
Can you talk about balancing school with collegiate lacrosse?
To be honest, it was not easy. I double majored in mathematics and business, so trying to juggle both of those and give my all to lacrosse was something that took time to adjust to.
What was the team and coaching dynamic like at Capital?
My experience was unique in that Capital was a second-year program when I came in as a freshman. We started out with girls that had never played lacrosse before, so the dynamic was constantly changing from year to year. Our coach was very receptive to what was working for us as a team and what wasn't as the overall skill level changed, so that allowed us to have a closer relationship with her as well.
Pros and cons of playing D3 lacrosse?
Some pros were definitely having a built-in family. Also getting to play the sport you love and also making education a priority. Game days and trips are some of my best memories from college.
Favorite part of playing D3 lacrosse?
Definitely my team. The girls I got to play with became family and my entire experience wouldn't have been the same without them.
Any advice to girls thinking about playing in college?
DO IT! You only get one chance to play at this level, so if you love the sport don't be afraid to put yourself out there and see what opportunities come your way.
Should I Play Women's College Lacrosse?
The resounding answer from the three girls I talked with was "yes." If you find yourself playing wall ball until the sun goes down, missing the game when you're on vacation, thinking about lacrosse during your classes, or wishing you got another chance to play, then women's college lacrosse is for you. You'll only have this time in your life to play, so you might as well take the opportunity and run with it. Once your time runs up, you don't have any other chances to really play competitive women's lacrosse and you'll definitely miss it. So take a chance on yourself and do what you can to get yourself recruited because it isn't just going to happen. Take charge, and put in the effort for yourself.
Women's sticks and gear are Now Available at Stringers Lacrosse Shop!
Don't wait any longer to get the best-in-class women's lacrosse products – visit The Stringers Lacrosse Shop today to find the gear you need!