The pursuit of the best lacrosse head for defense is an evolving struggle to conform to how the role of the defenseman changes in the sport. An era of forward-thinking and clear-ready defensemen has ushered in a wave of transformation to the shape and construction of lacrosse heads. This is evident in the most advanced models released by the top lacrosse brands, but "new" may not be you. The best defense lacrosse head is always going to be the one that makes you feel the most confident in your play and control, and we have some great recommendations to help guide you to the perfect fit.
Table of Contents
How do I choose a defense lacrosse head?
Defensive lacrosse sticks are composed of a 60-inch shaft, head, and factory lacrosse pocket. Frequently, these complete sticks fall short of meeting the needs of intermediate to advanced defenders, as they often incorporate subpar stringing and inferior materials in the pocket assembly.
As a result, numerous lacrosse players choose to enhance each part of their stick as they advance in their defensive skills. This is why our defense lacrosse head guides typically steer players towards unstrung heads, enabling them to obtain a custom-strung pocket from an Instagram lacrosse stringer, a local shop, or Stringers Lacrosse Shop.
Lacrosse defense heads are a vital part of any player's game. They come in various shapes and sizes, but the best ones focus on a few key aspects which we will discuss below.
Wide Face Shape vs. Narrow Face Shape
Lacrosse companies have taken a unique approach to defense lacrosse heads, with some focusing on wider face shapes and others tighter face shapes. Wider face shapes allow for easier interceptions of passes, but these heads make it harder to achieve the tight channels and pocket security that is ideal for defensive play.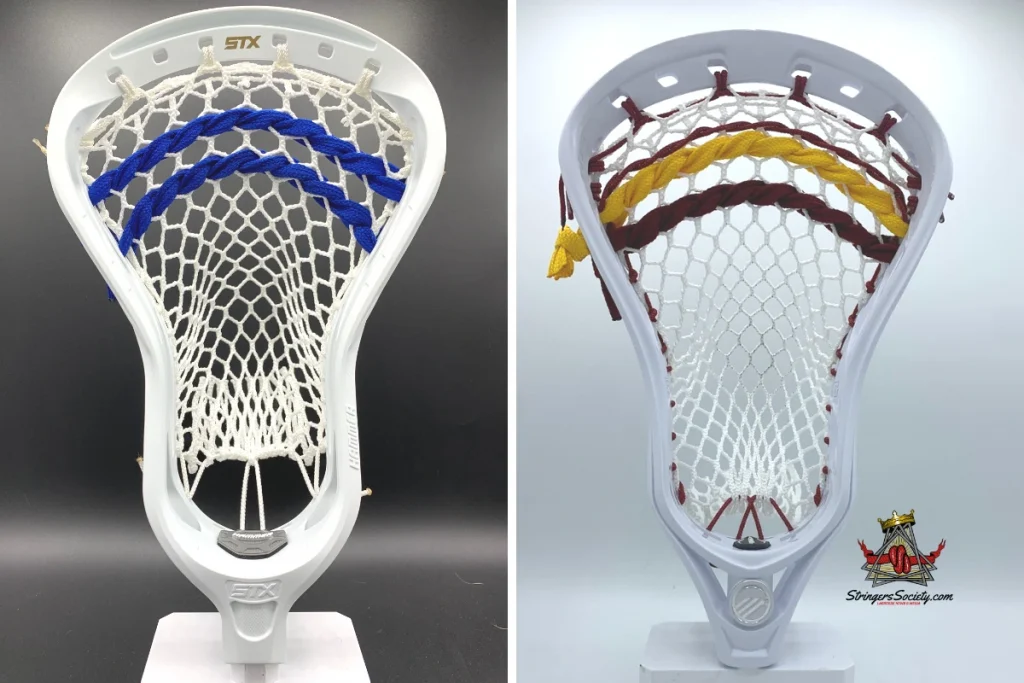 By contrast, tighter face shape heads string better high pockets and provide better pocket security. Although, this is at the cost of making it more difficult to intercept passes from the opposing team. With these two distinctly different approaches to face shapes, players can pick the head that best suits their style of play and maximize their performance on the field.
Number of Sidewall Struts
Lacrosse companies have been flexing their muscles by showing off the number of sidewall struts they incorporate in their defense lacrosse heads.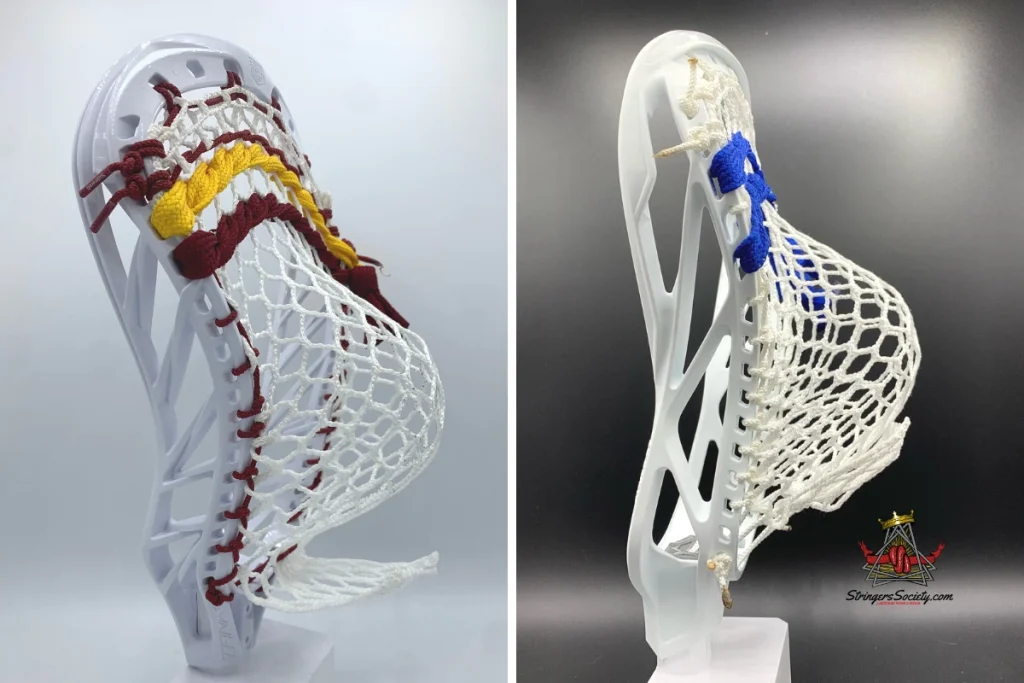 With each additional strut, they promise increased durability to prevent warping after plenty of hard checks and ground balls. The strength of a lacrosse head has become a major selling point in the lacrosse industry, and players everywhere are always asking for more durable gear on the field.
Rounded and Reinforced scoops
Innovation in defense lacrosse heads has made the game more fluid, as defensemen no longer fumble for the ball. The focus is on creating rounded and reinforced scoops on lacrosse heads that corral loose balls. Rounded and reinforced scoops make picking up ground balls seamless – something that early defensive models never perfected.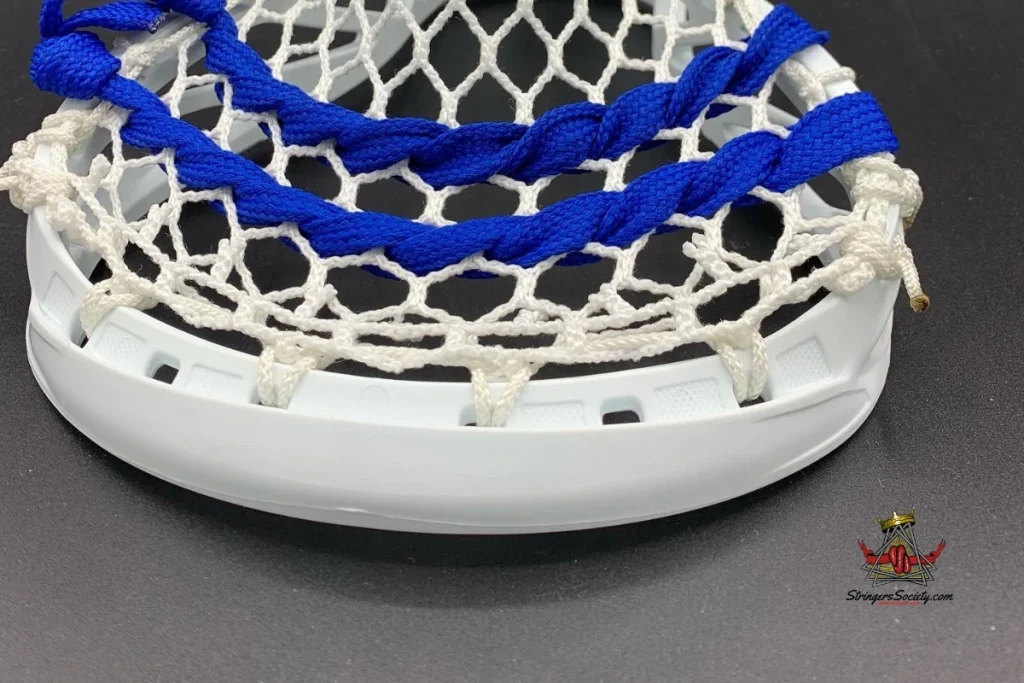 Earlier defense lacrosse heads also had a tendency to flatten over time due to their thinner construction. This new generation of heads incorporating advanced technology has allowed players to pick up balls quickly and precisely, giving defenders an edge in critical game moments.
More Durable Plastic
With the weather always changing, it can be hard to keep up with what kind of equipment works best. Lacrosse brands have been hard at work in addressing this issue for years. They have been experimenting with lacrosse heads made from different plastic that is designed to withstand any condition the season may bring and retain strength after going through temperature changes.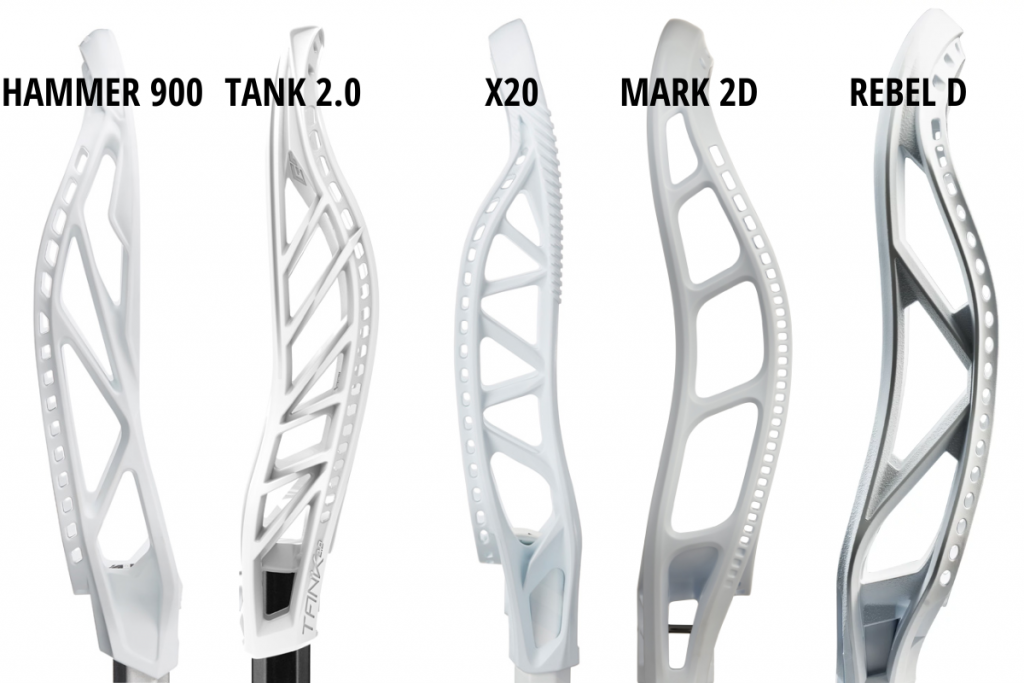 From the scorching summer days to the frigid winter temperatures, these innovative lacrosse heads will guarantee reliable performance no matter what Mother Nature throws our way!
Best Lacrosse Heads For Defense
Developing a new lacrosse head takes a creative vision that's followed by hundreds of hours of work. The R&D departments of the top lacrosse brands in the game are always trying to outdo one another, and innovation has consistently been the best way to get ahead. Right now, East Coast Dyes has proven itself as a true innovator in the sport with impressive development of their lacrosse head line, but there is fierce competition all around them.
---
---
ECD Rebel Defense Lacrosse Head
It's extremely impressive to see how ECD has taken its brand from a stringing supplier to an all-encompassing lacrosse retailer. While they don't have every product a lacrosse player would need, East Coast Dyes has defenders covered with their premier defensive lacrosse head.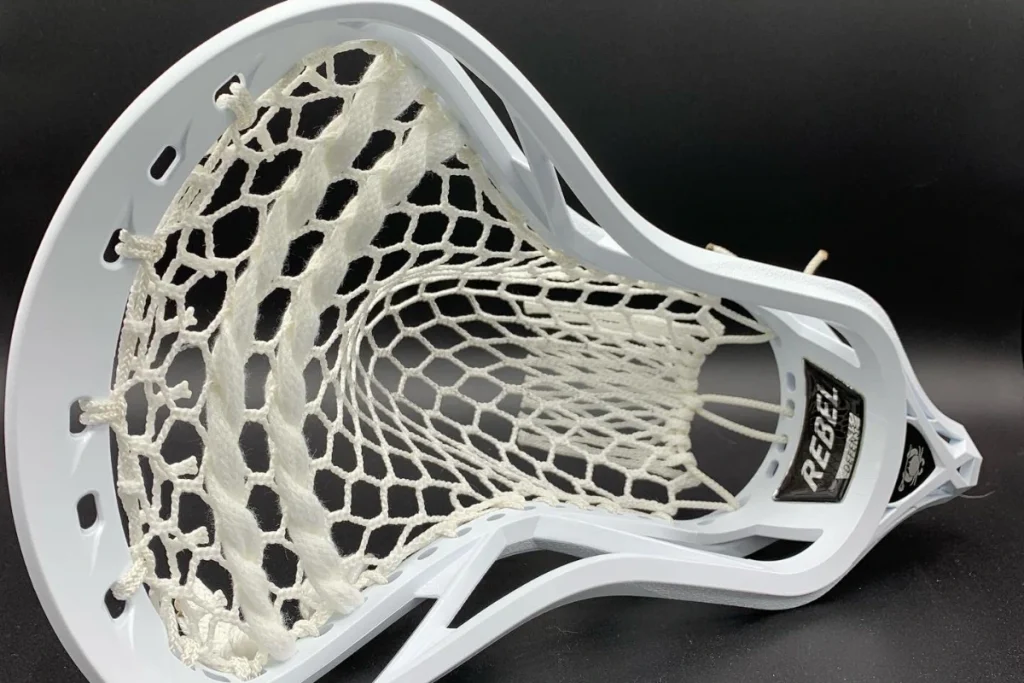 The ECD Rebel Defense has a stiff construction that helps deliver punishing checks that won't distort the natural shape of the head. This helps the scoop on the Rebel Defense retain it's structure and collect loose balls on the defensive half. But make no mistake, the ECD Rebel Defense is no one-trick pony; you can take this bad boy upfield and seriously stir up the offense in transition too.
ECD Rebel Defense Pros
Textured Sidewalls which lock sidewall knots in place
Rounded Scoop though not as thick as some of the alternatives
Most aggressive pinch in a defense-specific head.
Weighs only 5.6 ounces making it one of the lighter defense heads
Made in the U.S.A
ECD Rebel Defense Cons
Single screw throat with a lack of innovation
Few reports of plastic breaking
A tighter face shape makes catching harder if you're used to a wide head
Only two struts are incorporated in the design making it more likely to warp over time.
---
StringKing Mark 2D Defense Lacrosse Head
StringKing has a similar story to East Coast Dyes in terms of broadening of its production horizons, and that's how it landed on this list with the Mark 2D. From the start of their lacrosse head line, StringKing has consistently put out winners, and the Mark 2D is no different.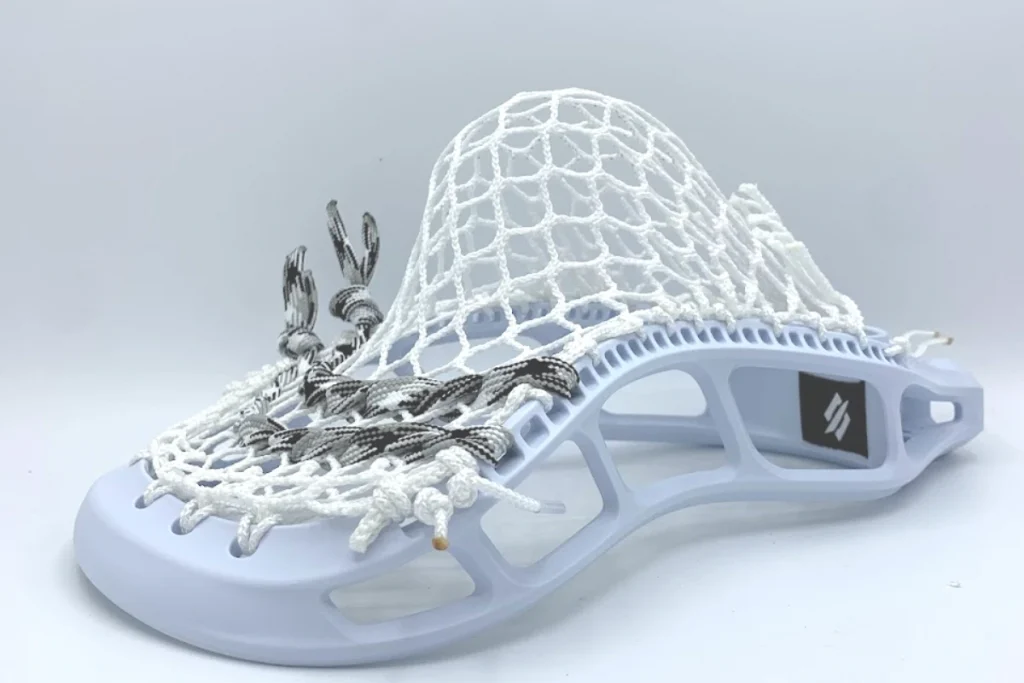 With the most sidewall holes on any defensive head on the market, the StringKing Mark 2D lets you have ultimate creativity with pocket placement and your pattern. But aside from stringing, the Mark 2D is about as solid as you get with defensive lacrosse heads these days. The scoop of the Mark 2D is top-of-the-line and can help even the most inexperienced lacrosse players develop their ground ball skills. You will also be impressed by this lacrosse head's structural integrity, because it is made to last.
Mark 2D Pros
The most sidewall holes with a total of 29 for ultimate freedom when stringing
Slightly pinched throat with high offset design and ideal pocket placement
Stronger design but only 5.18 ounces which is the lightest defense lacrosse head on the list
One of the best defense scoops
Mark 2D Cons
Throat locking bolt can be hard to install
It has been known to warp slightly over time
Only a few sidewall struts make it more likely to break or warp.
If you enjoy a low or mid-low pocket, then you might not like the Mark 2d
---
STX Hammer 900 Defense Lacrosse Head
STX is a tried and true powerhouse in the lacrosse industry, and that's why they're able to have two defensive lacrosse heads of such a high caliber. The STX Hammer 900 is the most recent version of the Hammer, and the improvements have allowed it to stay one of the most used lacrosse heads in the game. Rather than reinvent the wheel, STX decided to take the classic Hammer design and improve it with premium features.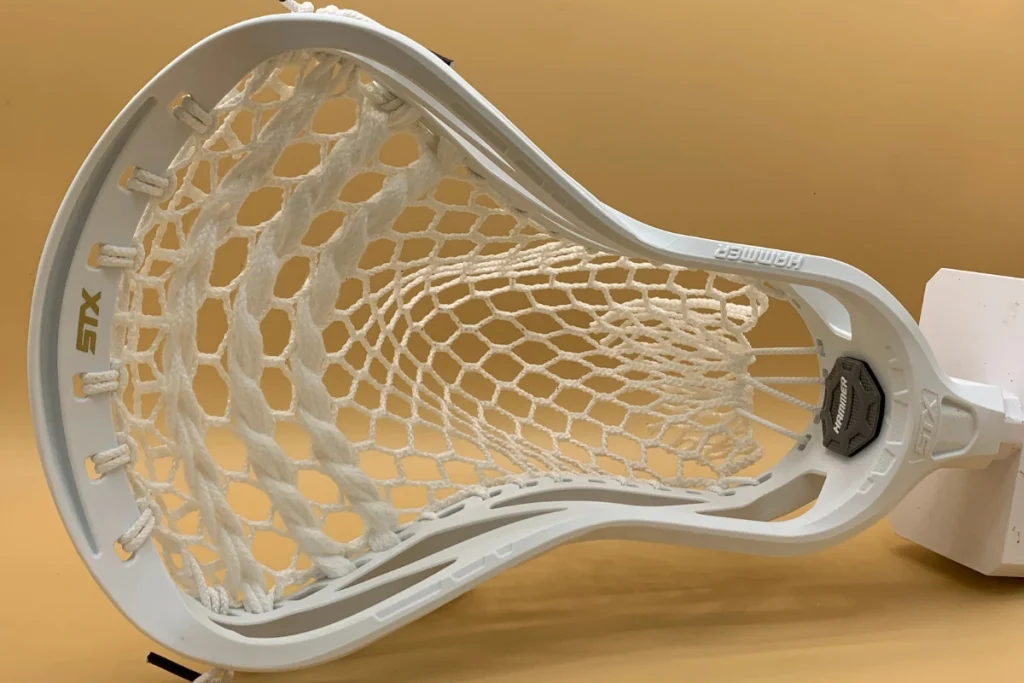 These changes included narrowing the face shape of the hammer 900 compared to the previous models. The thought is while the STX X20 targets defenders looking for a wide-face shape the hammer 900 was designed for the close defender looking for more pinch and better ball security. STX also added an additional stringing hole on the sidewall for a total of 15 stringing holes compared to the hammer 500 which had 14 stringing holes. The addition of Enduraform plastic translated to a head less likely to warp over time. Lastly, STX incorporated their signature Speed Scoop for easier ground balls in transition. The new and improved Hammer 900 checks all the boxes for an excellent defensive lacrosse head.
Hammer 900 Pros
Enduraform plastic for extra durability in all-weather play
Reinforced Speed Scoop for easy ground balls and shape retention
Narrow face shape compared to X20 and previous Hammer models which have seemed to be a positive change
Hammer 900 Cons
$10 more than StringKing & ECD
Extra wide sidewall holes make placing the pocket a bit more tricky
If you like a wide face shape consider the X20 or Tank 2.0
Weighs 5.6 ounces making it one of the more heavy defense heads available
---
STX X20 Defense Lacrosse Head
Similar to the Hammer, the X20 is another fan favorite that has been revamped for the modern game. The STX Xcalibur made a name for itself on the biggest stages in lacrosse, and STX has taken the design into the future by improving in many areas.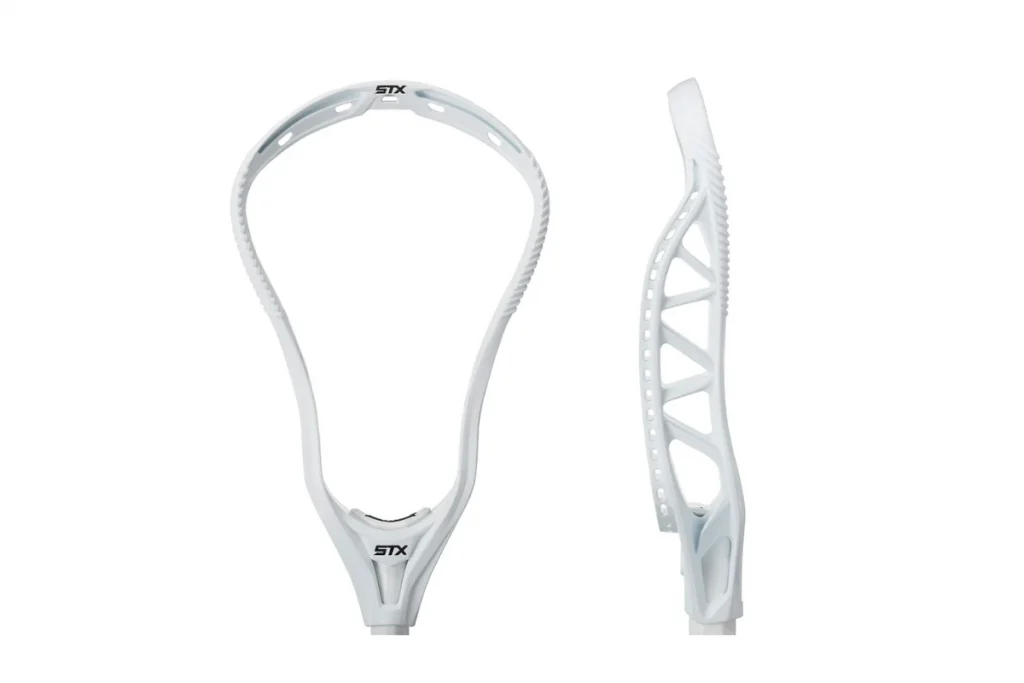 Featuring STX's Classic Face shape, the X20 Lacrosse Head is much wider than the Hammer 900 and most similar to the Tank 2.0. Compared to the STX X10 which had a thinner and flatter scoop, the X20 incorporates STX's Speed Scoop for easier ground balls. A new addition not seen on other STX heads is the Strike Plate. These ridges at the top of the head are designed to give defenders more grip on lift checks and deliver deadly checks to your opponent. Another new feature on the X20 includes Enduraform plastic and sleek retooling of the exterior.
X20 Pros
Players who like a wider face shape will like the STX X20 compared to the Hammer 900
Second most struts incorporated in a defense head with 5 in the design
The second lightest head on the list weighing only 5.2 ounces unstrung.
X20 Cons
$10 more than StringKing & ECD
Harder to string a high pocket and natural pocket placement is lower than expected.
---
Maverik Tank 2.0 Defense Lacrosse Head
Like STX, Maverik has made its way onto this list with an update to one of their best-selling lacrosse heads. The Maverik Tank 2.0 features 6 sidewall struts, 2 more than before, for an improved structure and strength to help with durability. Pairing this with Maverik's X-Rail tech that helps disperse impact force, expect the Maverik Tank 2.0 to punish offenses for more than just one season.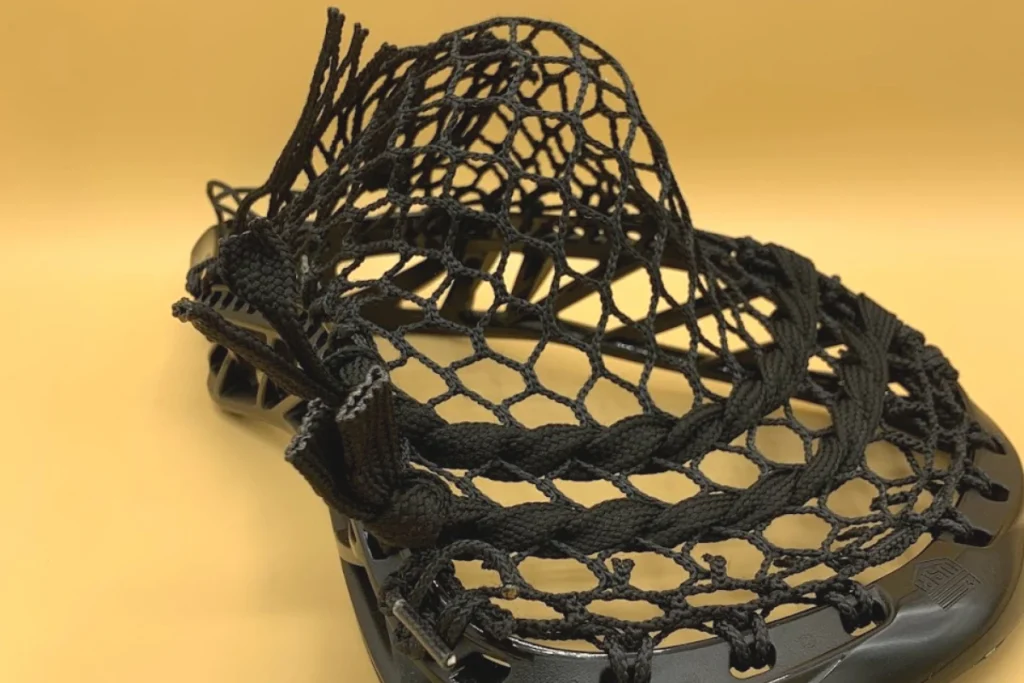 A much-improved feature of Tank 2.0 is the reinforced scoop. The original tank lacrosse head was known for its flats scoop which happened after repeated ground balls. The new design is much thicker and rounder than the previous tank and much better in our opinion. Overall, the Tank 2.0 completely delivers on the quality we've come to expect from Maverik and comes in four different colors.
Tank 2.0 Pros
The widest defense lacrosse head is available on the market.
Made with Duratough Material compared to the original Tank which was known to warp.
Most Sidewall Struts with 6 in total.
Improved reinforced scoop compared to the previous tank.
Tank 2.0 Cons
$10 more than StringKing & ECD
Lack of ball security due to the extra wide shape combined with the high pocket design.
Harder to achieve a tight channel and high pocket with normal-size mesh.
Heaviest defense lacrosse head, weighing in at 5.7 ounces.
---
What pocket is best for defense in lacrosse?
As a defender in lacrosse, you want a pocket that will give you the best possible performance. The most preferred type of pocket for lacrosse defenders is the high lacrosse pocket. High lacrosse pockets provide players with easy ground balls and extra control through traffic, giving you the ability to make plays on both ends of the field.
The Best Lacrosse Defense Head in 2022
With all the information provided above, you should be able to decide on the best lacrosse head for a defender in 2022. We can't be the ones to tell you what the best defense head is because there is no one-size fits all product in the game of lacrosse. The creativity and uniqueness of the sport makes it so that we can really only help direct players toward what will work best for their skill set. It's always best to accent your strengths and work to build on your weaknesses, not to try to be something you're not, and that's why the best lacrosse defense head is a decision that's all up to you!