The Ohio Machine is putting on the premier educational lacrosse event in the Midwest this year. They are working with several Ohio college lacrosse coaches to help lacrosse grow and succeed in the Midwest. The Ohio Machine LaxCon 2018 is sure to be an exciting day of learning and love for the game of lacrosse. The event is split into seven different sessions: boy's youth, boy's advanced, girl's youth, girl's advanced, non-gender specific, and referee.
Coaches and school administrators for all ages can attend to learn more about lacrosse. The information shared at this convention is not only for improved player development but also for better program development. You can attend the Ohio Machine LaxCon 2018 on December 1st. Tickets are on sale on the Machine site along with a schedule.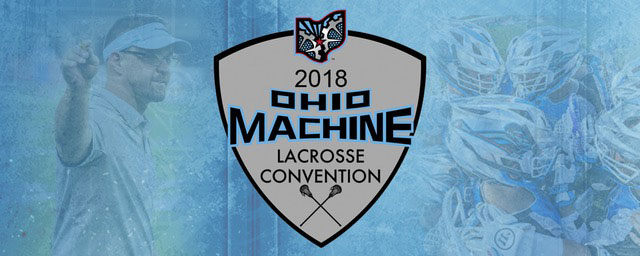 Lacrosse Education at Its Finest
The best way to learn about lacrosse is from those who have played the game. Many of my first coaches were Dads trying to just help out the team, and lots of programs are similar. This isn't a bad thing, but having coaches that have never played coaching new players can be difficult. Everyone is learning together, which is great, but everyone is also learning at their own pace. Coaches can get ahead of this issue and be ready to deal with learning players by listening to other coaches. This Ohio Machine LaxCon is a perfect chance for those coaches to learn in this collaborative environment.
Ohio Machine LaxCon 2018 Details
The Ohio Machine LaxCon 2018 will be held on December 1st, 2018 at the Embassy Suites of Dublin, Ohio. This event is being held in the Machine's home city, which means there's a good chance to see some surprise guests from the team. You will also be able to listen to, speak to, and learn from many notable names in the lacrosse coaching community. The following are just some of the names that are going to be attending this year.
Bear Davis – Practice Planning – Presented by Phantom Lacrosse – Non Gender Specific Session 
Coach Bear Davis has been captaining the ship to the 'ship for a few years now. He has brought a winning culture to the Ohio Machine program and found a home for growth. During his tenure with the Machine, Coach Davis has not only brought a struggling team out of the depths, but his guidance also lead them to a championship in 2016. This was a massive swing in the momentum of Ohio lacrosse. As a facilitator, Coach Davis has reinvested that energy into the youth programs of Ohio. His dedication and passion for lacrosse being played at an incredibly high level has been injected into the developmental leagues and is raising a whole new generation of talented Ohio lacrosse players.
His talk on practice planning is sure to touch on making an effective use of the time you have for each practice. At the professional level, practices are much less common because many players also have full-time jobs. This smaller amount of time means that each second matters so much more. Coach Davis is a perfect person to give this talk on how to properly plan a practice for your team.
Daryl Delia – Advanced Offensive & Drills to Support – Presented by Lacrosse.com – Boys Advanced Session
Coach Delia is the current offensive coordinator for the Ohio Machine. He is returning for his fourth season with the Machine, and he is also the head coach of the Albertus Magnus college men's lacrosse team. Delia's expertise comes from coaching at many levels, and his energy for exciting offense can be seen anytime the Machine play.
Coach Delia will be speaking at this year's Ohio Machine LaxCon on how to give your boy's lacrosse team a potent offense. Ball matriculation, selflessness, and versatility should be topics Delia covers. Anyone who watches the Ohio Machine play should know that Delia has a very unique offensive mind. The Machine have an electric offense, and while the players take all the shots, Delia is the one calling the shots.
Bryce Wasserman – Player to Coach Relationship – High School Leadership Session
Bryce just recently made his way onto the Ohio Machine roster, but he has been putting up tallies for quite some time now. The Texas native excelled at Monmouth University and became a draft pick of the Denver Outlaws. His 99 goals stand as the current record at his alma mater, and Bryce is looking to pass on his knowledge through a talk on player to coach relations.
As a player, it can be difficult to work for a coach you may not agree with. The same can be seen when players become too friendly with their coach. There is a fine line that must be towed as both players and coaches concerning the balance of this relationship. Become too comfortable and players begin to take advantage. Become too agitated and players begin to leave. Bryce has made it all the way to the MLL by understanding the complexity of this relationship. His wisdom should help coaches better connect with their players in the coming years for greater success. This relationship becomes the base for the success of the team and Bryce knows a thing or two about being a successful player.
Dom Marzano – Coach to Player Relationship -High School Leadership Session
Before Bryce's discussion on how players relate to coaches, Dom Marzano will be giving the contrary part. Dom is currently in his third year as the head coach at Capital University and was an all-star at Wheeling Jesuit University. During his collegiate career, Dom was a four-year starter at WJU and then lead the nation in assists per game his senior year. His experience as a slippery scorer has helped him to mentor many offensive players to achieve success as well. Dom is that guy who the guy you know knows if that guy is from Columbus, Ohio and likes lacrosse. He is extensively involved in the Columbus, Ohio coaching scene and has been working diligently to generate growth. Dom's talk should give a solid introduction to Bryce's and then help bridge the coach to player gap for many.
Ted Bergman – Goalie Training – Presented by Just Play Sports – Non-Gender Specific Session
One of the worst things for new coaches is trying to coach up a goalie. Besides telling them to stop the ball, most youth coaches have little advice for goalies if they haven't played themselves. Ted Bergman will be helping solve that issue with his discussion on goalie training. There's no doubt Ted is a talented player. But his talent only goes so far, and his passion for the game reigns supreme. He has the goal of growing lacrosse at the grass roots level to benefit the game as a whole. This is, in our opinion, the very best approach to growth and teaching. It's going to be a treat for any that get to attend his talk.
Ted will also be a wealth of knowledge for any player looking to learn more about playing goalie. His collegiate career was a massive success and he earned Goalie of the Year in 2017 and then became the first Wesleyan First Team All-American goalie. He was a very decorated player who has now transitioned into a coaching role for Cleveland State University and Team Uganda. Any coach who is attending the Machine LaxCon 2018 should note this as a talk to attend.
Kevin Burns – Men's Game to Women's Trials and Tribulations – Girls Advanced Session
This is another one you'll want to circle on the schedule if you are a women's coach. This will be an especially beneficial discussion if you are a male coach. Many males coaching women's lacrosse have little experience with the women's game and deal with a learning curve. Burns made his way over to the women's game from the men's and is currently an assistant at the Ohio State University. Kevin is just coming off a seven-year stint at Bellarmine University where he was the men's head coach. Transitioning to the women's game in lacrosse as a coach is very different from basketball or soccer where the rules are essentially the same. New coaches should be able to get easily acclimated to the change after learning from Coach Burns.
Other Notable Speeches at the Ohio Machine LaxCon 2018
One of the premier non-coaching events at the Ohio Machine LaxCon 2018 is the advanced referee session with Tim Goggins. Goggins is the president of the Central Ohio Lacrosse Officials Association and a veteran referee. Anyone hoping to sharpen, or just discover, their reffing skills needs to attend this talk with Tim. Others looking to learn about being a referee at a lower youth level can attend the youth session with referee Mike McGee.
Other talks include a can't miss instruction of advanced offense & support from Bucknell University women's lacrosse head coach Remington Steele. With a name like that, I'm pretty sure anything that he says is better coaching advice just because he is saying it.
Joel Zalesky is finishing off the non-gender specific session with boy's and girl's shooting drills that will help bring you offense to life. Shooting is truly an art, and Zalesky earned All-American status in college sculpting up some serious statistics. Zalesky's expertise on putting the pearl in the net can benefit any player. Remember, everyone shoots at some point.
The entire rest of the Ohio Machine LaxCon 2018 schedule is full of dedicated coaches and players ready to help you develop yourself as a coach. Their advice and the community of eager learners makes for a very informative day. You don't want to miss out on this excellent experience when it only happens once a year. Reserve your seat before they run out and get ready to take your team to the next level. There's always next year, but why not just choose this year.