Lacrosse isn't a sport that people just pick up overnight. Coordination and athleticism can only get you so far because your technique is such huge part of the game.
When learning how to play lacrosse it's important to focus on the proper mechanics and learn them with muscle memory. Repetition and creativity are essential in this process so use these six articles often but try to mix it up. Once you are comfortable with the starting practices, add game like factors and play around a little so you can react better during a real lacrosse game.
Become a Better Lacrosse Player
These 10 lacrosse tips below are a full progression on how to become a better lacrosse player. Each article is a quick read packed with useful information and ways to improve. Every player should at least have some understanding of the skills discussed in the articles so each one is worth a look, especially if you are a new player. There are also some tips advanced players can learn from too, so never think you're too good to get a little advice. Now read up, and then get some reps in!
10 Lacrosse Tips to Get Better at Lacrosse
Lacrosse Position Guide – If you're new to the game or have never even played lacrosse before, check out our Lacrosse Position article. The four main lacrosse positions are explained and so are the skills that those positions require. Attack, midfield, defense, and goalie are the main lacrosse positions that every team will have, and finding your best fit can help you get more playing time. Check out the article and decide for yourself before moving on to specific drills for your position.
Play MORE Lacrosse – After deciding on what position you want to play, realize that your position doesn't control you. As a lacrosse player, your main objective is to just play lacrosse. So realize that you will need to be more concerned about learning how to just play the game, rather than focus on a task. Every player must play all positions in lacrosse to some extent, and you'll understand why after a quick read.
How to watch Lacrosse Film – Learn to break down priceless film with mental reps as effectively as possible in this week's Highlighter from Stringers Society.
Ground balls in lacrosse are easily the most important skill a player can improve upon. Making yourself a ground ball machine will get you on the field more than anything else. You can't win without the ball, so making sure you have the ability to get it off the carpet and up the field is huge. If you're struggling with getting lacrosse ground balls then this article is the perfect read for you and all you need is some practice.
Lacrosse Wall Ball Routine – Handling the lacrosse ball comes directly from lacrosse wall ball. Simply throwing the ball off the wall and catching it repetitively does wonders for your skill. Different hands, weird combinations, and unorthodox styles of wall ball all help in lacrosse. You really can't be doing it wrong if you're hitting the wall, so read up and get out there.
Cone and Ladder Drills – The faster you are, the better you can be at lacrosse. Being fast won't make you a great player, but being a faster one can make you a better one. A little sweat and determination can make any player a little faster with come quick workouts. Using some cones and a ladder can give you plenty of options for ways to improve and increase your speed. Making sure you get some work in as often as possible can do wonders for your athleticism, and set you apart from the competition.
Lacrosse Dodging– Once you can pick up the ball, move it, and catch it, you'll need to focus on lacrosse dodges. Just like any fighter in a video game, lacrosse players have specific dodges they use like attacks. Certain lacrosse dodges have certain benefits that work against different types of defenders. Improve the strength and size of your arsenal of lacrosse dodges and you'll be a much more versatile player. Learning those extra dodges makes you a complete lacrosse player that can attack from any place on the field against any defender. Check out our article for the rundown on several dodges that can help you out.
Off-Season Lacrosse Training – There isn't much explaining to do with this article. Here are some simple off-season lacrosse training tips that can help any player improve their overall lacrosse IQ and skill. Being a dedicated player means doing anything you can to improve, and this quick read is full of ways to continuously improve as a player. Shouldn't take you more than 3 minutes and you can always use the motivation, right?
Defensive Midfielder Rules For Success – Lacrosse Midfield Defense can be simplified and understood easily so you can get on the field more.
Learn Box Lacrosse – Once you have mastered all you think you need to in order to become a great lacrosse player, you need to check out Box Lacrosse. Learning to play box lacrosse improves stick skills, defense, and communication. This version of lacrosse is very intense, but tons of fun. Everyone that plays lacrosse should play box lacrosse too so that they can get the most out of the game. Read our article if you've never experienced this awesome game and find out what you're missing out on!
Why Reading These Articles Can Really Help
Just getting that spark to be motivated and attack a training session can be all that it takes to start the journey to greatness. Or maybe finding a few ideas about how exactly to improve is what's holding you back.
No matter the reason, just getting some more experience and training will always make you a better player. Remember, there's another player somewhere that's working when you aren't. Make sure you're the one that is running out of breath, be the one that's outrunning the competition.
FAQ
How to Get Better At Lacrosse?
Lacrosse is a complicated sport, requiring good hand-eye coordination and an understanding of motor skills. The best thing to do is practice! And continue practicing until you're better at it. However, if you need some pointers, read books on the subject on how to play lacrosse. In addition, find somebody who's mastered lacrosse and ask for tips or pointers from them – they may have valuable information for beginners like yourself that they are willing to share with you!
Lacrosse Goals and Rebounders
Find the best lacrosse goal for you by checking out our lacrosse goal guide that will consider your budget, skill level, and lacrosse goal needs.
Find the best lacrosse rebounders for becoming a better lacrosse player and improving your stick skills from the trusted lacrosse brands on Stringers Society.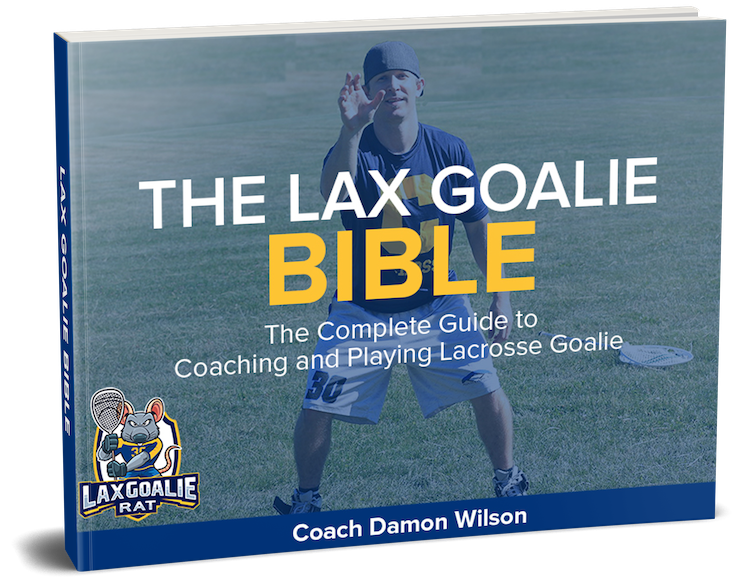 Become A Better Lacrosse Goalie
To be the best, you need to learn from the best and put in the work. Lax Goalie Rat Bible is an unbeatable resource for everything about lacrosse goalies, stringing a goalie stick, or becoming a better lacrosse goalie.
---