Womens Lacrosse Helmets
When selecting a lacrosse helmet for women and girls, it's important to focus on the size rather than the specific model. To ensure you get the right fit, consult our Cascade and Hummingbird Sizing Charts and measure your head circumference. While it's mandatory for female lacrosse players in Florida to wear helmets, many girls and women prefer the comfort and protection of lacrosse goggles. We have created a guide to help you choose the best women's lacrosse goggles.
Best Lacrosse Helmets For Women
When protecting female lacrosse players, choosing the best helmets for women is paramount. Proper headgear is crucial in providing the necessary safety measures during gameplay. Whether referred to as girls' lacrosse helmets, women's lacrosse helmets, or women's lacrosse helmets, these specialized headgear options cater specifically to the needs of female players. Various choices guarantee maximum protection, ranging from helmets for girls' lacrosse to the well-regarded Cascade LX Helmet. The best women's lacrosse helmets prioritize comfort, fit, and safety features, making them essential gear for female lacrosse players. From lacrosse to girls' lacrosse headgear, investing in high-quality helmets is a good idea for a safe and enjoyable experience on the field.
Multiple Colors Available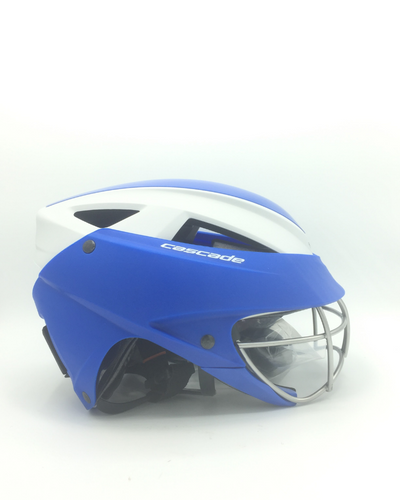 Cascade LX Women's Lacrosse Headgear
As a new lacrosse player, Stringers Society suggests the women's Cascade LX Lacrosse Helmet for you. The Cascade LX is designed to fit players at every stage of their lacrosse journey, and it is the only women's helmet currently certified for play for female players.
Pros:
Safety and Protection

Comfort and Fit
Cons:
Only female helmet option

Heavier than Lacrosse Goggles
Buy on LU
Cascade LX Review
We may receive a commission for your purchase at no extra cost. Thank you for your support. 🙏
What about Hummingbird Helmets?
We apologize for the short notice, but we must inform you that Hummingbird Sports has lost its certification for lacrosse helmets. Hummingbird was required to send a notice to customers that recommended that they throw away the helmet- you can view it here.
This seems like an excessive waste to the team, considering that women's helmets are optional and provide more protection than women's lacrosse goggles. The SEI should consider sharing why products lost their certification along with the environmental impact of throwing away so many helmets. A more logical, consumer-centric approach would be refurbishing them for future generations.
To add to the controversy an academic study in 2020 found that "For girls, stick or ball contact accounted for 72.7% of all concussions, while athlete-athlete contact accounted for 19.8%." This statistic indicates that this is a problem for female lacrosse players and an opportunity for someone to solve it.
As of our most recent content update in October 2023, the only certified helmet available for female lacrosse players is the Cascade LX, which we have highlighted in the screenshot below.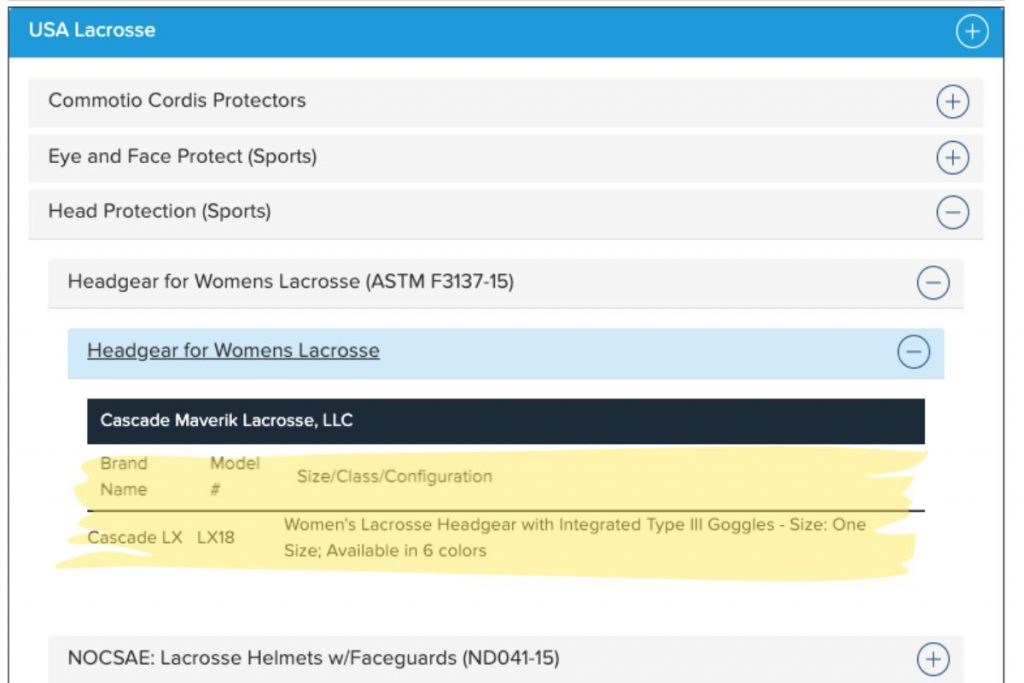 For the latest information on certified women's lacrosse headgear, search on the SEI-certified product website. We prioritize your safety and want to ensure you have access to top-quality protective equipment.
What states require helmets in girls lacrosse?
Girls' lacrosse players in Florida must wear helmets, unlike in other states in the US.
Do high school girls lacrosse wear helmets?
Typically, high school girls lacrosse teams do not wear helmets, although in Florida, they are required to wear them. However, safety should be a top priority in all sports, including girls' lacrosse.
More Womens Lacrosse Guides
Take control of the game with a women's lacrosse stick that's a perfect fit. Our selection of the best women's lacrosse sticks offers options for players of all positions and skill levels, from the top brands in the industry.
You can find your next pair of top-performing lacrosse cleats from our carefully chosen list of the best women's lacrosse cleats and dominate the field.
Unveil the definitive guide to women's lacrosse goggles, harmonizing safety and style on the field. Explore our premium protective eyewear, adhering to strict ASTM standards for unwavering defense during play. Integrated eyewear within women's headgear meets both headgear and eyewear ASTM standards. All our SEI-certified eyewear options ensure legality and security, marked with the ASTM standard. Elevate your lacrosse journey with gear that embodies these safety protocols, focusing on the game with certainty. From rookies to pros, our curated collection caters to diverse ages, delivering unmatched protection and style.