Lacrosse Helmets
Lacrosse helmets protect your most valuable asset, your head. Not your lacrosse head either. A well-fitting and newer lacrosse helmet is a must-have piece of lacrosse equipment. You can't wear a lacrosse helmet that is the wrong size because it won't suitably guard your brain against the impact of hits. Older lacrosse helmets also may be outdated or flawed, so sticking to a newer lacrosse helmet is the safe bet. Stringers Society can help you find the best models available, but trying lacrosse helmets on before purchasing is always recommended.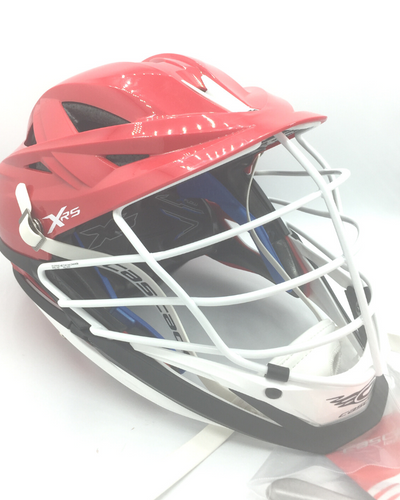 Men's Helmets
Your brain is your most valuable asset on the lacrosse field; make sure your lacrosse helmet protects it. A high-quality men's lacrosse helmet can be the difference between safe and sorry.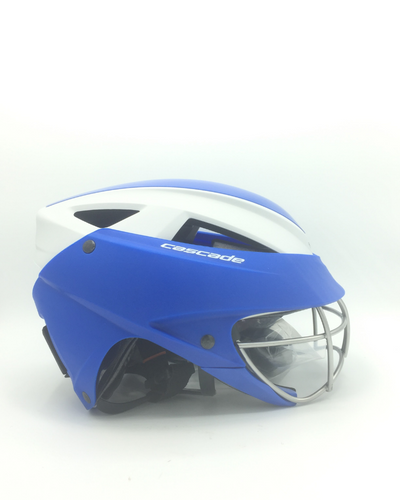 Women's Helmets
Women's Lacrosse and Girl's Lacrosse Helmets vary depending on size, not a model. Look at our Cascade and Hummingbird Sizing Charts to find the right size helmet based on your head size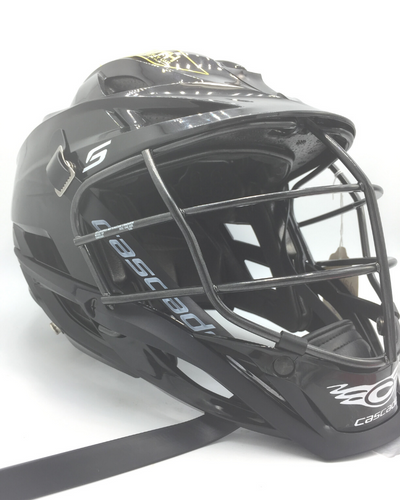 Youth Helmets
In lacrosse, helmets are made for specific age groups to provide the best protection. For the youth level, or up until about 4th or 5th grade, a few helmets are best suited for that age group.
New Lacrosse Helmets
Make sure to view our complete helmet guides above for a detailed analysis.
The XRS from Cascade Lacrosse provides the ultimate protection and performance on the field. With its innovative design, attention to detail, comfort, and style you can play with confidence knowing that you've got the best gear at your side. The XRS incorporates cutting-edge materials including a breathable mesh backplate for maximum ventilation so you stay comfortable when pushing yourself to the limit.

BUY ON LU BUY ON LM

We may receive a commission for your purchase at no extra cost. Thank you for your support. 🙏

The women's Cascade LX Lacrosse Helmet is Stringers Society's recommended helmet for new lacrosse players. This is because compared to the Hummingbird V2, which comes in three sizes, the Cascade LX is made to fit the lifetime of the player's career. The eye protection area is the main difference between the Cascade LX and the Hummingbird V2 Lacrosse Helmet. While you won't be able to adjust the eye protection on the Cascade LX, you can change it on the Hummingbird V2.

Buy on Amazon Buy on SidelineSwap

We may receive a commission for your purchase at no extra cost. Thank you for your support. 🙏

09/28/2023 07:25 pm GMT

The Cascade XRS Youth Helmet is a top-quality lacrosse helmet with a Tri-Liner system and EAFx foam for protection. It also has Best-In-Class XFlo ventilation, a Vixion system for improved vision, and a Visionbar with PowerPress technology. The helmet is customizable with cheek pads and meets NOSCAE Standard SEI Certification for added safety. The Cascade XRS Youth Helmet offers comfort and protection, making it an excellent choice for young players

BUY NEW XRS BUY USED XRS

We may receive a commission for your purchase at no extra cost. Thank you for your support. 🙏
Lacrosse Helmet FAQ
What is the safest lacrosse helmet?
The safest lacrosse helmet for men is the Cascade XRS; for boys, it is the Youth Cascade XRS; and for women and girls, it is the Cascade LX. These helmets are designed with advanced safety features such as a Tri-Liner system, EAFx foam, and SuperMono X Shell for maximum protection. They also meet safety standards and regulations to ensure they provide the best protection to the players wearing them.
How much does a lacrosse helmet weigh?
The weight of a lacrosse helmet can vary based on the specific brand and model. On average, most lacrosse helmets weigh between 2 and 3 pounds (0.9-1.4 kg). While the weight of a helmet should not be the primary factor when purchasing a new one, it is important to consider it for shipping purposes.
How much should a lacrosse helmet cost?
You can purchase older models of lacrosse helmets at a discounted price on websites like SidelineSwap (new users can use our coupon code here). However, the average cost of a new lacrosse helmet for men and boys ranges around $300. On the other hand, women's helmets are typically cheaper, with an average cost of about $150. Investing in a high-quality helmet that meets safety standards to ensure maximum protection while playing lacrosse is essential.