---
All Ball Pro Stinger X Sports Rebounder
All Ball Pro Lacrosse Rebounders deliver professional-level passes with minimal effort. Looking for a lacrosse wall ball rebounder that is both powerful and precise? Look no further than the Stinger X! This unique lacrosse wall ball rebounder is the only one on the market with wheels, making it highly portable and easy to use. Plus, with its durable construction, you can count on the Stinger X to last for years to come.
Best for Teams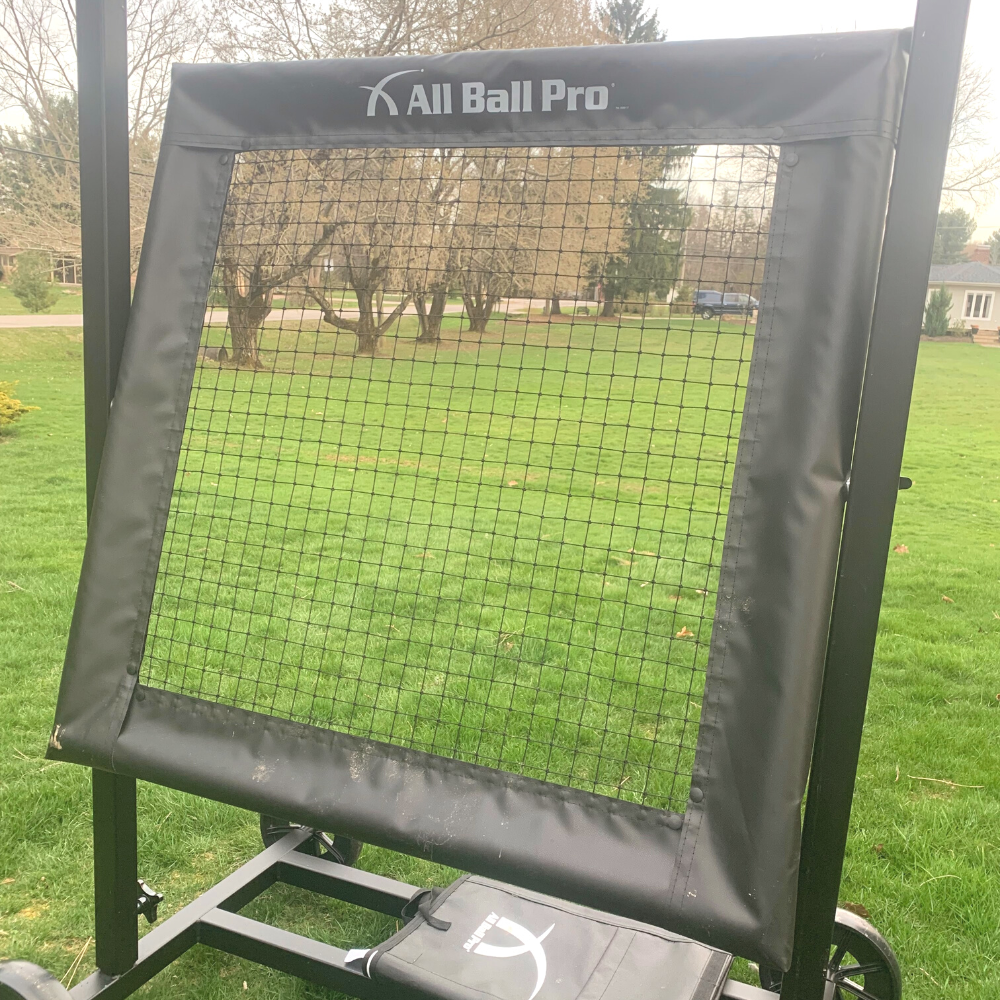 All Ball Pro Stinger X Rebounder
The All Ball Pro Stinger X Lacrosse Rebounder isn't just a tool; it's a game-changer. Delivering a near-authentic gameplay experience by returning the ball at 95% of its thrown speed, it not only challenges but refines a player's technique and form. Its durable construction promises a lasting partnership in your sports journey, while the convenient wheels ensure easy transportation for flexible training. Invest in this rebounder and elevate your performance on the field.
Use code "STRINGERSOCIETY75" at checkout to receive $75 off your purchase. 🤙
Pros:
Portable Rebounder with Wheels

95% Ball Return Rate

Adjustable Angles

Made in America

3.5' x 3.5' Overall Net Frame
Cons:
Locking bolt to adjust angles comes loose after heavy use.
Buy on All Ball Pro
We may receive a commission for your purchase at no extra cost. Thank you for your support. 🙏
All Ball Pro Stinger X Rebounder Review
Regarded as the premier rebounder in its class, the All Ball Pro Stinger X consistently impresses with its exceptional build and performance. Specifically tailored for sports teams, it boasts non-scratching wheels ensuring both effortless mobility during practices and protection for gym floors.
What sets the Stinger X apart is its unrivaled 95% ball return velocity, enabling it to relay almost professional-grade passes back to the user with minimal input. This superior return strength and precision outclass other rebounders, promising enhanced practice quality and accelerated skill development for players.
Not only is the Stinger X robust and enduring, but its 75-pound frame also offers portability, comfortably fitting in most vehicles and allowing for straightforward disassembly. A single individual can effortlessly maneuver it, thanks to its sturdy rubber wheels which are adept at traversing rugged grass fields without marking indoor flooring. These features, combined with its outstanding mobility, solidify the Stinger X's reputation as the leading rebounder for both indoor and outdoor use. In summation, if you're searching for the pinnacle of rebounder walls, the Stinger X stands unchallenged.
The All Ball Pro Stinger X Lacrosse Rebounder offers:
Realistic Practice: With a return rate of 95% of the thrown speed, players can enjoy a training experience that closely mimics real gameplay, enhancing their reaction times and adaptability.
Durable and Long-lasting: Crafted with robust materials, this rebounder is an investment in your sports journey, ensuring you have a reliable partner for many practices to come.
Easy Transportation: Fitted with wheels, you can effortlessly move and position the rebounder, giving you flexibility in your training locations and making setup a breeze.
Skill Enhancement: More than just a rebounder, it's a tool that refines a player's form and technique, paving the way for improved performance on the field.
Where to buy Stinger X Rebounder?
| Product Image | Product Name | Primary Button / Secondary Button |
| --- | --- | --- |
| | | |
| | | |
| | | |
STINGER X REBOUNDER STATS
In a Stringers Society Community Survey, 62% of respondents preferred the All Ball Pro Stinger X Rebounder over the Rukket 4x7ft.
Stinger X Rebounder Assembly