Rukket Lacrosse Rebounder
The Rukket 4×7 Lacrosse Rebounder is the most versatile and popular rebounder on the market for the price. The Rukket Rebounder is portable, easy to assemble, and it provides consistent rebounds. Made of durable polyester material, the Rukket Bounce Back is both UV and water resistant. It can be set up in minutes with no tools required.
Rukket Sports Lacrosse Rebounder
The Rukket lacrosse rebounder can be adjusted to 4 different angles and comes with extra bungees. You can also completely fold the Rukket lacrosse rebounder for easier storage when not in use.
Large rebound surface for massive target and variety in return angle
Consistent and strong bungie rebound system
Multiple angles and easy storage
Best Affordable Rebounder is the Rukket 4x7ft Bounce Back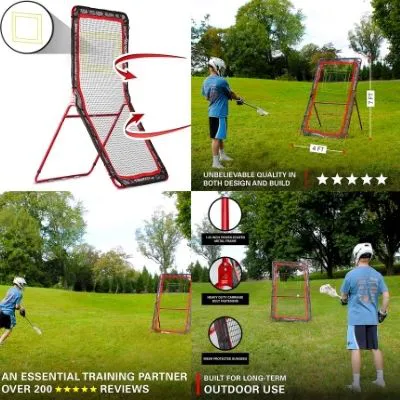 Rukket 4x7ft Lacrosse Rebounder
Best Backyard Lacrosse Rebounder
---
Truly the best intermediate option for lacrosse players looking to improve without spending a lot, the Rukket 4x7ft lacrosse rebounder pitchback training screen is a stellar choice.
Comparable to the Victorem Lacrosse Bounce Back.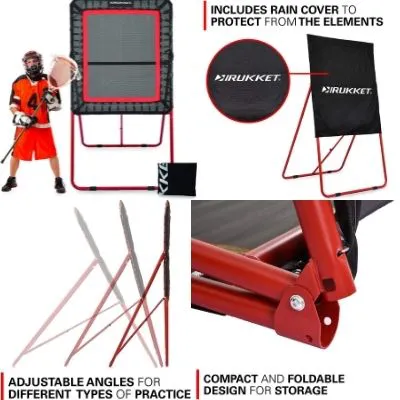 Rukket 4x8ft Lacrosse Rebounder
New Rukket Model
---
A new product from Rukket Sports is the Rukket 4x8ft Lacrosse Rebounder.
Comparable to the STX Bounce Back, EZGoal Rebounder, and Gladiator Rebounder.
---
Rukket Rebounder Assembly
Assembly of the Rukket Rebounder pro is a quick and easy process that can be completed in minutes with just a few common tools. The rebounder frame snaps together, so all that is left to do is attach the netting. The netting is attached to the frame with sturdy hooks that easily fit over the frame's metal bars, and bungees are threaded through loops at the top of the netting to create a secure enclosure.
---
RUKKET SPORTS REBOUNDER STATS
In a Stringers Society Community Survey 58% of respondents preferred the Rukket 4x7ft Lacrosse Rebounder over the Victorem Rebounder.