Are you a die-hard sports fan knowledgeable about making smart business moves? Well, my friend, combine your passion for the game with your entrepreneurial skills. It's time to grab that jersey and step into the world of SidelineSwap—a marketplace where sports enthusiasts like yourself can buy and sell gear from their favorite athletes and teams. Whether you want to make extra cash or establish a booming business empire, we have tips to help you become a sideline-selling sensation.
Tips for Selling on SidelineSwap
Although I may not be a SidelineSwap Business Mogul, they certainly exist. Look at this CNBC article showcasing a Hockey Dad who made $100k selling used hockey gear. Nevertheless, I've picked up some valuable tips from my experiences on SidelineSwap. I'm excited to share the lessons I've learned on making my first $1,000 on SidelineSwap, the premier marketplace for buying and selling used sports gear. So, let's dive into some expert tips for successful selling on SidelineSwap!
1. Select a Specific Product Category and Dive Deeper
When launching your SidelineSwap Locker as a side hustle or business venture, it's wise to begin by focusing on a single product category and gradually expanding your offerings. It's equally important to strategize how you'll secure a reliable source of inventory.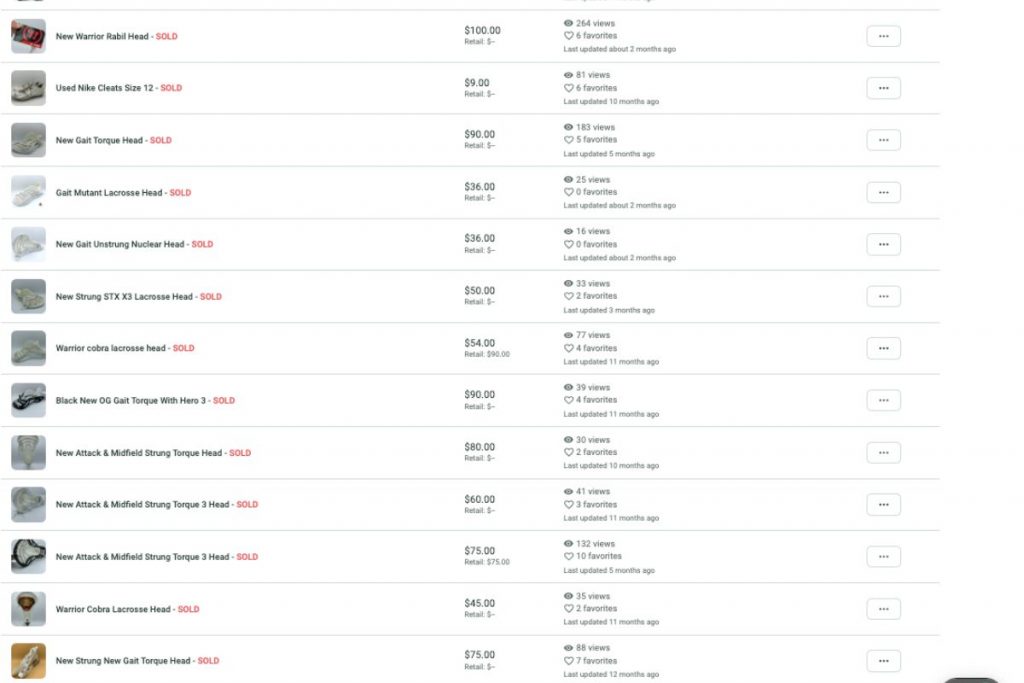 This approach lays a solid foundation for your SidelineSwap Locker, ensuring a consistent supply of top-notch products for your customers. Whether your niche is sporting equipment, apparel, or accessories, honing in on a specific product category will enable you to cultivate expertise in that area.
Once pinpointing your chosen product category, securing an inventory source is the next step. This becomes paramount in maintaining a steady stream of items to list on your SidelineSwap Locker. Fortunately, there are multiple options available for sourcing inventory.
2. Consider the "AOV" (Average Order Value)
When determining your product strategy, it's crucial to factor in the Average Order Value (AOV). For instance, selling a DeMarini Baseball Bat, which carries a resale value ranging from $100 to $400, can help you reach that $1,000 milestone more swiftly than focusing on products priced below $50. When I had an active locker on SidelineSwap, my AOV was only $36.36, which means I reached $1,000 in 27 Sales – not very good.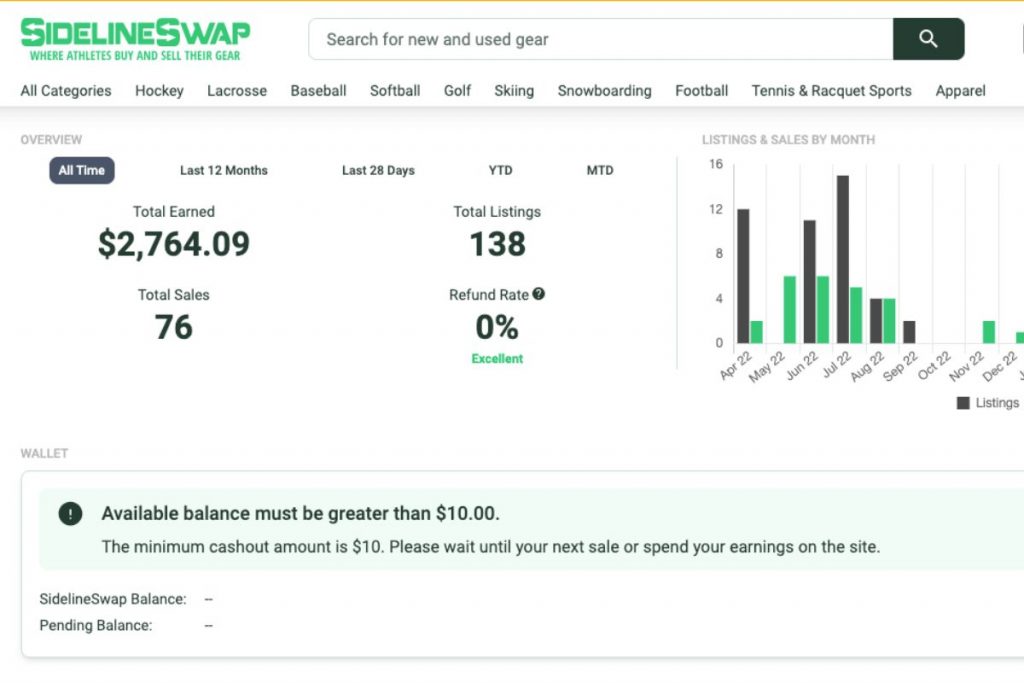 If you possess in-depth product knowledge, it's advisable to gravitate toward categories with a higher AOV. This strategic shift towards products with a higher AOV has the potential to make a substantial impact on your sales and overall revenue. By grasping the essence of AOV, you'll be better equipped to make informed decisions about which product categories should take precedence in your sales strategy.
In the context of selling a DeMarini baseball bat, whose resale value can span from $100 to $400, each sale contributes significantly more toward achieving your desired revenue target than selling lower-priced items. You can hit a sales goal of $1,000 in just a few transactions with this approach. This is an essential consideration that can shape your SidelineSwap Locker's success trajectory.
3. Ship sold items in 1.5 days or less.
Ensuring that your sold items are dispatched in 1.5 days or less is a crucial practice for SidelineSwap's success. You can earn a Quick Shipper Badge on your profile by consistently meeting this speedy shipping timeframe, which builds trust with your customers. It's worth noting that many sellers on SidelineSwap fail to meet this expedited shipping standard, making your commitment to swift shipping a standout feature.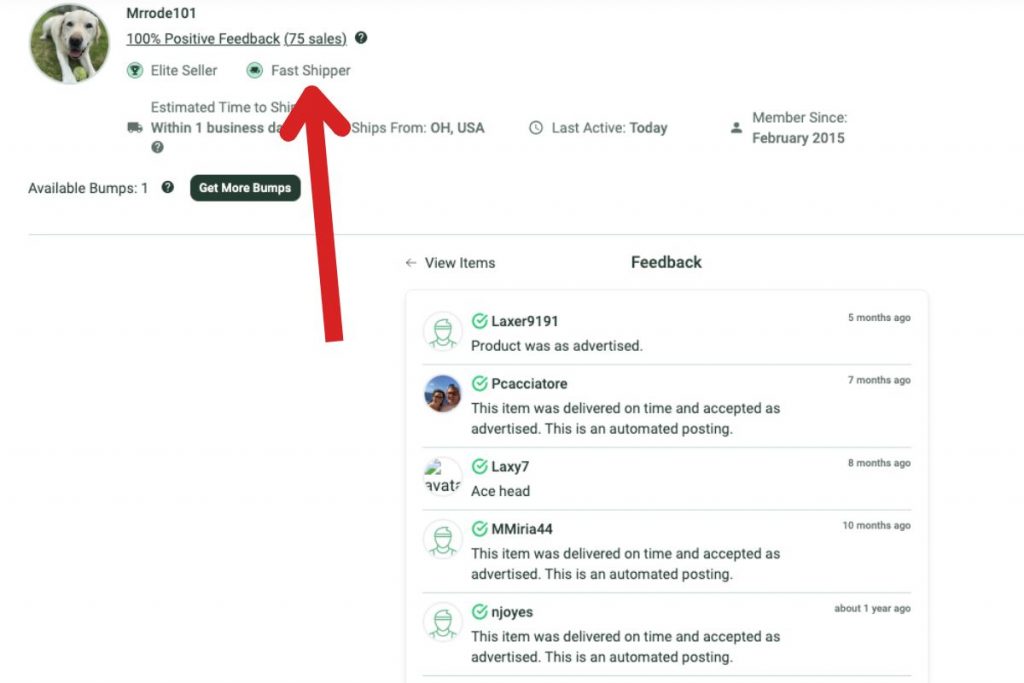 The benefits of quick shipping extend beyond mere recognition. This practice can lead to a significant increase in your review count. Of the 46 reviews I've received, a remarkable 32% of them praised the extraordinary speed of my shipping process. So, consider the power of swift shipping; it can set you apart and contribute substantially to your positive seller reputation.
4. Price in negotiations into your pricing
Getting a good deal is always appreciated by customers, and satisfied customers can help enhance your reputation and increase sales in the long run.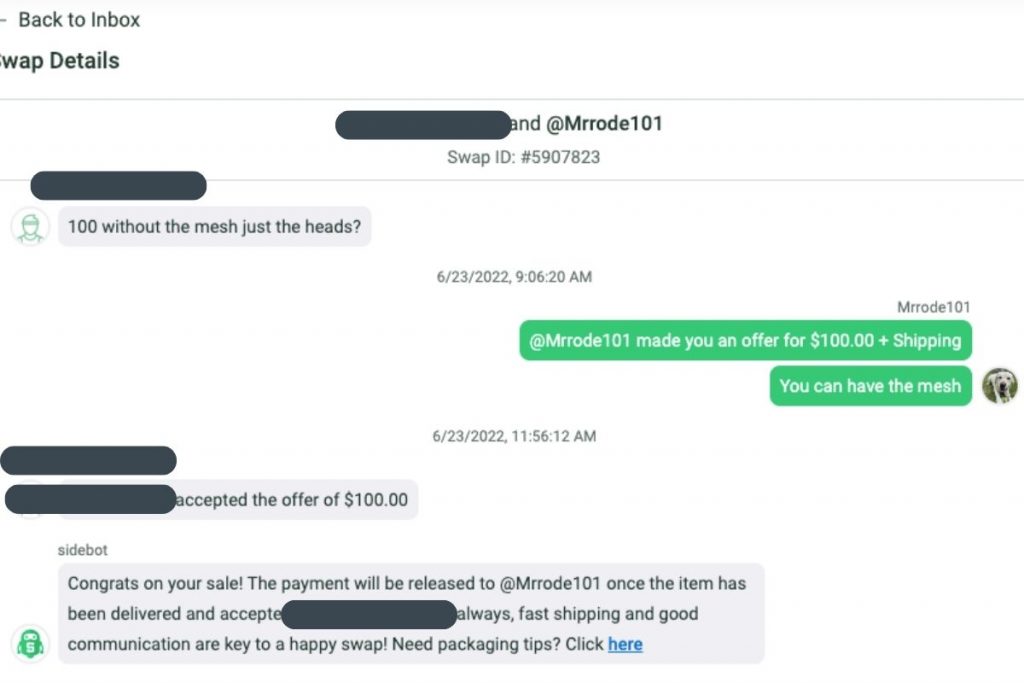 When setting prices for your products, consider the minimum break-even price and the price you want to charge. For products priced below $100, add $5 to the listing price; for those above $100, add $10. Also, when someone likes your SidelineSwap listing, consider sending them an offer based on the price you've set for negotiations.
5. Consider the season
As a seller on SidelineSwap, it's essential to recognize the seasonal nature of sports and its impact on buyer behavior. Just like the seasons change, so do the interests and needs of sports enthusiasts. Diversifying your offerings is critical to making consistent and seasonal earnings.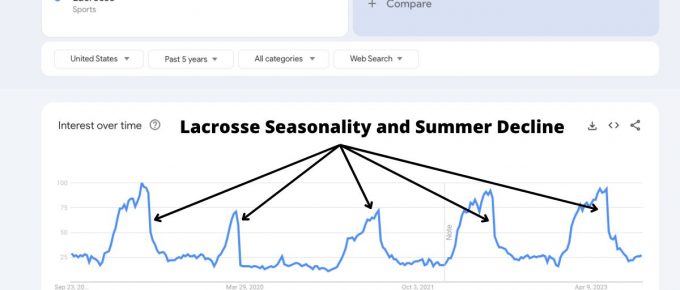 Instead of focusing solely on one sport or type of gear, consider expanding your inventory to include items for different seasons and sports. As the fall season comes to a close, it's important to shift your focus toward winter equipment. While football-related merchandise may have been in high demand during the peak of the football season, diversifying your offerings to include winter gear could attract new buyers and keep your business thriving.
By adapting your offerings to reflect the changing seasons and corresponding sports, you increase your chances of reaching a broader customer base. This helps you maintain consistent sales throughout the year and keeps your business dynamic and responsive to market trends. So embrace diversity in what you sell – it's a winning strategy for sellers and buyers alike!
Conclusion
In summary, combining your love for sports with entrepreneurial skills can lead to success on SidelineSwap. Our tips cover crucial aspects, from choosing specific product categories to quick shipping, strategic pricing, and adapting to seasonal demands. Whether you aim to earn extra income or build a sports gear empire, these strategies can make you a standout seller. Best of luck on your SidelineSwap journey, and don't forget to use our SidelineSwap Referral Code when you first sign up.