Sports are not getting any cheaper. The typical family with kids in sports spends anywhere from $700 to thousands of dollars in gear and fees every year. For low-income households, this makes modern sports a luxury they cannot afford.
With this in mind, low-income families are six times more likely to quit sports due to cost. In lacrosse, this statistic is widely prevalent due to all of the protective gear required to play the game safely. What was once a game invented by Native North Americans has become a sport decked out in high-end lacrosse sticks, helmets, gloves, cleats, shoes, and padding– a nearly $1,000 price tag. 
Enter the #1 marketplace for buying and selling used sporting equipment. Suddenly, the sport you love is more accessible due to the high-quality used gear available for sale on the platform.
If you've played the game and are ready to move on, your gear could greatly benefit a player seeking affordable gear. Imagine earning $500 or more by simply selling used sports gear you no longer use! With SidelineSwap, this is definitely within reach.
Read on to learn more about how to take full advantage of this creative side hustle.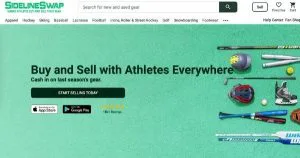 What is SidelineSwap?
SidelineSwap is an online platform that connects athletes to buy, sell, and learn about sports gear. Having served hundreds of thousands of athletes, SidelineSwap offers an expansive inventory that empowers every athlete, parent, coach, and small business to get involved.
Common reasons to sell include:
Cleaning out last season's gear
Upgrading to new equipment
Waning interests
Interest in mentoring a new generation of players
Keeping sports gear out of the landfill and on the field
A new opportunity for a lucrative side hustle
The SidelineSwap mission is to "make sports more affordable." To do this, SidelineSwap connects athletes with used gear sellers so that they can find great deals on new and used equipment. In turn, sellers can turn their extra gear into cash.
SidelineSwap was founded in 2012. Since then, the most popular sports and categories on SidelineSwap include:
Baseball
Basketball
Football
Footwear
Hockey
Golf
Lacrosse
Skiing
Snowboarding
Tennis
General sports apparel
Bikes
Camping
Fishing
When it comes to brands, you should be able to find or sell most day-to-day or high-end labels. Popular brands include:
Any sports-related item can be sold on SidelineSwap. Brand new, used, or an item in any condition can be listed for cash. You can even sell apparel, sports-related electronics, or accessories!
The SidelineSwap Feed
Curious about what buyers see when they are browsing products? You can browse items any time. Within the feed, you will find:
Lockers you follow
Your "Favorites"
Recently viewed items
Searches you've added
Add related items to the Feed
If you decide to "follow" other sellers, you will be able to view all new listings added to this locker from your "My Feed" page.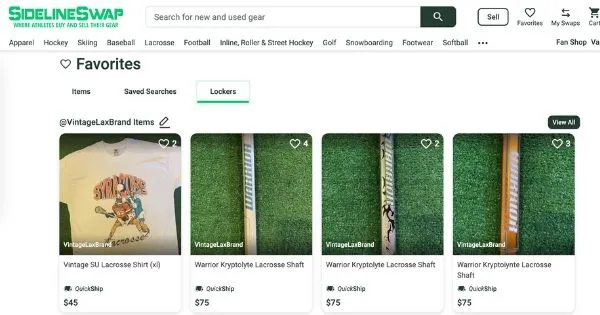 Interested in buying an item for yourself? Add an item to your favorites by clicking the heart icon. This will allow you to return to the item at a later date to review and potentially make an offer.
SidelineSwap Fees
Listing on SidelineSwap is always free. Fees are taken after an item is sold. They are based on the selling price of the item and the number of sales to date:
0-5 sales to date – 12% SidelineSwap fee
6 or more sales – 9% SidelineSwap fee
In addition to selling fees, there is a payment processing fee that is paid out to the SidelineSwap payment processor. SidelineSwap payment processing fees are 2.9% of the cost of the item plus an additional 30 cents.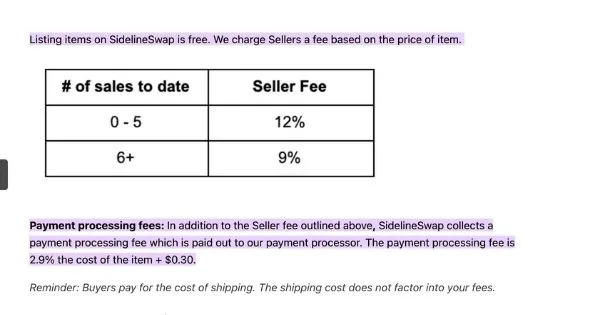 You can reduce fees by bundling your items for a Seller. A bundle allows the Seller to pay fewer selling fees back to SidelineSwap, since fees are calculated per sale, not per item.
SidelineSwap Expectations and Community Guidelines
Sellers on SidelineSwap are expected to keep their inventory up to date. If an item has been sold elsewhere or is not in the condition you advertised, SidelineSwap will follow up on any negative reports or low ratings. You may be suspended from the platform if you cannot create a positive experience for your buyers.
Minimum Age
You must be at least 13 years old and have the permission of a parent or guardian to sell on SidelineSwap.
If you are under the age of 18, you should submit the legal name and date of birth of your parent or legal guardian in order to join.
Trust, Safety, and Privacy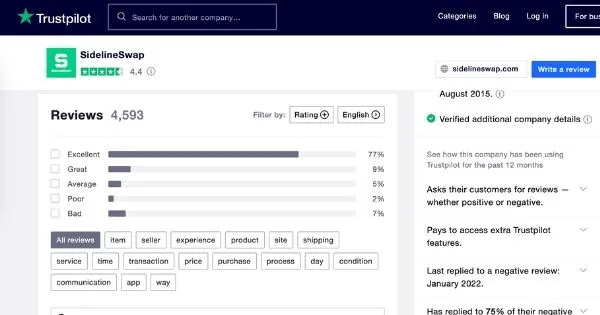 SidelineSwaps values buyers' and sellers' safety, comfort, and privacy. The platform does not tolerate:
Taking transactions or communications off the SidelineSwap platform
Content or conversation that is harmful, abusive, threatening, excessively violent, invasive of another's privacy, or racist
Vulgarity and obscenity
Sharing of personal information
Screenshots of private communications
If you experience any of the above behaviors, you may open a report with SidelineSwap.
Communication and Professionalism
SidelineSwap strongly encourages that Buyers and Sellers effectively communicate before, during, and after each sale.
As a Seller, answering questions about quality, condition, or fit on your listings can increase your chances for a successful sale. If you fail to do so, a Buyer might dispute your item, leading to a refund.
It's also best practice to keep a buyer updated regarding shipping status if there are ever issues or delays with the item being shipped.
Benefits of Selling on SidelineSwap
E-commerce makes it easy to sell your items from the comfort of your home. It's a low-risk side hustle, especially when you choose to partner with a site like SidelineSwap. Why worry about building out your own e-commerce site when you can work through a trusted platform?
Low Overhead Costs
Selling online through an established platform means that you get to avoid the costs of a brick-and-mortar storefront, or building out your own expensive website. Working with SidelineSwap also allows you to piggyback on the company's marketing and promotional efforts. No more expensive campaigns to advertise your product!
Frequent Site Updates
Looking for a sleek and optimized platform for your sales? SidelineSwap regularly updates its look and available features to make for the best possible user experience.
Helpful Value Guide
If you aren't sure how to price your items, SidelineSwap offers a Value Guide resource for reference. Search for a product to find how much it may be worth on the resell site, or start by selecting a category.
User-Friendly Tools
SidelineSwap has all kinds of features to make the buying and selling experience worthwhile.
SidelineSwap is also known for its excellent customer service team, so you can feel comfortable knowing you have help when you need it.
The Seller Protection Guarantee
The SidelineSwap seller protection policy protects against chargebacks and fraud. This policy also ensures that you are paid within 72 hours of your item being delivered to its new owner. No need to wait on payment!
Sell Specialty Merchandise
Sell your high-end equipment or specialty apparel. If you are selling niche goods, SidelineSwap can easily highlight your items to those who might be most interested. Additionally, your items will be categorized according to their brand and activity type, making them easy to find.
SidelineSwap Mobile App
SidelineSwap offers a convenient mobile app that allows you to manage your listings on the go. List, edit, remove and buy your own items from the SidelineSwap iOS or Android app.
Promotion
SidelineSwap advertises your items on Google, Facebook, Instagram, and other places people search for sports gear. This is to ensure your gear sells as quickly as possible.
SidelineSwap also incorporates "Bumps," a feature that allows a Seller to push their item back to the top of the listing feed.
Every Seller has a "Bumps Available" count that depends on the number of items listed in their locker. You receive 1 free bump with every 10 items you have listed. They do not carry over to the next week, which means you cannot "save" bumps when they refresh every Saturday.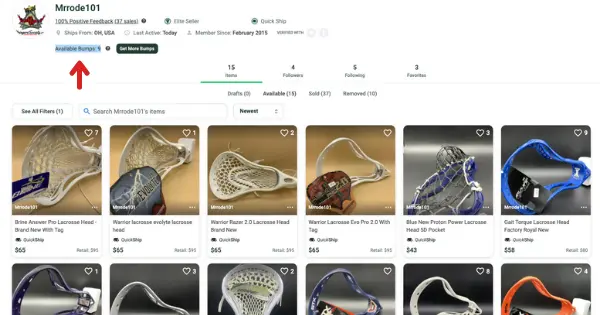 You can also purchase "Bumps" in packs of 10, 50, and 100. Bumps you have purchased remain in your Locker for as long as you are an active user.
To Bump an item from your Locker, merely click "Bump" on the "Actions" banner on your item page. You can also hover over the item in your Locker and click "Bump." On the app, click "Sell Faster" to initiate a Bump.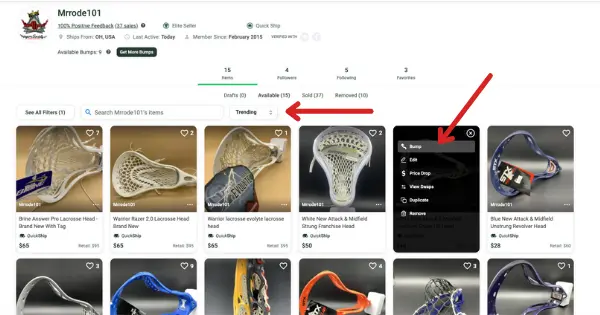 Bonus Tip: Sort your locker by trending and bump an item that is trending with low likes. If the item does not sell but gets more than 5 or 10 likes, drop the price by 10% to notify everyone who liked your item.
Bundling Items
If a Buyer purchases several of your items, "Bundling" will allow you to create one listing that includes all of the selected items.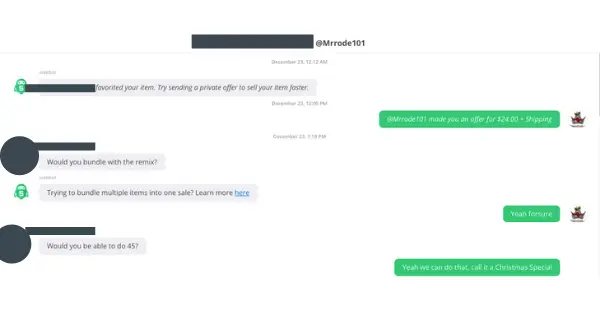 When this happens, only one shipping label will need to be created. The Buyer will pay less for shipping, making them one happy customer!
Vacation Mode
Are you anticipating being away from your items for an extended period of time? No need to panic or remove items — you can always set your account on "Vacation Mode."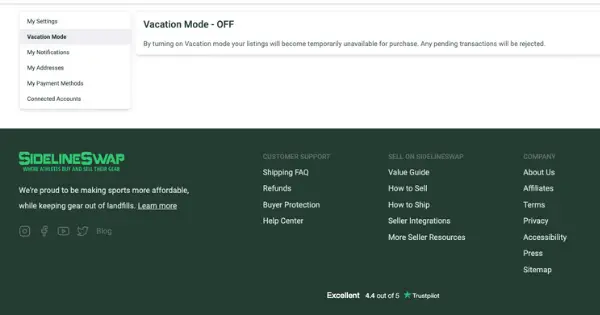 Once an account is in Vacation Mode, your gear isn't able to be purchased or engaged with by other users (no comments or messages). Your items will become available for purchase as soon as you turn Vacation Mode off in your account.
Notifications
SidelineSwap will notify you by email, text, or push notification to alert you of any offer or message. No need to worry about missing a shipment if you have your notifications turned on!
The Value of Your Used Sports Equipment
The most difficult part of selling your items online is setting a fair price. To get the most money out of your gear, you want to consider the following variables:
Current popularity of the item – is it trendy like a Peloton, or overabundant like a baseball glove?
Time of year – is it in demand this season?
How common is the item?
Be aware of the retail value
We understand that your gear once meant a lot to you. Pricing it fairly will ensure that it will quickly land in a new home. Be prepared to list your item at least 25-50% less than its retail value.
Preparing Your Gear
If you have a valid email, a phone number, and an item to sell, it's time to get ready to sell. Is your gear ready to be sold?
Many potential buyers will walk away from gear that looks dirty, damaged, or like it has been stored in poor environments. The following considerations should be made before you decide to photograph or list your item:
Is it clean?
Does it have all of the necessary parts?
Can any of the imperfections be repaired?
Does it smell good?
Are there stains?
Has it been overused or worn out?
Is it useable?
Remember, unless an item has never been used before, then it should not be listed as a "New" item." If an item has been used even once, it should be labeled as "Used," even if it's like new.
How to Sell on SidelineSwap

With a platform like SidelineSwap, there is no need to feel overwhelmed about making sales on your used gear. The site walks you through the onboarding and selling process, making selling on SidelineSwap an intuitive experience from start to finish.  
Total Time: 29 minutes
Create a SidelineSwap Account

SidelineSwap refers to Seller accounts as "Lockers." From your Locker, you can add a profile picture, set your preferences, and upload the gear you want to sell. If you want to purchase items, you can also browse and save gear in your "Favorites." Bonus: New SidelineSwap Sign Up Promo Code

Price Your Items

Analyze your items and determine fair pricing. You want to make a profit while also encouraging buyers to take the plunge. Follow these pricing recommendations for the most success: 

Review the lowest available retail price online
Price at least 50% off retail if lightly used
Price at least 25% off retail if brand new

Don't worry, you can make updates to your pricing if you feel that your original price was too high. If you aren't receiving interest in your item after a few days, it may be worth revisiting this number. 

On SidelineSwap, every listing has a "Buy Now" option that you can set as a Seller. A Buyer can purchase your item immediately at this price. A Buyer can also submit an offer lower (or higher) than this price. You will have the option to accept or reject that offer.

Take Photos

Photos are the most important part of your listing. The number of photos you include as well as the quality matter to your potential customers. Take plenty of photos, of all angles. 

If possible, try to take photos with a solid background and good lighting. The best photo is taken under natural light rather than overhead artificial light. Try to avoid backlighting or blowing out with too much brightness. 

Disclose any imperfections or damage in the photo. Do not post generic or stock photos. Buyers want to see actual photos of the item. 

Create a SidelineSwap Listing

Once you have gear you're ready to sell, it's time to create a SidelineSwap listing.  

Item descriptions are extremely important. Don't skip out on these just because it requires a little writing!

Explain when the item was purchased and how many times it was used. It's important to be honest about the condition, so disclose any damages or imperfections. 

Include sizing and any important details, if it is one of significance. This can include Limited Edition releases or items used in professional sporting events. 
Remember, postage cost is determined by the weight and dimensions of the item and the distance between the seller and buyer. Be sure to answer these prompts accurately! 

Find Buyers and Review Offers

Items will be listed on the site immediately and are available to be reviewed by interested Buyers. It is important that you list your item correctly in order for Buyers to locate the item during their search experience. 

Users may filter on top categories, brand, item type, sport, price, and size. They may also search by keywords. If you want your item to be presented as a search result, be sure that you input these specifics correctly from the beginning. You may edit these details, if necessary. 

Buyers can purchase items at the listed price at any time. However, sometimes they may send messages or make an offer that is less than the listing price. You are welcome to review and negotiate to help your gear sell faster. 

Ship Your Gear

With SidelineSwap, you can easily ship your gear without worrying about the perfect box or paying for a label. SidelineSwap's prepaid shipping label covers the entire cost of shipping.

As soon as a SidelineSwap Buyer has purchased an item, Sellers should give them an approximate shipping date so they know when to expect their item. Keep your Buyers in the loop! 

Pack your item securely with any box or envelope you have available at home. The one exception to this is USPS flat rate shipping boxes. These boxes will be returned to the sender, as they are not properly paid for by the provided prepaid shipping label. 

You can even schedule a pickup from USPS if you are unable to drive to the post office! 

Get Paid

Once your item has reached its new home, it's time to get paid! All payments will appear on your SidelineSwap dashboard, but they will remain "pending" until the buyer "approves" the purchase and confirms it is in its advertised condition. If a buyer forgets to approve the purchase, funds will be released 72 items after the item has been delivered. 

If you have provided invalid banking information, no worries! Simply edit your banking information so it is valid. 

Editing Your Listing

If you make a mistake or would like to add to a listing, you are always welcome to edit the description. 

If you're on the desktop site, clicking the three dots on the item thumbnail and then "Edit" from the menu will allow you to make edits to the listing. 

If you're on the mobile site, clicking the pencil icon below the listing from the locker view or the pencil above the listing from the item view will allow you to make edits to the listing. 

If you're using the app, clicking "Edit" on the item in your Locker or from the item page itself will bring up an Action menu. Proceed through the "Edit" option to make edits to the listing. 

We get it: sometimes you might decide you want to keep an item you previously listed. Any of these actions will similarly allow you to "Remove" an item permanently. 
SidelineSwap As a Buyer
Have your sales resulted in an account balance? Rather than cashing out, you are always welcome to use your profits to purchase new gear.
You can purchase gear immediately by selecting the "Buy Now" button on an item page. You will then be prompted to follow the checkout process. During the checkout process, you will be asked to confirm your payment and shipping information.
If you'd rather make an offer that is under the seller's price, simply click "Make Offer" on the item page. Sellers have 24 hours to accept or decline your offer before it expires. If an offer is accepted, you will be charged.
The Fan Shop
SidelineSwap highlights brand-specific items in the dedicated "Fan Shop" of their online store. If you are looking for a particular team (but don't want to pay top dollar in the official team merchandise store), check out the Fan Shop for reasonably priced items. You might be surprised by the collectibles that you find!
User Education
If you're new to this and not quite sure how to begin photographing, listing, or shipping your items, don't worry! SidelineSwap has a plethora of resources for buyers getting started on the platform.
If you have questions about how to package and ship a particular item (like a lacrosse stick), search the site for a relevant article. SidelineSwap offers tips to help you ship your item safely, including materials you'll need and step-by-step packaging instructions. They may also recommend a certain kind of box!
If you're a new Buyer and want guidance with the best kind of gear to look out for, you will also find a library of articles dedicated to gear reviews. No need to blindly purchase lacrosse gloves or cleats ever again!
SidelineSwap Reviews
SidelineSwap is a credible site with many positive reviews. Generally, customers note that they are able to "sell things pretty regularly," and that they have a "good experience both buying and selling."
Because of their success rate, SidelineSwap is considered very trustworthy. Customers love that you can:
Quickly create listings (for free!)
List your items under a range of sports and categories
Rest assured knowing the seller protection policy means you get paid quickly, with minimal risk for dispute
Leave shipping costs up to the buyer
SidelineSwap has a positive B+ rating with the Better Business Bureau.
Additionally, the SidelineSwap mobile apps have a 4.2 star rating on Android and a 4.8 star rating on iOS. Those are some happy customers!
SidelineSwap Badges
SidelineSwap rewards Sellers who follow all Community expectations and excel at selling a large amount of gear. SidelineSwap badge types include:
Elite Seller Badge – 50+ completed sales with a 95% (or higher) feedback rating OR 25+ sales with a 100% feedback rating
Verified Athlete Badge – reserved for student-athlete recent graduates of Division 1 colleges and current professional athletes
Fast Shipper Badge – median "time to ship" of 1.5 days or less
Ambassador Badge – must contact SidelineSwap to discuss eligibility
Seller Assist Badge – individuals who have gear to sell but don't have time to list and/or ship (will receive assistance from SidelineSwap)
SidelineSwap Employee – employees of SidelineSwap
The Elite Seller Badge is typically the most attainable and beneficial award for your profile. If you have more than 1 refunded order, you do not qualify.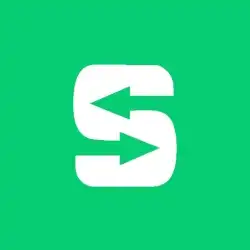 SidelineSwap Promo Code
Sign up today and use our referral code – StringrsSociety172 – to get $5.00 off your first purchase. SidelineSwap is the perfect destination for all of your sports gear needs, whether you're looking to buy or sell. With a huge selection of products from all of your favorite sports, you're sure to find what you're looking for at SidelineSwap.
Pros:
$5.00 off your first purchase

Large Selection of used and new gear

Safe and trustworthy

Low fees for buyers
Cons:
Expensive shipping

Expensive fees for sellers
SidelineSwap Bonus
We earn a commission if you make a purchase, at no additional cost to you.
Once a friend makes a qualifying purchase of $50 or more on their account, your account will be automatically issued a $5 credit. These credits cannot be cashed out, but will always be available for purchases onsite.
SidelineSwap Seller Protection
SidelineSwap collects and holds payment once a Buyer purchases an item. This ensures that there are enough funds secured for you to comfortably ship your item off to its new home.
Funds in your SidelineSwap Seller Dashboard move from "Pending" to "Available" once either:
The Buyer approves the sale
72 hours after the item has arrived at the Buyer's address
You can rest assured knowing that even if the Buyer never confirms their order, you will be paid automatically.
If a buyer opens a dispute regarding an item they received, they must go through the official SidelineSwap dispute process in order to prove that they are owed a refund.
Even if a buyer claims they have not received their item, SidelineSwap will always defer to tracking details. Unless it has been determined as lost by the carrier, SidelineSwap will never refund an order that is "In Transit" to its destination. A full investigation will take place prior to any refunds being issued.
Remember, keeping communications onsite allows a guaranteed SidelineSwap Seller Protection. If your messages are accessibly reviewed by the SidelineSwap team, they can handle any reported incidents accordingly.
Once it's time to cash out, you can rest assured knowing your funds will arrive safely to their destination. SidelineSwap uses Payoneer, a certified PCI Service Provider Level 1 to process bank transfers securely. This is the most stringent level of certification available.
When Selling Gear Is More Than a Hobby
Are you ready to make selling sports equipment your next side hustle? Selling sporting goods online through a reputable platform like SidelineSwap can make for an easy second income stream.
Communicate, Communicate, Communicate
Want to be an all-store seller of sports equipment? Communicate all shipping updates and the full condition of each item. Send a thank-you note along with the order.
Adhering to a professional cadence of communication may make buyers return to your Locker when they are looking for their next item!
Get Comfortable With Shipping
If you are going to be shipping more than one item, get comfortable with a regular shipping cadence. Get to the post office as quickly as you can to expedite delivery. Have a printer on hand to produce shipping labels.
Ask For Help
If you need additional guidance or want to learn more about the buying/selling process, check out the SidelineSwap Help Center. You can also contact the SidelineSwap Support team with any additional questions.
Start Today
That garage you have that is full of gear — it's not going to sell itself. Take the time to start preparing and photographing your items. The sooner they are listed, the sooner they can be on their way to better homes.
Start Selling Used Sports Gear On SidelineSwap
Lacrosse doesn't have to be completely inaccessible to those who may not be able to afford the gear. SidelineSwap provides an opportunity for lacrosse players of all ages and skill levels to purchase affordable gear to support their blossoming athletic careers.
Even better than this? A consistent portion of SidelineSwap's revenue supports charities passionate about increasing access to sports.
SidelineSwap Guides
SidelineSwap is the best place to find used sports gear. Whether you're a fan of basketball, football, soccer, or any other sport, SidelineSwap has the gear you need to get your game on.