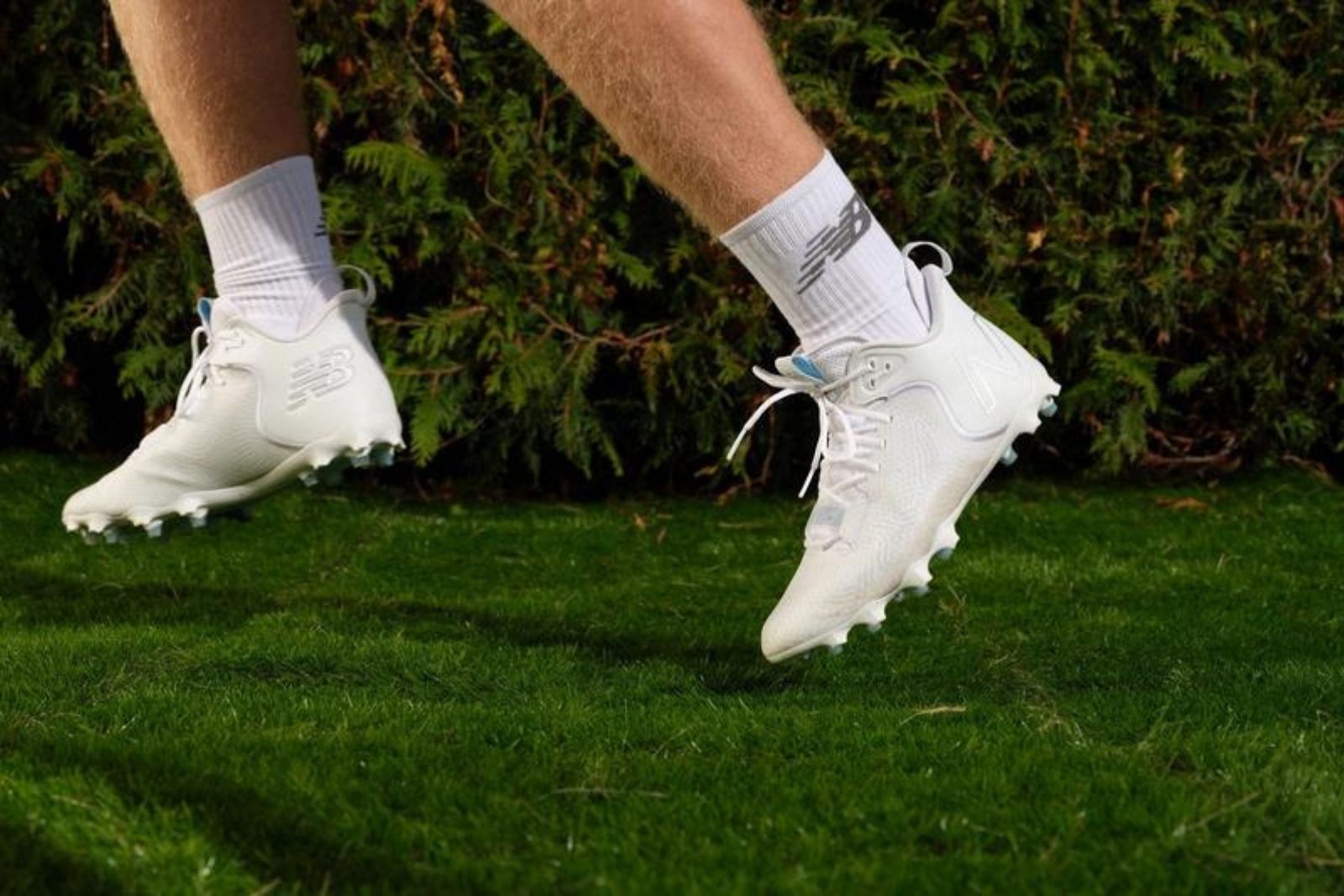 Mens Lacrosse Cleats
The fastest game on two feet requires speed, and confidence in your footwork. From offense to defense in lacrosse, you need to be able to move efficiently to be the best player you can be. Having the best lacrosse cleats for your lacrosse position and play style can help your game. Having the wrong lacrosse cleats can conversely really hurt your game.
---
Due to lacrosse fields with turf or grass, players must be able to cut and move without sliding or falling. Your lacrosse cleat can influence that stability and quickness, which both can make or break your playing. So keep this list in mind when you are deciding on what lacrosse equipment to get this upcoming season.
Best Lacrosse Cleats for Men
Best Lacrosse Cleats for Attack
Fast or Last can be the name of the game on offense. Being able to fly by defenders on a dodge or cut is a straightforward way to score or get open. Having cleats that are lighter and allow for quickness will shed seconds off your pace as an elite offensive player. A lite lacrosse cleat usually means a low-cut cleat for less material to weigh you down. Luckily, we have low and high options for the fastest players on the field.
Nike Alpha Huarache 7 Elite Lacrosse Cleats
The latest in the Huarache line from Nike, the 6 Elite is speed and versatility for an attacking monster. You can get the jump on any defender in these, and the comfort is to die for. When you look at the pros and best collegiate players out there, this Nike Alpha Huarache Elite 6 is the standard of excellence. You can trust the ankle stability of this cleat for any position and any player, but the grip and traction give the lacrosse cleat it's the best asset. Moving on the field has never been easier because you'll always feel connected to the turf. The cleat plate on the Huarache 6 is genuinely elite in every way.
Nike Vapor Untouchable: Pro or 2
The entire Nike Vapor line is speed embodied in footwear. These are easily the fastest cleat in the game currently excluding using soccer cleats. The unfortunate part is that soccer cleats lack a toe cleat that helps with starting and stopping quickly, so use those at your own risk. I would stick to the Nike Vapor Untouchable 3 which I would call the best lacrosse cleat for speed. Incredibly light and incorporating a carbon-fiber footplate means stability within speed. If you want to be the fastest on the field, you'll want a pair.
Best Lacrosse Cleats For Defense
Making the last stand and keeping the offense from scoring often means standing your ground as a defensive player. If your cleat can't plant you in the turf or dirt, you could find yourself letting goals slip away. Get a pair of lacrosse cleats that allows you confidently press the offense back without losing an inch!
Under Armour Highlight
The Under Armour Highlight is not only one of the best lacrosse cleats for defense, but it also is excellent for playing offense. The real strength of this cleat is ankle stability though the hightop lacrosse cleats design. There is no movement, sliding, or rotating of your ankle to make you falter. This stability and secure feeling make the Highlight perfect for creating a solid base for any defender to play from the ground up. On offense, you can post up against players and make the most of your cuts when wearing the Under Armour Highlight. Overall it is a great cleat, but I strongly advise it most for defenders that want a secure feeling in their cleats.
Nike Savage: Elite, Pro, Varsity
Nike came out with the Savage several years after Under Armour came out with the Highlight. So they might have slightly borrowed inspiration from the Highlight, but we aren't the ones to say. Anyway, the Savage is a similar cleat with superb stability. If anything there is a slightly better sense of security in the Savage. Ndamukong Suh wears and pushes this cleat, it is designed for linemen. That is where all of the ankle security and stability comes into play, which translates perfectly into lacrosse without being too clunky.
Best Lacrosse Cleats For Playing Lacrosse
Lacrosse is a fast paced game that requires you to be on your toes for the duration of the game. If you're looking for the best protection and support while playing, then look no further than the New Balance Lacrosse Cleats.
New Balance Men's Freeze V3 Agility Lacrosse Shoe
The New Balance Freeze LX V3 is entirely the best lacrosse cleat out there right now. The angular cleat spikes on the side are great for defense, offense, faceoffs, and anything else. I have no negatives about this cleat except the limited color options that New Balance offered. Besides that, there are no flaws, and I am looking forward to a second line coming out in the future.
For now, you can snag a few colors and get the best lacrosse cleats with unmatched performance and comfort. This cleat took the lacrosse world by storm and hasn't gone away at all. I expect this to be the most worn cleat in lacrosse for at least another year or two because of the incredible performance of this cleat.
New Balance Men's Burn 9.0 Mid-Cut Lacrosse Cleat
Warrior has been bringing the burn for quite some time, and they continue to do the same. Both, the Burn 9.0 Mid and Low, are made using ExploWeave, which is resistant to stretching and wear. These and the older Warrior Burns can usually be found for a great deal at many retailers. Snagging a pair of Burns is a solid move for any player, but check to see which height is best. Burns are classic, and most lacrosse players have found themselves in a pair of them at some point.
Other Lacrosse Cleat Options
If none of these cleats seem to tickle your fancy, then I would check out Adidas, Warrior, Boombah, and other Nike cleats. Under Armour also has some different lacrosse designated cleats that many players are fans of too. The main thing to keep in mind is finding a lacrosse cleat that will accent your skills. If you aren't fast and you buy a speed cleat don't expect to be a speedster suddenly. Instead, focus on what can make you stand out as a different asset that can help your team. Maybe get stability cleats and work on the crease instead? There are just as many options as there are cleats so keep an open mind!
Lacrosse Cleat Guides
Your brain is your most valuable asset on the lacrosse field, make sure your lacrosse helmet protects you for the rest of your life and not just for a game. A high quality men's lacrosse helmet can be the difference between safe and sorry, so make sure you're always safe.