Victorem Lacrosse Rebounder
If you're a young player looking to get into lacrosse, the Victorem lacrosse rebounder is a top pick. It's budget-friendly and even comes with an extra rebounder net. Though there are pricier options out there, this one still offers good quality for the price.
Budget Friendly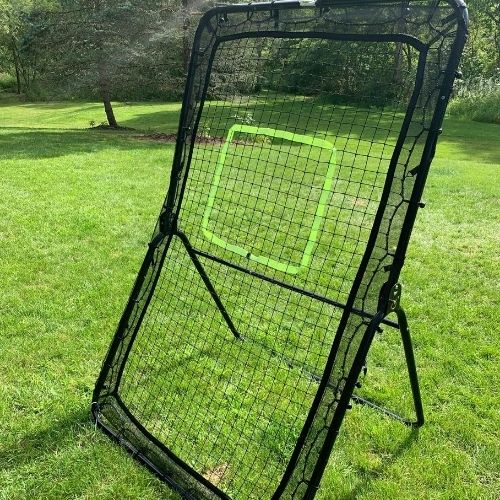 Victorem Lacrosse Rebounder
If you are a young player interested in lacrosse, the Victorem rebounder is a great choice. It is affordable and includes an additional rebounder net. While there are more expensive options available, this one still provides excellent quality at a reasonable price.
Buy on Amazon
We may receive a commission for your purchase at no extra cost. Thank you for your support. 🙏
12/04/2023 08:05 am GMT
Victorem Lacrosse Rebounder Assembly
Victorem Lacrosse Rebounder Quick Facts
This product has a similar size and surface area to the Rukket Rebounder but is more affordable.
This item can be folded flat for easy storage. It comes with extra bungees and ground stakes to provide stability in windy climates. The bungees are protected by mesh and there are five adjustable angles to choose from.
Beginner lacrosse players can easily move it without assistance and it is lighter than traditional-style lacrosse rebounders like the STX Bounce Back, Gladiator Bounce Back, Champion Bounce Back, and EZ Goal Bounce Back.
Although the Rukket Lacrosse Bounce Back has more surface area compared to the Victorm, we don't think that the difference is significant.
Our Victorem Lacrosse Rebounder has been left outside for more than 12 months, but it shows no signs of wear or tear.
Rebounders for Lacrosse
Looking to compare this lacrosse rebounder with other options on the market? Take a look at our complete range of rebounders and bounce backs to discover the perfect fit for your needs.
The All Ball Pro Stinger X Sports Rebounder is an elite-level lacrosse rebounder that sends passes back at the same speed it receives.
Known for the largest surface area rebounders in the game, the EZGoal Lacrosse Rebounders are foldable and portable for an "EZ" practice session anywhere. 
The Champion Lacrosse Rebounder Bounce Back comes in two different sizes and can be used for a variety of lacrosse drills.