Lacrosse Pockets are customizable and defining pieces of each player's lacrosse stringing. Picking the right lacrosse pocket style for you can go a long way and not knowing what to choose can really hurt you as a player. Choose wisely, and do your research.
Lacrosse Pocket Styles
Your choice of lacrosse pocket not only says a lot about you, it creates your style of play. Pockets are unique, just like players. Using a specific style of pocket will define what you can and can't do. Remember to choose wisely…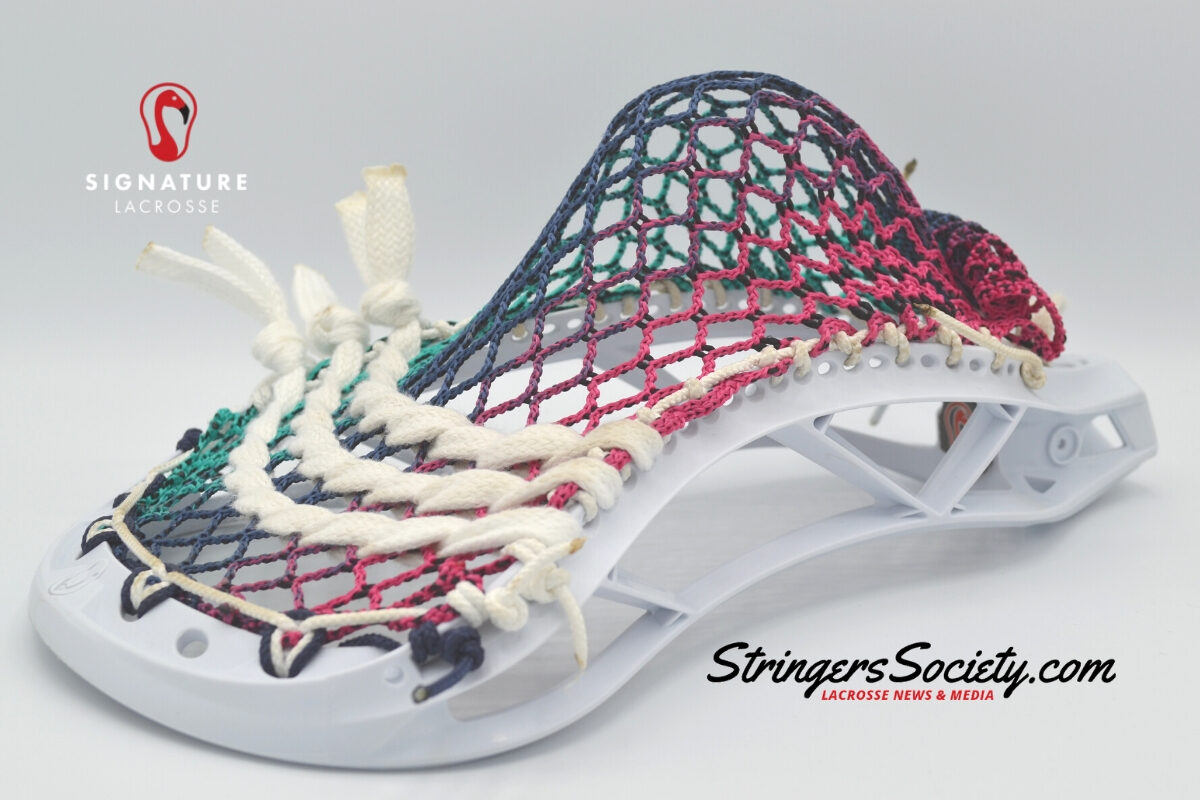 Low Pockets sit very close to the throat of the lacrosse stick and allow the ball to rest vertically in the stick so that one-handed cradling/dodging are made easier. This security that comes with a Low Pocket makes many attackmen choose this set up for their sticks because they want to use their other arm as a shield when dodging.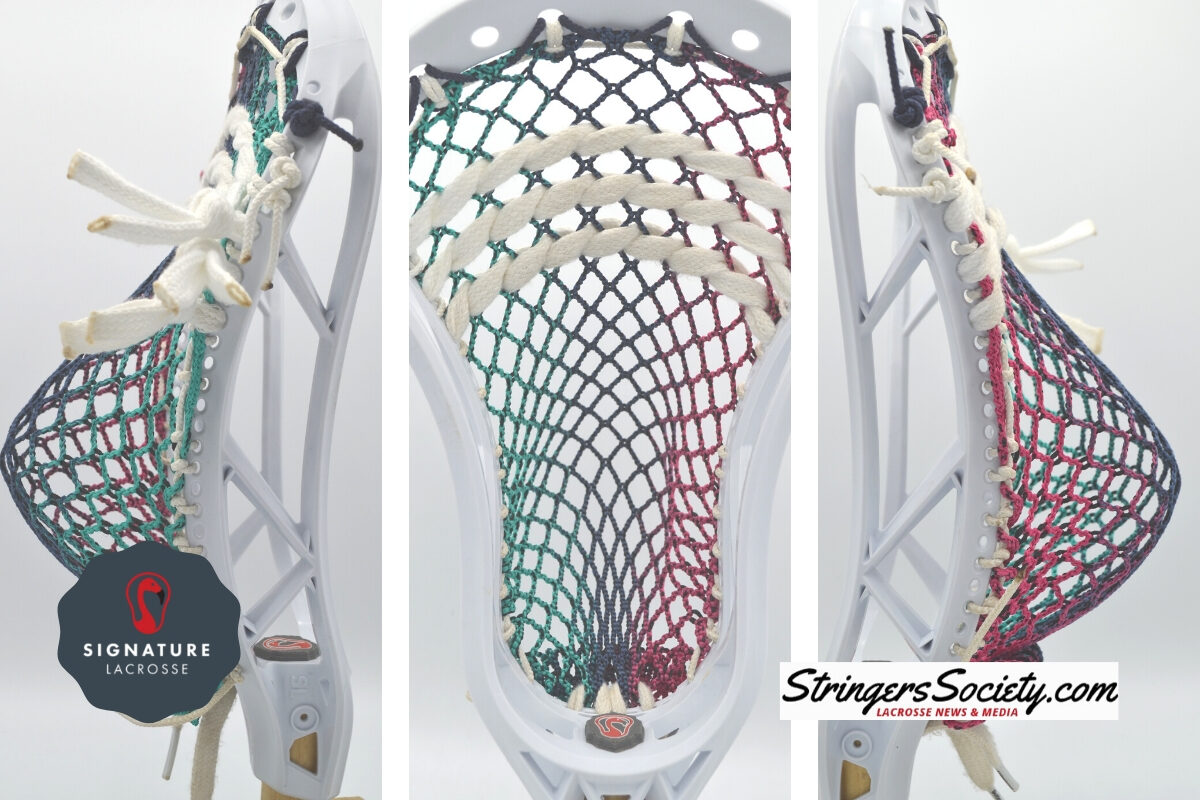 Any player looking to be an elite feeder should consider a Low Pocket. Being able to move the ball quickly with your wrists can make you get extra A's on the stat sheet and make every player on your team your best friend. Getting the ball to other players after drawing a slide can be difficult if you need to really wind up to throw which is why a Low Pocket is perfect for anyone dodging to feed rather than score.
Mid Pockets are essentially for all players. Any position can use a Mid Pocket and young players should especially consider using a Mid Pocket. Trying a Mid Pocket lets you see what you want more or less of before choosing a side. While some may stick with a Mid Pocket their whole career, some may decide to change to a Low or High Pocket.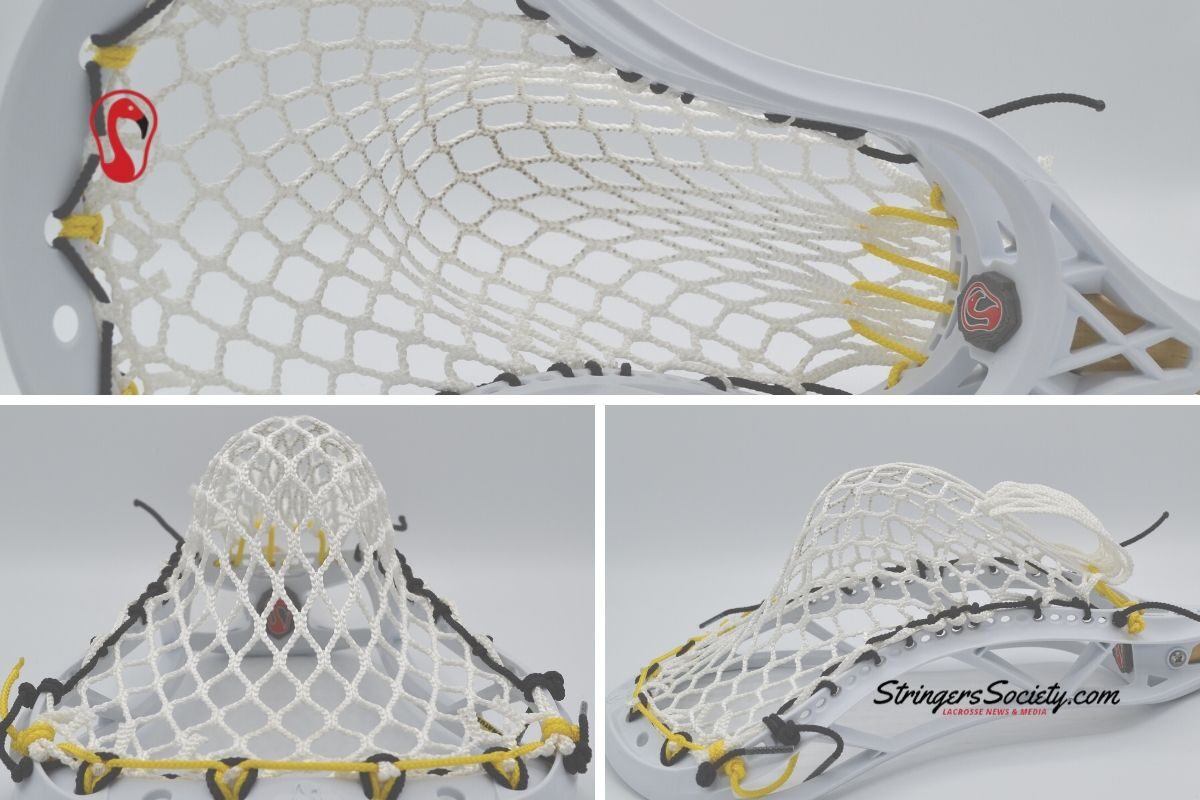 Mid Pockets are the best of both worlds. You get the feeding ability of a low pocket, the quick control of a high pocket, and extreme versatility. Lots of players prefer how Mid Pockets are very customizable for benefits from all styles of stringing. The more options that are available, the more you can be able to include in your stick.
High pockets are most useful for defensive players and players that want to have superior control or big shooters. The ground ball ability of a High Pocket is one of the best attributes that makes it an easy choice for defense. Since picking up the ball is the most important task of the defensive players once they cause a turnover, having a high pocket lets them control the ball after picking it up more quickly so they can evade the ride from the offense.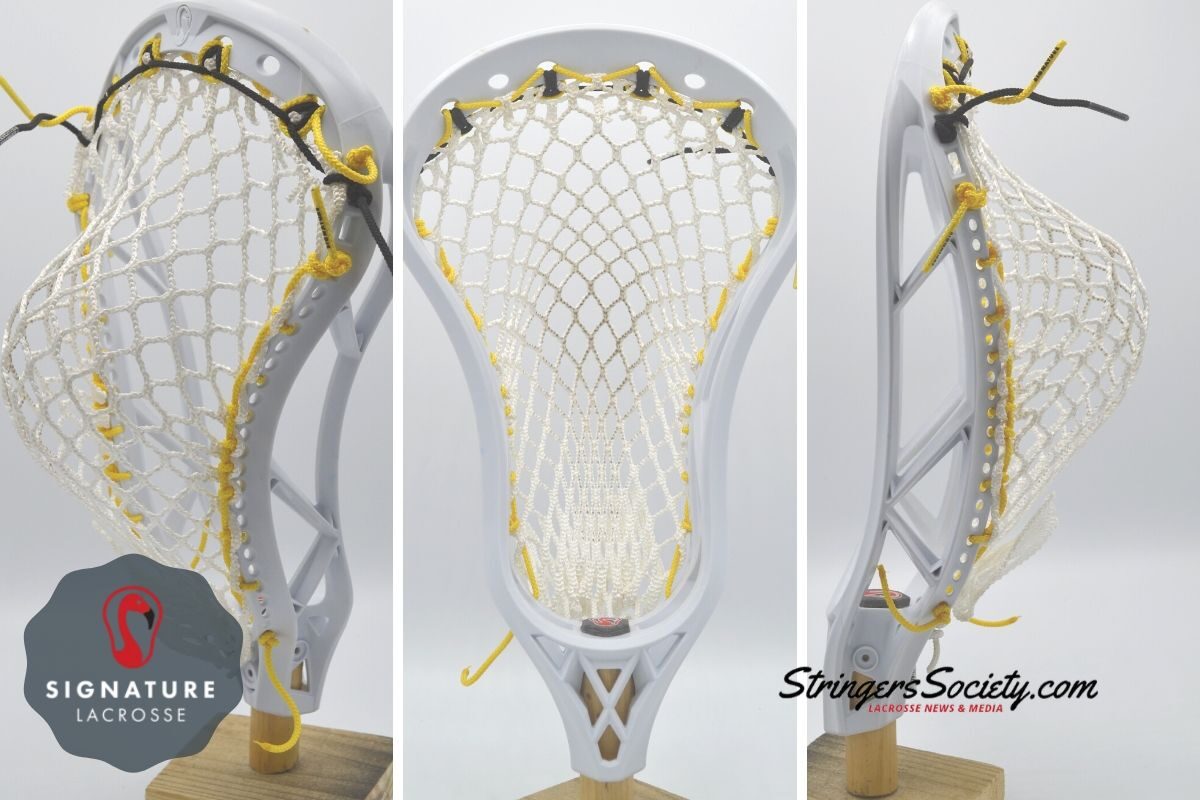 Having a High Pocket also lets shooters wind back more, then really snap the ball. This release can be a major factor that allows players to rip off some high bounce shots or low stingers that appear to be going high so that the goalie will avoid the shot accidentally. The High Pocket allows you to have a release that is best for the outside shooter as well as a defenseman or wing player looking to capitalize on ground balls.
Box Lacrosse Pockets
The bag is a very controversial lacrosse pocket. Lots of box lacrosse players like how Baggy Pockets really let you get a lot of feel. You also get a very controlled cradle with a Baggy Pocket that you won't get with a shallow one. The Baggy Pocket is the perfect choice for players that have control issues that need to hold onto the ball. A nice juicy pocket will let you corral the ball and really control it like a High Pocket.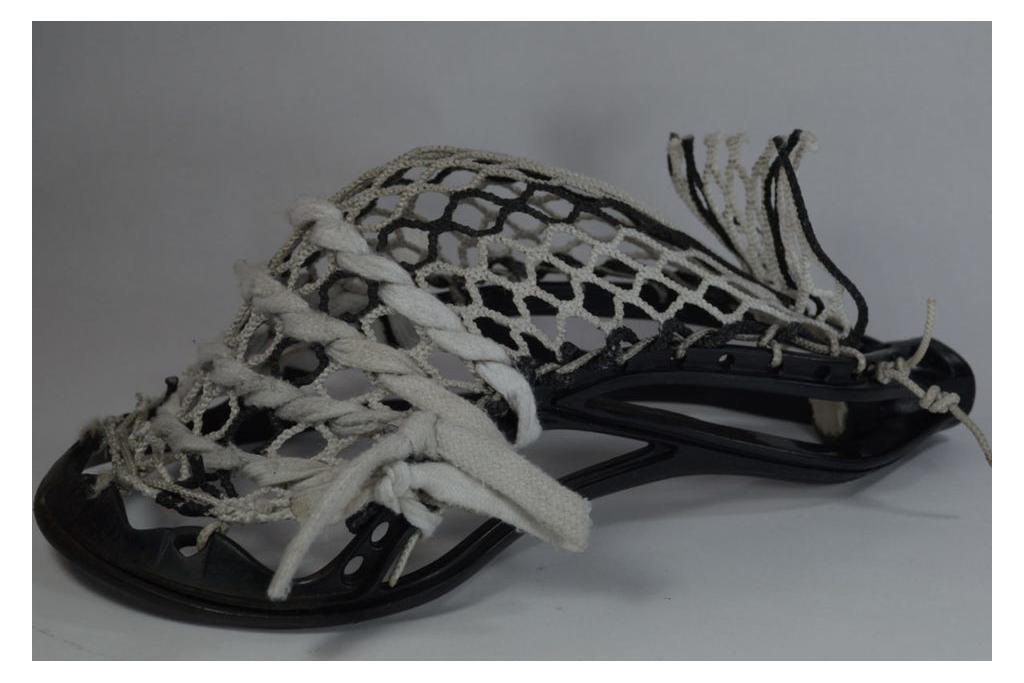 Your biggest worry with a Baggy Pocket would be getting too baggy. You can't fly too close to the sun or you'll get burned! Having a pocket that is too baggy can get you a penalty, so be sure to check out our article on stringing rules. If you are going to use a pocket that is illegal, using a Pull Pocket would also be an option.
Pull Lacrosse Pockets
A Pull Pocket is when your bottom string is very loose to allow for a Baggy Pocket, but you can pull it to make it legal. If you have an illegal pocket, use a shooter or a leather for your Pull Pocket so it stays. One you pull it, the pocket should stay legal for the pocket check.
Phantom Lacrosse Pockets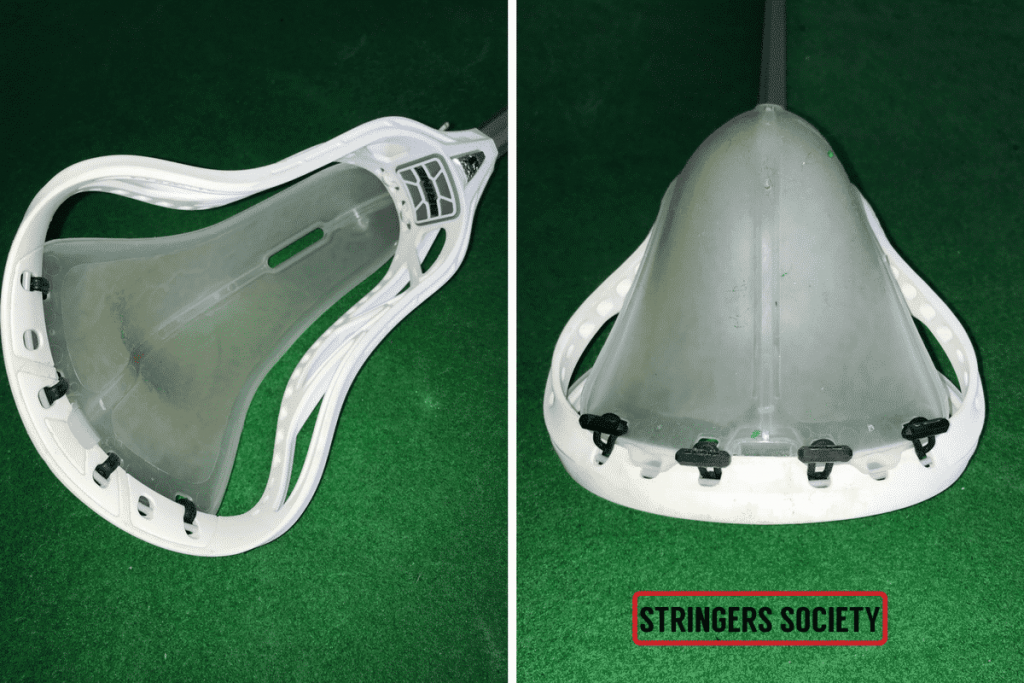 Phantom Lacrosse Pockets are synthetic pockets for learning lacrosse fundamentals. They are completely legal, very useful, and deliver quality performance. This is a pocket that is designed for the newer player trying to get expert skills quickly. It is a made of two types of materials that create ribs and a urethane base.
Warp Lacrosse Pockets
The Warp is the newest innovation in lacrosse anti-stringing. Warp Pockets are attached to the head itself, and the pocket is one piece of synthetic with holes in it. They were originally rather overpriced, but they have been reduced and been made more affordable. Warps are made for extreme consistency and they are very versatile for many players. Warrior will be making plenty of Warp options in the future and they are likely going to change quite a bit.
Channel Mesh Lacrosse Pockets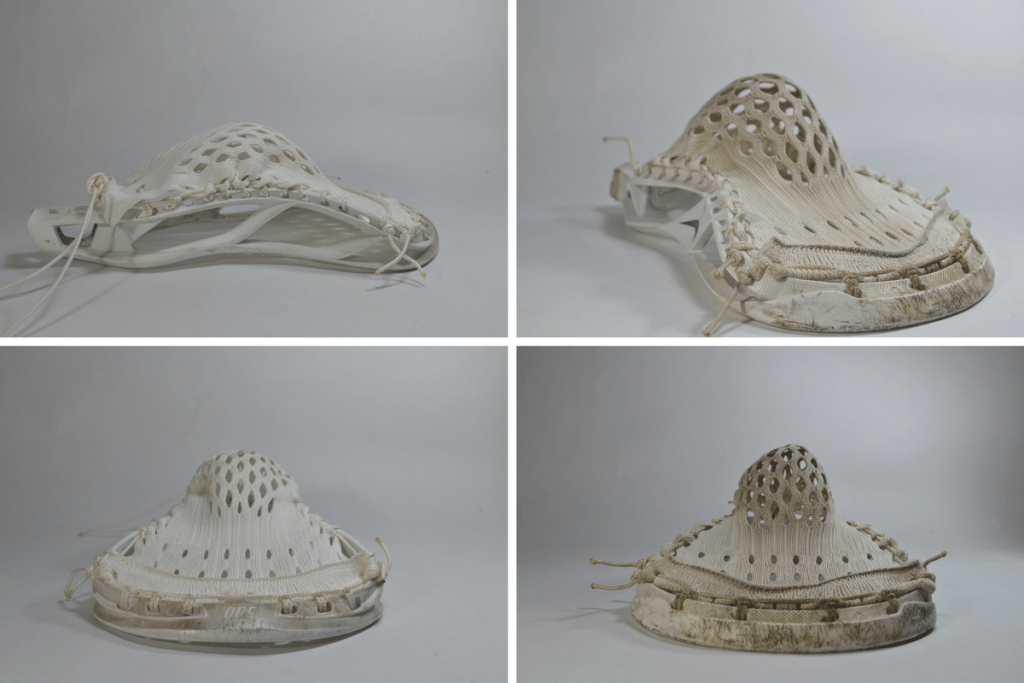 Channel Mesh is a similar style synthetic to the Warp, just a piece of mesh instead of a head. Unlike Warps, Channel Mesh Pockets are more durable and highly customizable. Each style of Channel Mesh has special benefits, but consistency is one aspect they all posses. There's a great chance that if you pick up some Channel Mesh wherever your first shot goes, your second will follow.
Stringers Society
Custom Strung Lacrosse Heads