LaxCon 2020 is here, but Stringers Society is, unfortunately, unable to attend the celebration of lacrosse in Philadelphia this year. We love attending LaxCon for the fan fest and all of the amazing innovations on display every year, but this year didn't allow us the opportunity to travel out to Philadelphia. So we wanted to provide anyone who may attend LaxCon 2020 with a guide for the event and the absolute best booths that will be there. At LaxCon, there's just so much to see, and it's impossible to see it all if you don't have a plan. Look at the booths below, and you'll be able to find out exactly who to go see at LaxCon 2020 for the best LaxCon possible.
Stringers Society's Top 10 LaxCon Booths
Here are the best booths we have seen when we attended LaxCon in the past. It's difficult to decide who makes this list, but everyone on this list is a winner. So be sure to stop by all of these booths at LaxCon 2020, which are listed in no particular order. It's hard enough to decide on the top 10 booths at LaxCon, we couldn't rank them too.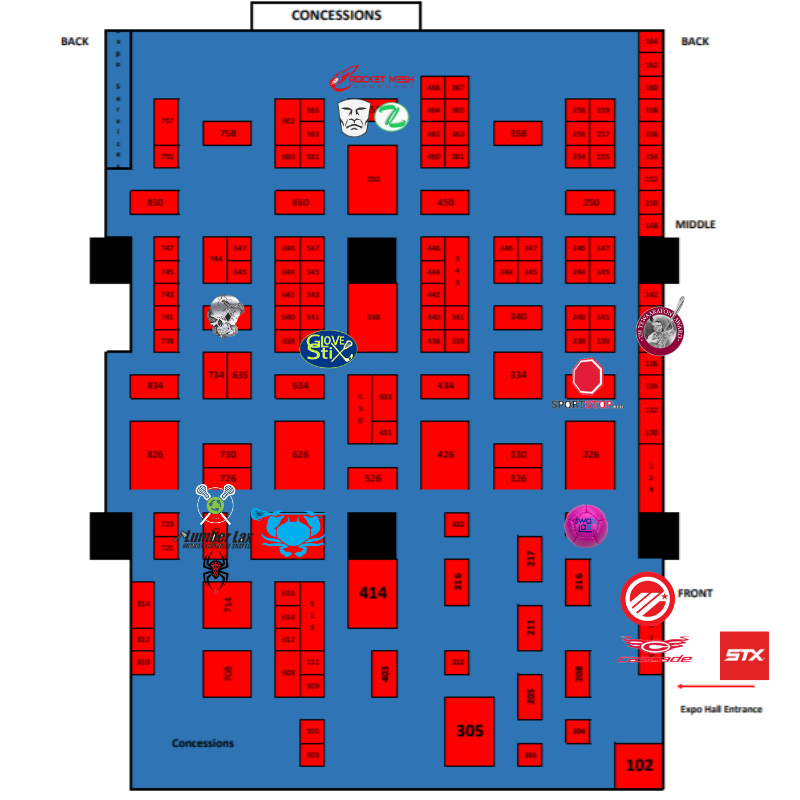 1. The Tewaaraton Foundation | Stickmaker of the Iroquois – Booth 138
The Tewaaraton Foundation is in charge of the Tewaaraton Award, the most prestigious award in college lacrosse. The foundation also works to preserve the history of lacrosse and the cultural significance of the creator's game. This booth is the perfect spot for lacrosse historians and purists. The booth also features Alf Jacques, the Stickmaker of the Iroquois. Alf is incredibly kind and expertly skilled in making traditional lacrosse sticks. If you can afford an Alf Jacques stick, go get one; and, if you can't afford one, they're still very worth the look.
GloveStix – Booth 539
GloveStix are the difference between smelling like success and smelling like moldy sweat. Stinky lacrosse gear can turn your car, garage, house, or wherever, into your worst nightmare. And lots of lacrosse moms have struggled to find a fix for the foul-smelling issue of stinky lacrosse gear. Luckily for everyone's nostrils, Krista, the Founder of GloveStix, is a LaxCon regular with a super informative booth that can help you stock up on the best "anti-stank" protection in sports. You may even catch some pro lacrosse players swing by the GloveStix booth to restock on their moisture absorbing, odor eliminating, problem-solving secret weapon in the war against disgusting smells. After all, we all stink at some point.
Sport Stop – Booth 234
Sport Stop , and our friend Trice, is the best place to get lacrosse gear for an affordable price. Most lacrosse brands sell their lacrosse gear through SportStop.com, and you can always find some awesome stuff at their LaxCon booth. If you're lucky, you may be able to score some new gear for the low, have a great conversation with Trice, and maybe even win a surprise giveaway.
STX Lacrosse – Hall B
No one really does LaxCon like STX Lacrosse. You can get all of the newest gear from one of the best brands in lacrosse, meet some pro players, get a preview of the upcoming college lacrosse season, and get any lacrosse head you buy from them strung for free. STX likes to really show out for LaxCon, and 2020 should be no different than the past. Last year they had a world record broken at their booth, what will they think of for this year?
Rocket Mesh Lacrosse / Head Rock / Twin Lacrosse – Booth 538
Talk about a triple threat! This booth is a true POWER BOOTH with three awesome lacrosse brands in one. And all of these lacrosse brands are true innovators with exceptional products.
Rocket Mesh Lacrosse has the best butt end in lacrosse, some super-consistent and stretch-resistant meshes and lacrosse shafts that are stronger than anything you've ever seen in the game before. Be sure to swing by and ask Dex, the founder, where to get the best cheesesteak in Philly; it's John's Roast Pork! Thanks, Dex.
Head Rock is the most fun you can have with a lacrosse stick without actually playing lacrosse. It's hard to find the best place to practice lacrosse when you don't have a lot of room or can't go outside, but Head Rock fixes that instantly. You can practice all lacrosse skills with the Head Rock everywhere you go; and, once you pick it up, you'll hate putting it down.
And Twin Lacrosse is the best thing to happen to defensemen since over-the-head checks. You get three lacrosse shafts for the price of one with Twin Lacrosse, and you can go from playing short stick to long pole in the blink of an eye. Travel as a d-pole has never been better thanks to Twin Lacrosse.
This is really the innovators' circle at booth 538, and you won't want to miss out.
East Coast Dyes – Booth 620
Greg and the East Coast Dyes team are always a huge fan favorite at LaxCon, and their booth is one to take advantage of. There are plenty of ECD products to check out, but they also do fun things that make LaxCon more of a community activity. From setting up their own box goal to tossing free mesh into a crowd, ECD puts on quite the show for LaxCon.
Relax / Lumber Lax / Spyder Grypz – Booth 720
Another triple threat, booth 720 at LaxCon 2020 is set to blow your socks off. This booth also features some of the most generous people you could hope to meet at LaxCon.
The Relax Foundation is a non-profit that works to get lacrosse equipment into the hands of those who need it most. Through the Relax Foundation, youth lacrosse players all over the world receive the lacrosse sticks and gears they need to play the game that they may not be able to afford or access. The Relax Foundation is doing all that it can to make lacrosse more accessible to the world as a whole, and they can always use your help.
Lumber Lax is a wooden lacrosse shaft company run by a young entrepreneur, Kai. The shafts are colorful, strong, and always made with the right intentions. When you choose Lumber Lax, you get an awesome lacrosse shaft for yourself and one is donated to a lacrosse player in need. You're also supporting Lumber Lax in their pursuit of equality in lacrosse, which Kai always preaches through his lacrosse shafts and stylish merch.
Spyder Grypz produces incredible grips for lacrosse sticks that last much longer than tape ever could. These heat shrink grips fit all lacrosse shafts and give you that extra control you've been searching for all along. You can really get a grip with Spyder Grypz, and you can catch up with our good friend Maxx, the young creator of Spyder Grypz, while you're at it.
Swax Lax – Booth 222
Swax Lax is your window's best friend, and your parents probably love them too. Breaking things with lacrosse balls is practically a right of passage for any lacrosse player, but Swax Lax is fixing that problem with their soft training lacrosse balls. These are the highest-grade bean bags in existence that just so happen to be designed for lacrosse. And any lacrosse player, team, or coach, is sure to find a great use for Swax Lax Soft Training Lacrosse Balls; especially if you live somewhere cold. So score a few Swax Lax soft training lacrosse balls, and you'll never have to sweep up glass after playing catch again.
Maverik & Cascade Lacrosse – Booth 110
Maverik and Cascade are like peanut butter and jelly; their LaxCon booth has a tall glass of milk to wash the excellence down. You'll get to see the absolute best helmets in lacrosse from Cascade while checking out cutting-edge protective gear and lacrosse sticks from Maverik in one convenient place. There's always innovation at this booth; you can learn about Cascade and Maverik's products from the industry's brightest minds.
The Mesh Dynasty /Pockets by Clem / Laxtractive / Philly Pockets / Dandy Dyes – Booth 740
This booth is an unreal explosion of innovation and talent rolled into a powerful punch. First, The Mesh Dyansty is rocking this booth with the best lacrosse mesh in recent memory. You honestly can't deny the greatness that The Mesh Dynasty has brought to the market in multiple colors and forms of lacrosse mesh. They were the biggest splash last year at LaxCon, and we expect The Mesh Dynasty to do some more mind-blowing stuff this year.
Next, this is a collection of some of the best lacrosse stringers on the planet in one booth. Dandy Dyes and Pockets by Clem will be slinging some pockets for the guys, while Philly Pockets and Laxtractive dish out pockets for the ladies. No matter what you're looking to have strung, this is the booth you need to head to for the best pocket possible. You also can learn plenty of tips and tricks by just watching or being brave enough to ask for some advice.
LaxCon 2020 Honorable Mentions
We couldn't include everyone in our top 10, but we don't want to leave out the other booths that are totally worth your time. Check out the booths below if you want to have the best LaxCon that you could possibly have this year.
Premier Lacrosse League- Hall A- There's no telling what the PLL is going to do at LaxCon; but, expect something big to happen.
Women's Professional Lacrosse League- Hall B- Meet the best women to play the fastest game on two feet and prepare for SZN2 with the WPLL. Things are heating up in women's lacrosse, and the WPLL is stoking the fire.
Traditional Lacrosse– Booth 812- Evan Cree makes wooden lacrosse sticks that are worth gushing over. The quality of these traditional lacrosse sticks puts others to shame and will put a smile on your face.
Indigenous Values– Booth 142- Learn about where lacrosse comes from, why it's played today, and how to respect the game by speaking to Indigenous Values. You can also check out their info on the annual Wooden Lacrosse Stick Festival.
Fling Golf- Booth 340- A crazy "mad scientist" invention, Fling Golf mixes the best part of lacrosse, shooting, with golf for a whole new sport. Get flinging with Fling Golf, and you'll have a new favorite weekend activity besides playing lacrosse.
Lax Straps– Booth 367- One of the best accessories to exist in lacrosse, Lax Straps are flair like you've never seen before. Put your style on display with Lax Straps, a new product that attaches to lacrosse helmets for a little extra something-something.
Vuk Gripsz Booth 642- RJ has a reusable grip for lacrosse sticks that really withstands anything you can throw at it. No matter the weather, Vuk Gripz won't let you down, and your lacrosse stick won't slip out of your hands. Say "thank you" FOGO's.
Wooden Lax Sticks- Justin Skaggs isn't having a "booth," but you can visit his woodshop on Saturday, January 11th from 9 AM to Noon at 4355 Orchard st.
Lax Jewelry- Booth 442- Incredible style is easier than you might think with Lax Jewelry. Show off your favorite sport, obviously lacrosse, with some fine jewelry that features beautiful lacrosse designs.
Stylin Strings- Booth 734- Need lacrosse mesh? Strings? Mesh & strings? Mesh and lines strung into your favorite head? Yup, Stylin Strings has you covered. There's always a fleet of talented lacrosse stringers camped out at the Stylin Strings booth, putting pockets out there for the people, and you can learn a lot about stringing here by watching.
Flex Force– Booth 563- Flex Force is a newcomer to LaxCon with a much-needed product. To fight pinched lacrosse sticks, the Flex Force keeps lacrosse heads legal with little effort and a low cost.
Shoot 'n Scoop– Booth 747- Get the best lacrosse training tool for teams at booth 747. The Shoot 'n Scoop Lacrosse Trainer is a simple ball return tool that can make any lacrosse practice much more fun. You'll be surprised how quickly you start having fun when shooting and scooping.