Traditional Lacrosse isn't a grass roots company, they are a tree roots company. Just like the game of lacrosse, Traditional Lacrosse got its start from wood. The lifeblood of the forest fuels Traditional Lacrosse, and they use wood to keep the history of lacrosse vibrant in the modern age. You can look all over the world but you won't be able to find quality like this anywhere else. Traditional Lacrosse's main forte is natural wooden lacrosse sticks made for competitive play, but I want to discuss their one of a kind trophies. I've never seen a display that is quite as impressive as these Traditional Lacrosse wooden lacrosse stick trophies, and any player would be lucky to receive one.
Traditional Lacrosse Wooden Lacrosse Trophy
Normally, teams end their season by passing out some lacrosse trophy to their best player, graduating seniors, or everyone on the team. These are a great way to remember accomplishments, fun times with friends, and your enjoyment of lacrosse in general. The Traditional Lacrosse Wooden Lacrosse Stick Trophies are customizable and can always be ordered for group rates.
Traditional Lacrosse has taken the lacrosse trophy to a whole different level though. Instead of a rinky-dink plastic trophy with a little gold lacrosse player on it, Traditional Lacrosse makes handmade wooden lacrosse trophies. These bad boys are a beautiful display of craftsmanship and they give players the chance to have a real wooden lacrosse stick without having to drop the money on one.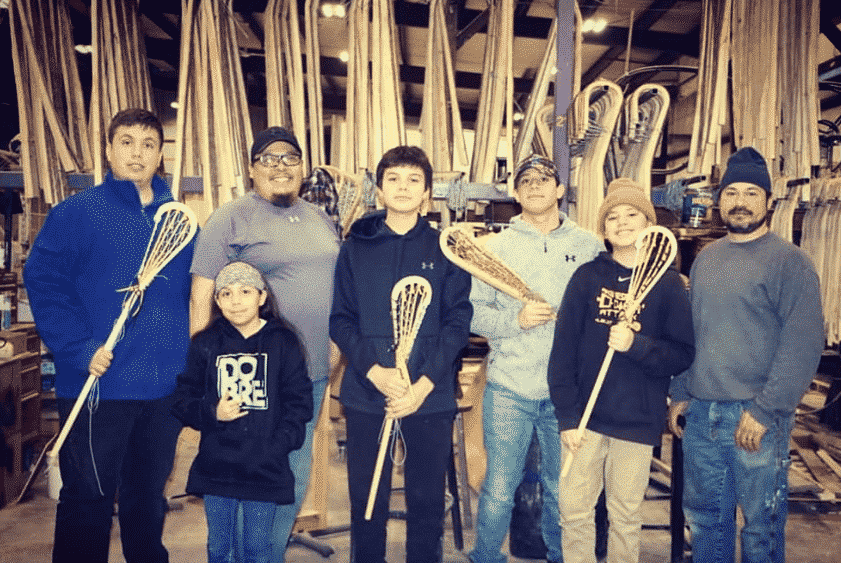 Every player should try to get a real Traditional Lacrosse wooden lacrosse stick at some point, but these trophies serve as a beautiful substitute. While you can't have a catch with a Traditional Lacrosse wooden trophy, it is an amazing conversation starter that is sure to grab anyone's attention. If you walk into a room with one of these trophies in it, you'll want to steal it. Please don't though. Luck you, you can get one from Traditional Lacrosse and you don't even have to commit a crime to get one.
Custom Lacrosse Trophies From Traditional Lacrosse
Make a memory last forever with one of these Traditional Lacrosse wooden lacrosse stick trophies. Any person you give it to will thank you for a lifetime. Any player, coach, or fan of the game will be smiling ear to ear once seeing how amazing they are. The best part is that you can fully customize these trophies. Logos, names, numbers, and more can be engraved into the trophy with Traditional Lacrosse. This truly turns a boring concept of the usual trophy into a one-of-a-kind prized possession. No one will be able to resist envying your amazing Traditional Lacrosse wooden trophy, and you'll be busy admiring it.
Traditional Lacrosse Custom Woodworking Options
The custom Traditional Lacrosse wooden trophies come in two different sizes. You can opt for the 12-inch model at $33 or the 24-inch big boy at $70. Traditional Lacrosse handcrafts both models with a true-to-scale wooden lacrosse stick. The skill it takes to make a full-size wooden lacrosse stick is one thing, but crafting these mini's is a completely different level of talent. Traditional Lacrosse isn't a one-trick-pony either. Besides these beautiful wooden lacrosse trophies and wooden lacrosse sticks, Traditional Lacrosse makes many different products.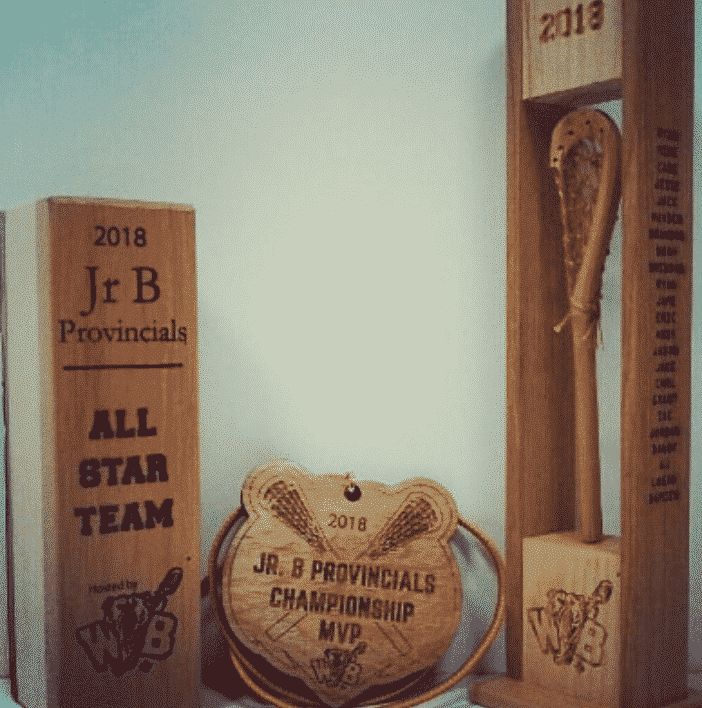 Traditional Lacrosse Woodworking Versatility
Honestly, for all your beautiful woodworking needs, you can probably hit up Evan from Traditional Lacrosse. Evan and his team can likely work something out for any product. They're just insanely talented and use their skills in a whole host of ways. Some examples are ornament lacrosse sticks, wooden lacrosse stick keychains, wooden plaques for honoring accomplishments, and wooden feathers.
Personally, the wooden feathers really steal the show for me. Lacrosse's origins are intimately connected to nature, and the Traditional Lacrosse wooden feathers tie it all together. These are also only $15 and can be customized as well. Traditional lacrosse makes these with the same attention to detail and care that they use in all their products. And there are so many uses for all Traditional Lacrosse products. You can use these Traditional lacrosse wooden feathers ornaments, decorations, rear-view mirror hangers, keychains, identifiers, and much more.
You can always find a great gift for the whole team with Traditional Lacrosse. One last bonus is that all their products are available for group orders. Traditional Lacrosse will work with your budget to help you find the best deal. Making sure you're happy with your order is their number one priority. That's why Traditional Lacrosse makes quality that outlasts and outdoes the competition.