Lacrosse eye black is an accessory but a part of the game that tons of players love. Using eye black in lacrosse is a great way to get psyched for the game, and an easy way to add some style. Eye black for lacrosse also can help keep the sun out of your eyes and reduce glare from lights. Overall, lacrosse eye black is awesome and using it is great if done the right way. Your eye black can absolutely embarrass you or your team so be sure to keep it classy. It's not too hard to stay in the right with eye black in lacrosse, just follow some simple lacrosse eye black rules.
Lacrosse Eye Black Designs and Styles
There are several styles of lacrosse eye black that players choose, and there are plenty of types of players. Some prefer classics, others messy and then messier. Making sure your eye black fits your style is what really matters most.
Messy Lacrosse Eye Black – not worried about perfection when it's about grit. This player is always in the middle of everything and getting their hands dirty.
Blacked Out Lacrosse Eye Black – amped and ready. This player is about to run through the brick wall of the locker room and then chug the whole Gatorade cooler.
Triangle Lacrosse Eye Black – knows the game, loves the game. It's all about lacrosse for this player. They're just happy to be playing lacrosse today and wants to play tomorrow too.
Straight Bar Lacrosse Eye Black – clean, simple, and focused. Just a touch of eye black before this shooter gently grazes the bottom of the crossbar.
Interpretive Lacrosse Eye Black – always creative and constantly bold. Just because there's a gameplan doesn't mean they're following it. Just because you're defending them doesn't mean you'll be able to defend them.
Lacrosse Eye Black Rules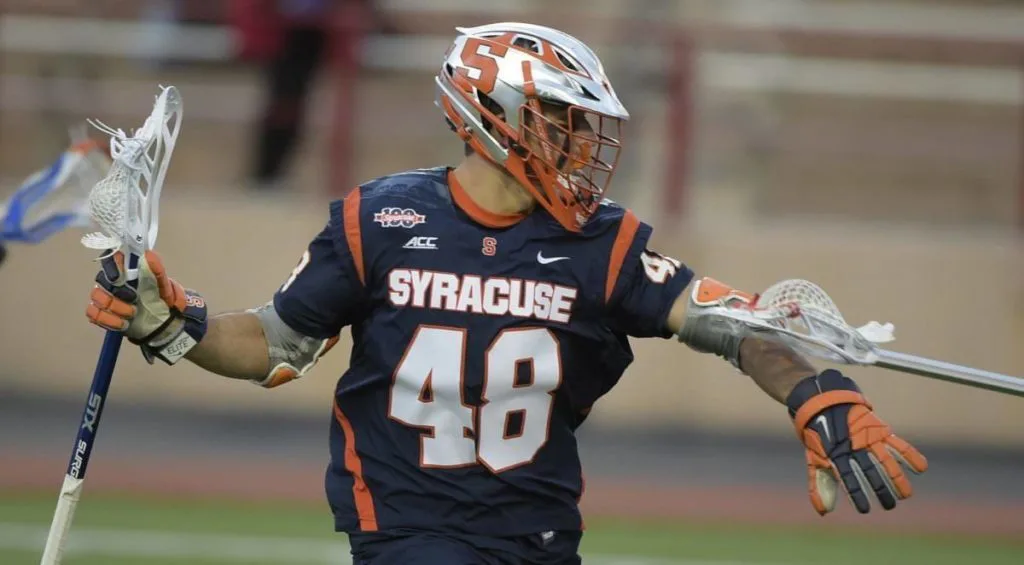 For different levels of play, there are different rules for lacrosse eye black. Make sure that you know the rules of lacrosse and attempt to follow them. Getting a penalty for eye black in lacrosse will definitely upset your coach. Don't be that player.
NCAA Lacrosse Eye Black Rules
There are no rules! Well, that is and isn't true. There are no formal rules about eye black in NCAA lacrosse, but you can't be crazy. Anything can be considered unsportsmanlike conduct if a ref thinks it's inappropriate. So don't do anything that you think will get you in trouble, because when it does you'll have to blame yourself.
High School Lacrosse Eye Black Rules (NFHS)
US lacrosse currently has a pretty unfortunate rule about lacrosse eye black designs. The rule is as follows "Rule 2, Section 17: Eye black must be one solid stroke with no logos/numbers/letters and shall not extend further than the width of the eye socket or below the cheekbone.", which many players don't agree with.
Honestly, many refs don't agree either and this rule is loosely enforced. That doesn't mean that you'll always get away with it, but you can likely do most designs. Remember, keep it within reason and knowing who the ref is will really help. If you have the same refs a lot then you should know who will call what.
Women's Lacrosse Eye Black Rules
In Women's lacrosse, the eye black rules are the same as for the Men. College is a free zone, while high school and below are restricted. This is really unfortunate because in Women's lacrosse you don't wear a helmet and get to show off your eye black way more. The same is true about getting away with breaking the eye black rules in lacrosse. Know your refs and you should know if you can or not. If you don't know the ref then you should play it safe.