Youth Lacrosse Sticks
Choosing the ideal lacrosse stick for beginners had evolved significantly from a time when only a few options were available and the quality was not up to par. The efforts of companies in the industry, continuously pushing the limits of innovation, has resulted in a diverse range of exceptional lacrosse sticks that are now accessible to young players.
Best Youth Lacrosse Sticks
For those new to the Stringers Society or looking for guidance in making their selection, you'll find our comprehensive Youth Lacrosse Stick Buying Guides at the bottom of this page. Additionally, we've taken the liberty of showcasing some of our top picks below, making your journey to the perfect lacrosse stick for beginners that much smoother.
Youth Lacrosse Stick Guides
Discover everything you need to know about Youth Lacrosse Sticks, including Youth Lacrosse Stick Sizing Guide, Top Recommended Boys Lacrosse Sticks, Proper Boys Lacrosse Stick Length, and more. Get the information and guidance you need to make an informed decision and find the best stick for your young lacrosse player.
Find a lacrosse stick for your new girl's lacrosse player that's going to suit their experience level and your budget. Check our options & pricing here.
Find a Boy's Defense Lacrosse Stick that's going to make you feel like you're totally in control of the game. Our selection of the best boy's defense lacrosse sticks is a glance at the best that the industry has to offer for Boy's lacrosse defenders. Whether you're looking for a stick to help you stay in the defensive zone or create turnovers, these sticks will have you playing at your best.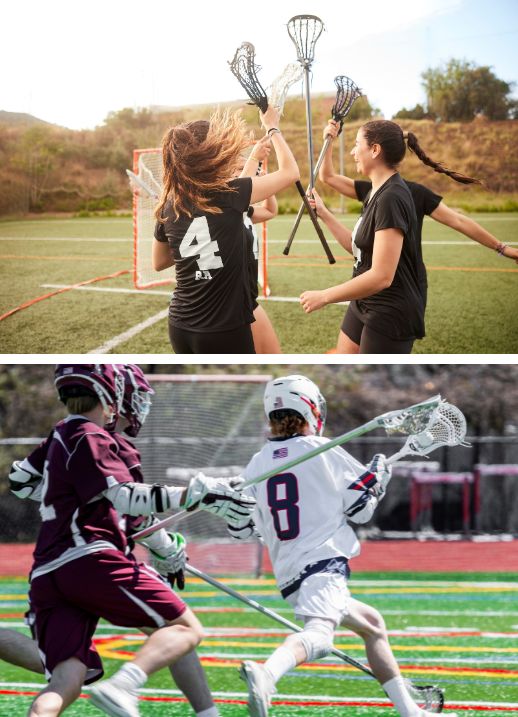 Girls Lacrosse Stick vs Boys
Girls' and boys' lacrosse sticks differ in design and regulations to accommodate the distinct rules and playing styles of each game.
---
Girls' lacrosse sticks have a shallower pocket and a thinner handle compared to boys' sticks. The pocket depth is regulated to ensure a quicker release of the ball, emphasizing skillful ball-handling and passing. Girls' lacrosse also mandates a specific stick length for different player positions.
In contrast, boys' lacrosse sticks have a deeper pocket and a wider head, allowing for better ball retention and more powerful shots. The stick length regulations in boys' lacrosse also vary, allowing for long sticks for defenders.
Understanding these differences is crucial for players, as using the correct stick according to the rules enhances performance and ensures compliance with the respective regulations of girls' and boys' lacrosse.
Explore More Lacrosse Stick Brands
Ready to explore our vast collection of lacrosse sticks and discover the perfect one for your needs? Visit our Lacrosse Stick Brand Hub now! We offer a wealth of information, reviews, and expert advice to assist you in making an informed choice and enhancing your game.