LaxRoom 6D Performance Mesh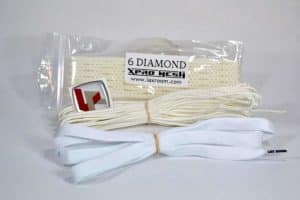 I have never been a fan of six diamond lacrosse mesh along with never giving it a chance until now. I had originally won a piece of Six Dimond Lacrosse mesh from Ohio Boys Lax on Twitter in middle school ( the Only lax related contest I won, clearly not very lucky). Initially, I had a really hard time stringing it, didn't understand the concept and ended up using it to patch a hole in my goal, which actually worked out great.
The Purpose of Lax Room 6D Lacrosse Mesh
Six Dimond Lacrosse Mesh originally came to the market to replicate a six diamond traditional. The problem though was that since performance mesh had not come to the market the knuckles of the mesh wouldn't shift. Certain players were able to break in the mesh with different techniques but the majority of players who used the mesh were defensive players looking for bags.
Arrives Performance Six Diamond Lacrosse mesh from LaxRoom, I take Back What I Said, It's Game Changing
Stringing Six Diamond Lacrosse Mesh from LaxRoom Lacrosse
Stringing was tricky at first but was able to get a pattern in which complement the benefits of the performance mesh. I strung the sidewalls inside out due to a more natural channel forming and the channel characteristics that I sought. Instead of using Interlocks or Standard Interlocks we used 1's to pull the mesh down and receive a more shifty pocket.I did not want to lock the top string down where I started it due to the channel being too tight which would cause excessive whip.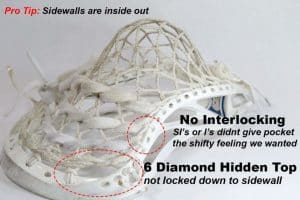 The Pros of Six Diamond Lacrosse Mesh
Way more hold in this mesh then I expected

Lots of feel but not as much as traditional
Snugs the ball

12 Dollars Only!
The Cons of Six Diamond Lacrosse Mesh
Bags out a little but is expected with most meshes on market
Harder for Beginners to String
It's a specialty mesh that appeals to specific players and player types