There's an exciting new piece of equipment for lacrosse players to use on their quest to become the best shooter in the game – the Open Goaaal Lacrosse Goal. Incorporating the shape of a traditional lacrosse goal into an effective backstop creates an all-in-one lacrosse goal perfect for your backyard. And when you have a lacrosse goal that helps trap your bad shots for you, you're able to pick up the pace of your lacrosse training and get in more shots than ever before.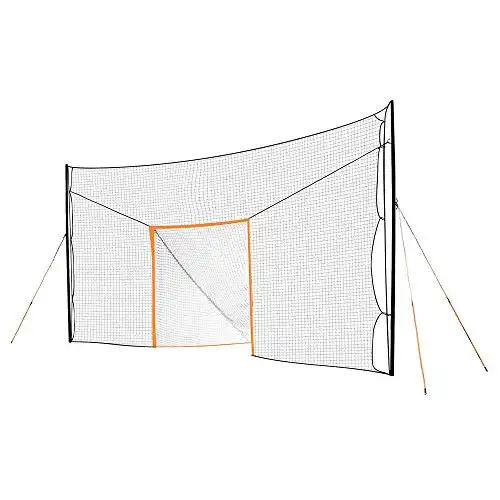 Open Goaaal® Lacrosse
Maximize your practice time and stop wasting energy chasing down missed shots with the Open Goaaal Lacrosse Goal and Net.
Pros:
Lacrosse goal and backstop

Portable with a bag and easily stored

Focus on improving skills, not chasing shots

Have more confidence that you won't hit something while shooting
Cons:
Not compatible with turf fields

Non-adjustable width

Long setup time (45 mins)

Expensive
Buy on Amazon
We may receive a commission for your purchase at no extra cost. Thank you for your support. 🙏
09/28/2023 09:15 am GMT
At $449, the Open Goaaal lacrosse goal system is comparable to the price of a quality lacrosse goals but includes a backstop and rebounding ability for a more cost effective choice that can protect property and help reduce the number of lost lacrosse balls during your shooting session.
Open Goaaal Lacrosse Goal Uses & Advantages for Lacrosse Shooters
Becoming a better lacrosse shooter only happens when you practice your shooting frequently and are able to get in a high number of quality reps during each session. The problems associated with practicing your lacrosse shooting at home are losing lacrosse balls on missed shots, damaging your goal with powerful shots, and not having a lacrosse goal in the first place. To help lacrosse players who want to practice shooting a lacrosse ball at home without ruining their training, Open Goaaal created a lacrosse version of their already widely-loved Open Goaal system.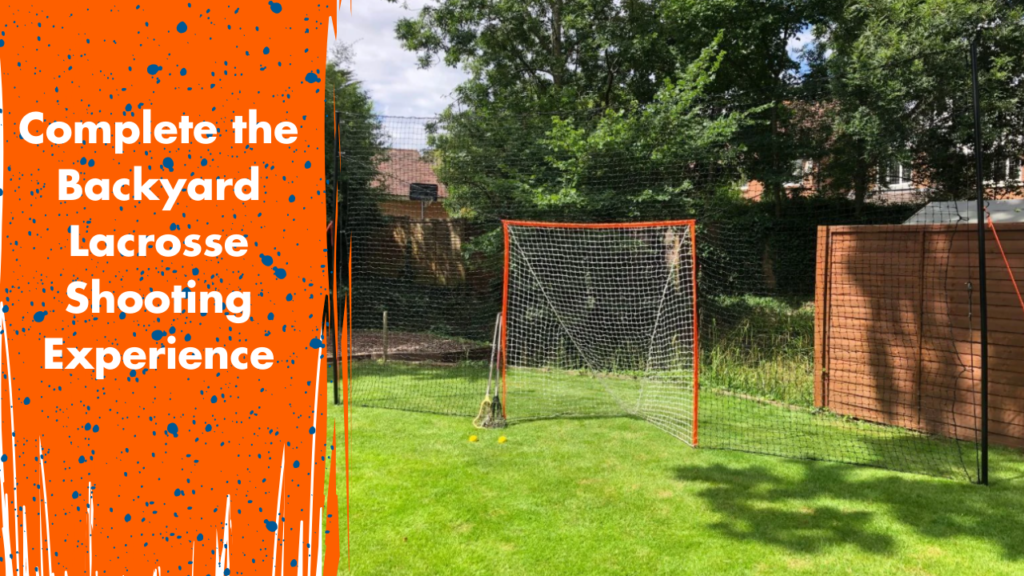 Originally designed for soccer players, the Open Goaaal is a goal, backstop, and bounceback all rolled into one piece of equipment. The multiple uses of the Open Goaaal system all have their specific key details that make it an ideal backyard lacrosse goal for lacrosse players of any age. By first making the entire Open Goaaal system out of netting that's spaced for uniform tension throughout the goal and the backstop, shots don't stress certain areas more than others. This reduces the possibility of tears or rips in the areas you'd normally see them like corners and along the pipes. And while Open Goaaal does offer a 1 year warranty on their system, you shouldn't need to worry about needing to use it because their lacrosse goal and backstop is resilient enough to stay outside in any weather and strong enough to stand up to the fastest shots in the game.
With a total square footage of 190 feet, the Open Goal extends 4 feet above the goal and reaches 19 feet across to catch any of those stray shots not destined for the corner. This built in backstop is sure to help reduce the number of lacrosse balls you lose shooting every year, and the durable construction of the Open Goaaal allows you to keep shooting every year.
The last thing the creators of the Open Goaaal want is to see a customer who isn't satisfied with their product, and that's why they've put so much effort into the development of a lacrosse goal and backstop that gives you a complete lacrosse experience. You can obviously get in a ton of shots on the outlined goal, but there's also the option to use the backstop portion as a simple bounceback for short range feeds. Unfortunately, the bounceback feature doesn't compare to the highest quality lacrosse rebounders on the market, but it's still useful for younger lacrosse players and experimentation around the goal.
Open Goaaal Lacrosse Goal Shortcomings & Areas for Improvement
One of the Open Goaaal's greatest strengths is unfortunately also one of its biggest weaknesses, and that's the fact that the Open Goaaal system extends so far beyond the actual lacrosse goal portion. With netting extending and additional 7 ½ feet on each side of the "pipes" in the Open Goaaal to stop missed shots, shooting from a dodge from behind requires some creativity. Luckily, the Open Goaaal team made their system adaptable so you can raise one side of the netting and work on those rockers and question marks around the 5 and 5 mark when dodging from behind.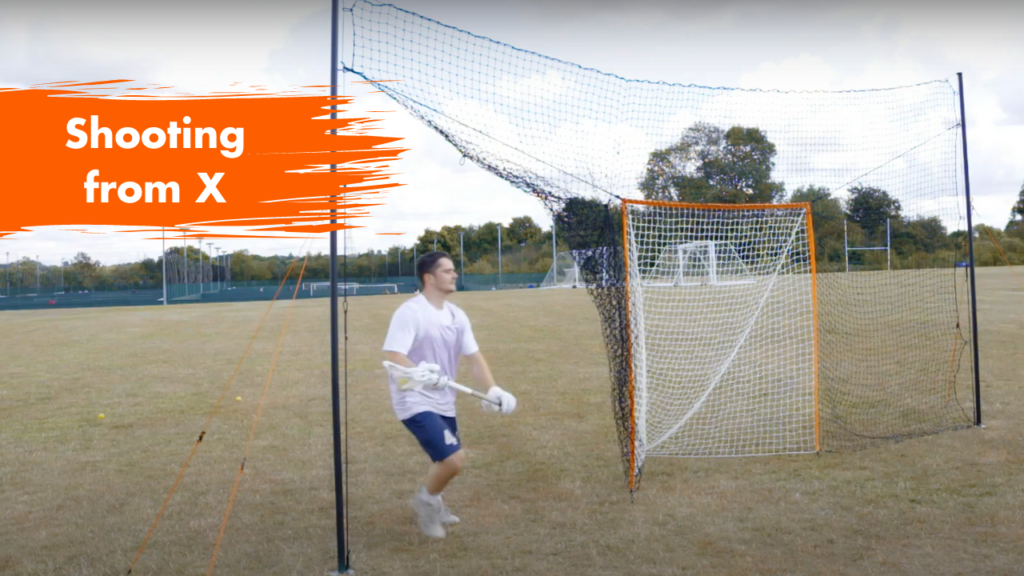 Another aspect of the Open Goaaal that leaves something to be desired is the size of the entire system when it is set up and the actual setup. If you have a backyard that barely accommodates a regular lacrosse goal, then the Open Goaaal is just too much goal for you to handle. You'll need a sizeable area to set up the Open Goaaal, and the setup is more involved than putting together a regular lacrosse goal. However, if you have the space to fit an Open Goaaal lacrosse goal into your backyard and the gusto to put it together, you'll have the shooting experience that all of your teammates will be jealous of.
Overall Impression of the Open Goaaal Lacrosse Goal
As a lacrosse player who loves going outside to get in some shots on an almost daily basis, an Open Goaaal is a lacrosse product I wish I had earlier in life. Thinking of all the lacrosse balls I've lost in the woods surrounding my backyard keeps me up at night, and an Open Goaaal lacrosse goal would have kept me from allowing so many pearls to go missing. I also feel that the fact that you don't have to chase down your misses with the Open Goaaal lacrosse goal adds a huge boost of efficiency to your training that would be a welcome addition. Chasing down a miss so that you don't lose that lacrosse ball is a huge momentum killer and can derail your shooting session when you were just heating up.
Overall, the Open Goaaal lacrosse goal is a unique product that any lacrosse player who loves to shoot will enjoy. As with all products, there are some shortcomings that restrict your ability to do everything you would maybe do with a regular lacrosse goal. Still, the, benefits of the Open Goaaal some flaws restrict outweigh the negatives.
Top-Rated Lacrosse Rebounders, Bounce Backs, Pitch Backs, and Throwbacks: Enhance Your Performance and Master Your Skills with the Ultimate Training Tools for Aspiring Lacrosse Champions.
Explore top-notch lacrosse goals, nets, and gear for 2023-2024. Find lax goals, practice nets, and more for sale. Upgrade your game today!
OPEN GOAAAL® LACROSSE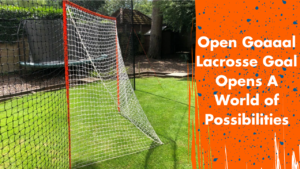 Take your lacrosse shooting experience to a new level with the Open Goaaal lacrosse goal that features a backstop incorporated into the actual goal. Lose less lacrosse balls and shoot more when you get an Open Goaaal lacrosse goal.
Product SKU: open-goaaal-lacrosse-goal-review/
Product Brand: OPEN GOAAAL
Product Currency: USD
Product Price: 389.00
Price Valid Until: 2022-12-31
Product In-Stock: InStock