The Premier Lacrosse League is expanding with a 7th lacrosse club, Waterdogs Lc, that will choose 18 players on February 12th as their initial roster. This group of 18 lacrosse players will come from a group of unprotected players who were not chosen by their former teams.
The team motto for the Waterdogs is "Every game is a revenge game" because of the 18 players who will be selected in this expansion draft. Not being protected by their original team is going to upset some of these players and serve as motivation against their former team in the second PLL season. But, only four unprotected players may be selected from each of the original six PLL teams during this expansion draft. And this means that many players will not be protected by their PLL club and then also not selected by the Waterdogs; these players will return back to their original team that did not protect them. So, basically, if you weren't protected you're probably, and supposed to be, playing with a chip on your shoulder for the next PLL season.
Stringers Society Selects Some Waterdogs
Since we're clearly just as qualified and intelligent as the current coaches and gm's in the PLL, we'll be selecting our own Waterdogs for the 2020 season. This is a group of obvious winners that would take the PLL by storm, so pretty much consider this free advice to Andy Copelan, the coach of the Waterdogs, and pass this along to him.
Our choices for the Waterdogs all had to pass the rigorous "eyeball" test and show us that they'd be able to suit up in the black and periwinkle next season. With arguably the most unique color combo in the league, making the Waterdogs LC is going to come down to being able to look amazing, even during a loss.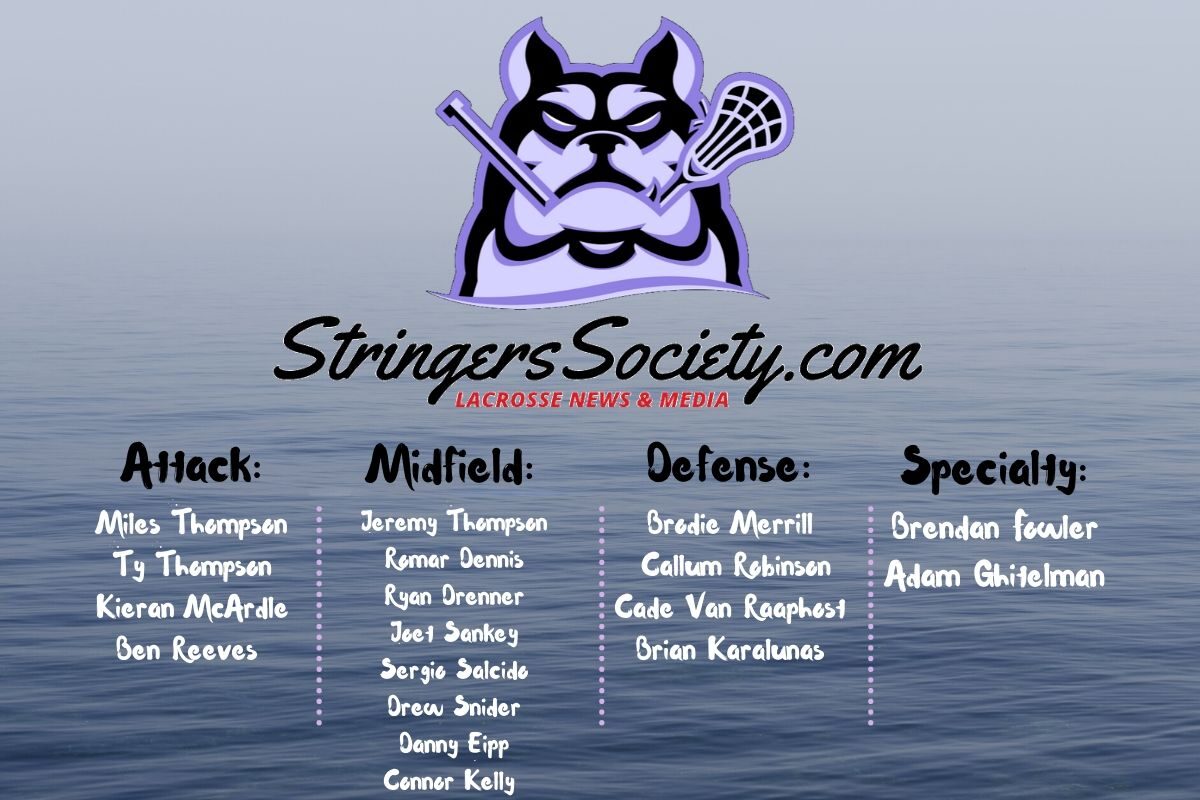 Waterdogs LC: Attack
Starters:
Miles Thompson (Chaos LC)
Ty Thompson (Chrome LC)
Kieran McArdle (Atlas LC)
Bench
Ben Reeves (Whipsnakes LC)
Reasoning:
Snagging as many Thompsons as possible is like investing in gold, it'll always work out in the end. So putting Ty and Miles in the game to run pick plays and work with one another is the first way we can add some "team chem" to a brand new squad. Add the breakout star from last season, Kieran McArdle, who can create and score on his own, and we have a complete attack trio that's ready to score at a moment's notice. And with box lacrosse backgrounds, the Thompsons and McArdle will always be ready to ride if they lose the ball. We'll also have recent Tewaaraton winner Ben Reeves learning and working in on occasion. Reeves is a proven goal machine, but he still is the youngest attackman chose in this expansion and has enough tread on his tires to still be ready in the future and the present.
Waterdogs LC: Midfield
First Line:
Jeremey Thompson (Chaos LC)
Romar Dennis (Chrome LC)
Ryan Drenner (Whipsnakes LC)
Second Line:
Joey Sankey (Archers LC)
Sergio Salcido (Redwoods LC)
Drew Snider (Whipsnakes LC)
Third Line:
Danny Eipp (Archers LC)
Connor Kelly (Whipsnaks LC)
Reasoning:
Our lines need to stay balanced on the Waterdogs because we're a run and fun style team. We need all of our lines to be able to be stuck on defense and push transition, so we focused on players that increase the pace of play throughout the game. That's where line one fits in Ryan Drenner, our converted midfielder, with Jeremey Thompson and Romar Dennis. We need two pure athletes who have a lot of skill to back up Drenner on defense, even though he's the clear option to sub for the pole. But make no mistake, Jeremey and Romar are swiss army knives who can do anything.
Line two is absolute speed and scoring with Sankey, Snider, and Salcido. The Triple S line is a little small in stature, and that can be a weakness for the transition to defense; but we expect them to be putting the ball in the net quite a bit. These three speed demons also have enough pep in their steps to get back or sub out if need be, and their offensive value is too much to pass up with three players that can dodge, facilitate, and create.
Lastly, our incomplete line features Connor Kelly and Danny Eip. Kelly is actually the highest-ranked player in the PLL Top 50 from the inaugural season to be unprotected and Eipp was a consistent scorer for the Archers we believe can be better utilized for the dogs. We're looking to toss a young buck from the college draft in here with Kelly and Eipp to form a power line and help them learn from these two walking buckets.
Waterdogs LC: Defense
Starters
Brodie Merrill (Chaos LC)
Callum Robinson (Atlas LC)
Cade Van Raaphorst (Atlas LC)
LSM
Brian Karalunas (Redwoods LC)
Reasoning:
How can you pass up on Brodie Merrill when the best defenseman trophy in the PLL is named after the guy? Did we also mention he was ranked in the PLL Top 50 last year? The man is still taking souls on the turf at 38 years old, and we couldn't imagine a better mentor for Callum Robinson and CVR. The two Atlai defensemen are both pretty raw and unfinished products, but Merril will be the Yoda to their Lukes. This trio is also pretty large and in charge, so attackmen will not be having a great time trying to force the ball to the inside.
And the poles are topped off with Brian Karalunas running out of the box. Karalunas is a vacuum on the ground and can faceoff if need be. He is the exact type of versatility that we want on the Waterdogs because he can really make a difference on both sides of the ball and at the X.
Waterdogs LC: Faceoff
Brendan Folwer (Archers LC)
Reasoning:
Duke won two national championships in 2013 and 2014. The reason why is named Brendan Folwer, and we would like him on the lacrosse team, please. Not much more to say. His first PLL season wasn' bad and as our starter, he's going to be in it to win.
Waterdogs LC: Goalie
Adam Ghitelman (Archers LC)
Reasoning:
Ghitelman is the most impressive goalie available in the expansion draft and the only one that really got a lot of playing time last year in the PLL. There were others that popped up in some games, but Ghitleman was a consistent performer with a save percentage of over 50%. All we're asking for is a little respect for our man because he's the keeper for us. Plus, Ghitelman is backing a new protective shin product that could help make an extra save or two when we're looking for it.
Why Our Waterdogs Would Succeed
It's no secret that we just picked the most elite combination of lacrosse players possible from the expansion pool, but that's not the reason why OUR Waterdogs would be successful in the PLL. Winning lacrosse games comes down making the right decision in the middle of a stressful and hectic situation, and that's exactly what we just did. By selecting this incredible group of athletes to form our platonic ideal of a Waterdogs squad, it would serve as a shining reminder to our players that they really are the best. We would've spoken their success into existence by the act of choosing them, and that's the Stringers Society way.