If you're a women's lacrosse player who's not quite ready to be done with lacrosse after your season is over, you need to get involved with women's summer lacrosse. The popularity of lacrosse always growing; and if you're lucky, there will be a summer team, league, or camp around you. If there isn't a team near you, then you can always try to make one too. Most players continue playing lacrosse in the summer for a number of benefits that will help you during the season. This "downtime" is the perfect time to experiment with a different position, hone your skills, and just have some fun. So stop wasting time not playing lacrosse, when you could be actually playing lacrosse.
Women's Summer Lacrosse: Why you need to be on a team or at a lacrosse camp
The offseason slump is real
Other players will be working when you aren't
There's no pressure to win, only to improve
Sharks don't swim backward
Putting more hours into lacrosse will always lead to becoming better. Taking the offseason off is always a mistake unless you are advised to because of a medical reason. Continuing to play in the offseason allows you to practice all year long, not just during "lacrosse season." You can maintain and improve your skills and knowledge of the game during this time without worrying about your spot on a team. By next school season, you'll hopefully return to your school team a completely different player.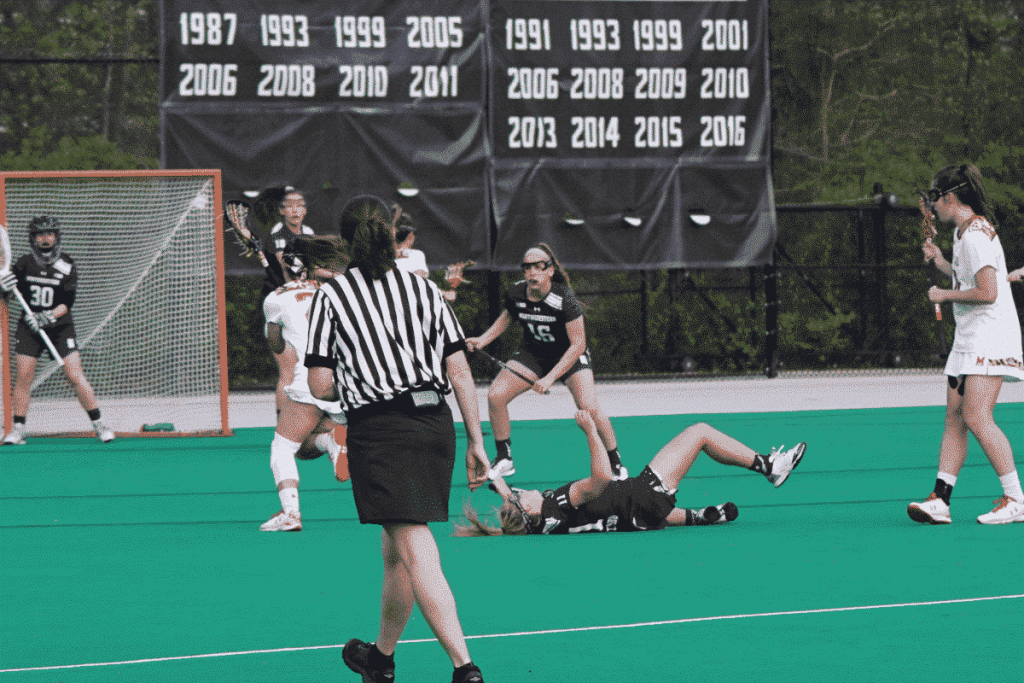 The new and improved you will be ready for any competition willing to face you. With so much pressure on being a great competitor and a winner during the regular season, you can approach lacrosse differently during the summer. Become the player you always wanted to be without your regular coach there to manage you. Sharks only swim forward, and you're a shark. Keep moving forward with new and improved ways of playing the game you love for the next season.
Learning New and Advanced Lacrosse Skills
Get a strong offhand
Try something new
Play a different position
Summer leagues are often coached by collegiate players who are eager to share their knowledge. Collegiate players normally bring a fresh approach to the game and are very flexible. They able to show and teach you things that high school coaches may not be as aware of so you can be more creative. Having an experienced player as a coach will give you a chance to really learn a lot over the summer and improve your individuality. Beyond the coaches, you are bound to be introduced to new drills and techniques during summer lacrosse.
These can be great, but you also need to focus on the fundamentals. Your offhand won't get any better unless you use it more and the summer is your chance. Your team for the summer may also be offense or defense "heavy", so you can try playing on the opposite side of the ball and expand your skill set. Having girls from all over come together will also help you experience many new ideas to incorporate into your playing. Learn from your coaches, from yourself, and also your teammates too.
Playing With New People
Make friends who you don't normally play with
Be able to play with anyone
Become versatile
You need to be comfortable with your teammates from school, and you should get close with them; however, getting out of our comfort zone and playing with different girls will make you a better and more adaptable player. Playing with new girls allows you to apply techniques and plays with a different group of people, which proves you have really mastered the skills. If you can hop in at any moment with any other players, you really are a weapon for your team. Not to mention, the lifelong friendships that come out of sharing painfully hot lacrosse practices and traveling to tournaments in the summer are incredibly special.
Looks From College Coaches
You won't get recruited as well sitting at home
If you think you're not good enough, you're wrong
Go out and shine
Whether you are set on playing in college or not, there are ALWAYS college coaches at the tournaments, scouting players out. Like myself, I didn't have thoughts to play in college until much later. However, through my travel team's tournaments, I was getting offers from schools and coaches reaching out for me to play. Playing in the offseason is an essential part of being recruited, and showing yourself in person often makes the process very easy. Even if you're not thinking of playing in college, playing in summer leagues gives you the option and time to consider and weigh the pros and cons of playing collegiately.