No one is allowed to play without a proper lacrosse butt end. Not having a butt end in lacrosse can result in your stick being not allowed for use and a hefty penalty. You need to play with a lacrosse butt end, but choosing the best can be difficult. This often overlooked part of your lacrosse stick can directly affect your shooting, cradling, and fakes; but, players don't always realize this. Getting the right lacrosse butt ends will help you focus more on practice and less on your stick. Our top 5 Lacrosse Butt Ends or Lacrosse End Caps bring the very best aspects together for optimal performance and comfort in a lacrosse stick accessories.
Lacrosse Butt Ends For The Elite
Our list of the top butt ends in lacrosse brings everything to the table. The swift attackman and the punishing defender both need a butt end that serves their needs, while being something they like. A bad butt end ruins your bottom hand grip and that leads to mistakes. However, thanks to the next 5 lacrosse butt ends you won't be disappointed with your bottom hand anymore.
Rocket Mesh Lacrosse TapeSaver Butt Ends
Rocket Mesh kills it with their mesh, but their butt ends are definitely worth noticing. They offer three styles for different preferences from players and all of them have one amazing quality that they share. All of Rocket Mesh's butt ends require only one piece of tape for a secure fit. Only a small strip under the butt end keeps it in place and all of them offer different grips. The Donut and Hydrant both "shorten" your shaft with a false bottom to catch your hand, while the TapeSaver catches your hand at the very bottom of the shaft. All have incredibly secure grips and are super hard. They will never wear out and this could easily be the last butt end in lacrosse you ever have to buy.
GripRx Lacrosse Butt End
If pro player endorsements get you jazzed up then the GripRx is for you. Kyle Harrison is an ambassador and a user of the GripRx, and he only has positive comments about it. The GripRx fits over the bottom of your shaft and replaces the need to tape up about a fourth of it. The rubberized grip/butt end combo is shaped for your hand unlike any other butt end on the market. All other butt ends are shaped like the end of a shaft, which isn't curved like your hand's natural shape. Besides a hand-shaped grip, the GripRx also creates extra resistance in your shot and add some speed. The GripRx is definitely a great choice for a heavy shooter or someone looking to do some one-handed dangles.
Buttendz PARADOX Lacrosse Butt End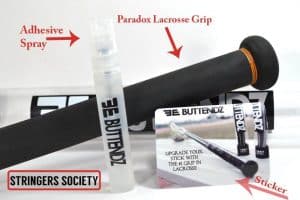 The Buttendz name is a lot more common in Hockey than Lacrosse, but they are making advancements! Using a Paradox is similar to using a GripRx with a slightly different shape. The Paradox Buttendz lacrosse butt end extends up about a fourth up an attack shaft and has a great texture for grip. Like the GripRx, the Paradox from Buttendz also helps put a little more pepper on your shot if your a shooter. On the opposite side of that shot, Buttendz has the goalie covered too. Buttendz also has a top hand grip for Goalies and Fogos, along with a thick Sentry butt end that Hockey goalies use. No matter what, Buttendz has something for every player to be successful.
Gait Lacrosse Butt End
While it isn't called a butt end, this end cap is legit. This butt end is inserted into the bottom of your shaft so you can have a smooth feel all the way down. You can then add tape for any added grip, but just like the Rocket Mesh butt ends this thing is solid. There is no way to bend your butt end anymore with the Gait Lacrosse Cork End Cap, so your bottom hand will never slip. You can also get tons of color options that can match your team perfectly.
Maverik Lacrosse Butt End
Let me tell you, Maverik lacrosse is full of tricksters. Their shafts are already plugged in the bottom with a complex piece of plastic, like new StringKing Lacrosse shafts, and they come with the most amazing adjustable false butt end. With this small and moveable notch on your shaft, you can create a false end of your shaft anywhere. Loosen the notch, move it to the desired position, and tape over it for a secure fit. This is one of the easiest solutions because you don't need to buy a new butt end, which is completely customizable. Pick up a Maverik shaft and get adjusted.
Get A Grip With Your Butt End
Always remember that butt ends are for everyone's safety and you need to have one to play. Don't make this an issue and just get one that you are happy with. All of the previous options are great for players of all ages and skill levels so any will work. Don't sweat the small stuff and instead get on the wall to be the best that you can be.