Taping your stick can not only take a long time to get perfect but how long until it's time to redo it? Buttendz, the leader in hockey grips, has moved into lacrosse to help you have a consistent grip on your stick.
Buttendz Paradox Lacrosse Grip An Alternative to lacrosse tape?
There are few players that don't use any tape at all, and those who do are constantly replacing it. By creating a grip that incorporates an endcap and is resilient, Buttendz Paradox Lacrosse Grip has changed the game of grips. Getting a chance to play around with one was fun and beneficial. I'd recommend it to any player that uses tape and is looking for something new to try and here's why.
Benefits of the Buttendz Paradox Lacrosse Grip
Removable & Reusable.
Enhanced feel when stick handling.
A consistent feel for your top hand, EVERY time.
Reduced wear to the palms of your gloves.
Minimized vibration when shooting and receiving passes.
Less grip pressure in the top hand; promoting harder, more accurate shots.
Drawbacks of the Buttendz Paradox Lacrosse Grip
The color part of the rubber tends to peel off pretty quickly which we didn't have a problem with.
The Buttendz Paradox lacrosse grip only comes in one style as of right now.
A little thicker than expected but also not a huge issue.
Initial Impressions of the Paradox Lax Grip
Very grippy but not to the point where it hurts mobility of your hand.
The fact that it is reusable was a huge benefit in my mind.
The price point is what I expected coming in at $25 dollars.
Installing Buttendz Lacrosse Grip
Remove old tape & clean your shaft. You might want to use a brillo pad or rough side of a sponge with some type of adhesive remover or goo-gone. If you want an extra clean surface for best results then use an alcohol prep pad and let it air dry after.
Coat the inside of your Buttendz Grip with 1/2 bottle of adhesive spray; spraying into both ends of the grip. You will want to save the rest of the adhesive spray just in case you want to switch shafts or your shaft breaks. If you have a wood lacrosse shaft, be sure to SOAK the wood with the application spray before applying–the wood grabs the rubber easily!
Pinching the bottom of your grip with one hand, slide over the top of your stick until the first 2 inches are on the stick.
While holding your stick with one hand, use your other hand to pull the Grip down the shaft until the top of the grip lines up with the top of your stick. The quicker you can do this, the easier the process will be. We suggest pulling & twisting simultaneously.
Let the adhesive spray dry/set overnight. Resist the urge to use the grip until it is locked into place and it will be game ready in no time!
Take care of your grip like any other equipment, and keep your Buttendz grip KNOB UP & out of puddles on the bench!
Learning Curve: Initially we did not wait long enough after spraying the grip /shaft (8 hours) and it became loose near the bottom. After taking the grip off and re-applying the spray adhesive for a full 12-24 hours we had no problems.
How Does The Paradox Compare to Tape?
The resiliency of The Buttendz Paradox Lacrosse Grip compared to regular tape is a huge advantage. Having to replace your tape when it peels takes time and wastes tape. Plus your tape job never really lasts quite as long as you wish it did. The time and frustration that you'll save both are very, very worth it.
Just like tape, mistakes can be made with The Paradox leaving your stick at an awkward stage. Luckily if you mess up your application like we did, all you have to do is reapply and let it dry. Once The Paradox is on it has a tackier feel than most tape and there's no fraying. Two plusses. Unfortunately, there was not as much length as I desired, and I considered adding tape as well. This seemed like an easy fix, but tape in the first place would've solved the problem. One minus.
I do also think that having a little variability could really improve this already good product so more players would use it. Some different lengths, different finishes, and different shapes would be amazing. I think that there is a major potential here and since this company is just branching into Lacrosse, I imagine great things are coming soon.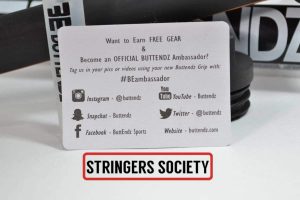 This product could really help young players with hand positioning, consistency, and confidence. It also helps out the parents that have to constantly re-tape their child's stick. There is just a very strong reliability factor that The Paradox brings to your stick. I wish there were some minor changes, but I can't complain about how well it serves its purpose.