Lacrosse can be a smelly sport, and washing your equipment isn't always the easiest thing to do. I know players who have had brand new pads ruined by a wash that left the players out over $100. It's not worth the risk of having to buy new pads, but you also don't wanna risk having wet pads. Lacrosse gloves, elbow pads, and shoulder pads take a very long time to dry after a wash. If you don't have the time over a weekend to get in some serious dry time, you may be at practice with wet pads. This can be uncomfortable, and wet pads can lead to bacteria growing on equipment and creating further harm.
GloveStix Interview
If you want to avoid these problems, check out GloveStix and see why so many people have picked up a pair. Without the need for washing, keeping clean equipment becomes a breeze.
You can also always be sure you won't be the stinky kid in line. Put your mind and ease, and do your nose a favor by getting some GloveStix.
Glove Stix Lacrosse Shuts Out Odor
Krista Wood is the mind behind GloveStix, and this Lax Mom works harder than most players do. She was tired of having the terrible smell of lacrosse pads stink up her house, so she decided to fix the problem. Her idea to combat the smell was by eliminating it instead of covering it. The Glove Stix removes bacteria, moisture, and bad smells, so your equipment stays dry and odorless.
Her idea was put on the popular show "Shark Tank" and she won over the Sharks with her fantastic product and go-getter attitude. We saw her on the show, and when we went to LaxCon we knew we had to meet her. Krista was awesome and incredibly friendly, especially once she realized how much we loved her idea. I was often forced to leave my equipment in the garage and then still spray it down every night because of the smell. My mom would have loved to pick up a pair of Glove Stix years ago, but I luckily have a pair now that Krista was kind enough to give to me.
How Great Are GloveStix?
Really great and always a great thing to bring with you. Travel is just a part of sports, and bringing your equipment is a necessity. Keeping it smelling fresh isn't, but you should try to avoid such putrid obstacles. GloveStix are so easy to use and portable, it seems that not using a pair is a disservice to your own nose. Mine have made my locker and my bag much less smelly, and they have lasted an entire season without seeming to need a replacement. Even after the sweatiest of practices, my gloves smell fine the very next day thanks to GloveStixs.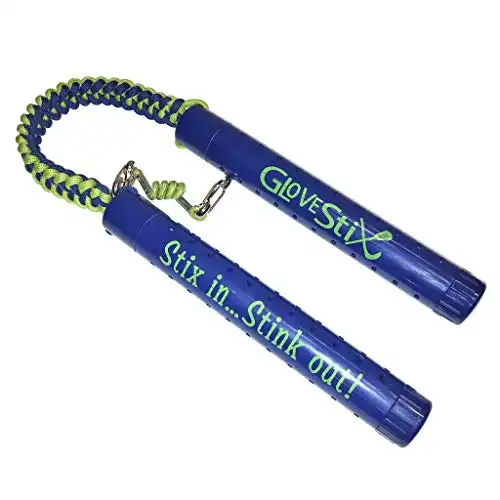 GloveStix Shoe Deodorizer and Odor Eliminator
Say farewell to the pungent odors and discomfort that often accompany your sports equipment with GloveStix, a revolutionary solution designed to keep your gear fresh, dry, and free from bacteria.
Pros:
Odor Elimination

Innovative Design

Endorsed by "Shark Tank"

Extended Equipment Lifespan

Versatile Use
Cons:
Odor Absorber Inserts Need to be Replaced
Buy on Amazon
We may receive a commission for your purchase at no extra cost. Thank you for your support. 🙏
12/04/2023 11:25 pm GMT
The smell is a plus, but an unconsidered factor is that elimination of moisture and how it affects wear and tear. Since GloveStix removes moisture, your gloves shouldn't be wearing as easily after you begin using GloveStix. I've noticed a difference in how my gloves have been holding up, and I believe the reduced moisture keeps the palms from tearing as easily. This could be huge for making sure you don't have to replace gloves midseason, for smell or rips!