You may hear of big time NFL players doing ballet in the off season and think that sounds silly, but it can do wonders for their footwork. Footwork is a major part of being an elite lacrosse player. It can be the difference between your man blowing past you or you coming up with a big defensive stop. As a dodger footwork can tripping over your own feet or making your way to the goal. Footwork is helpful for all positions, but it is most useful for defenders. They need to have good lateral movement to stay in the correct defending position as your player is approaching or dodging. Even if you think footwork isn't very fun or exciting, work on it.
Lacrosse Footwork & Agility Drills
Footwork is a crucial part of the game and an easy way to get much better. To get some swift moving feet you will have to work for it. There are so many drills to work on your speed and agility to help your footwork and make you a lockdown defender. Most of the drills use the agility ladder or some cones, and you can do them anywhere. Always be going full speed in training to achieve maximum results. Just make sure you are making the proper motions and it can even be some hidden conditioning for you. These are all great exercises and drills you can work on by yourself to improve your speed and agility which will help immensely in lacrosse.
Lacrosse Ladder Drills
Be light on your feet and stay on your toes. Always go full speed and focus on not skipping holes while also not touching any part of the ladder.
Forwards/Backwards
One foot in each box – as easy as it sounds. Move up the ladder and stay off the edges.
Two feet in each box – quicker movement, again staying off the edges.
Ickey Shuffle – this is a forward, but also side-side movement similar to juking. If starting on the right, you begin by putting your right foot in square 1. Then you put your left foot in square 1 and have your right foot move next to square 2 outside the ladder. From there you repeat the process moving your left foot up to square 2 with the right following after. Left in, right in, left out, right in, left in, left out.
Two in, two out – this is an easy one that involves a little jumping. You want to move from both feet inside the square to having both feet outside the next square with your legs spread. After that, you repeat up the ladder.
Bunny hop – another simple drill. Either focus on jumping as high as you can, or as quickly as you can. High jumps work on explosive power, while quick ones improve agility.
Switch Hips- use one specific side of the ladder and use the farthest foot the enter the square. So if you are lined up on the right side your left foot will enter the squares, your right will not. You will want to keep your torso straight and rotate your hips bringing your knees very high up. Every other square will be stepped in while ones that are not stepped in will be stepped next to.
Slolam – this is a side to side jumping movement that can go a few ways. You can either use one side of the ladder or the whole thing. For one side you will keep both feet together and jump in and out of each square. You can also use both sides. For this, you jump in from the left into square 1, then out to the right side, then into square 2, etc. Quick and small jumps work best.
More Lacrosse Drills: Lacrosse Dodges 101 & Lacrosse Ground Ball Drills
Lacrosse Cone Work
Lateral Movement
One foot in each – only use your lead foot to enter the square and then exit. Your feet should be moving the whole time. Then repeat on the other side with the opposite foot.
Two feet in each – similar to the previous foot except follow this rhythm. Right in, left in, right out, left out. Obviously, use the reverse on the opposite side.
Scissor Kick(Ali Shuffle) – instead of facing up the ladder, you now are facing the side. You want to start with one foot inside and one foot outside in an athletic stance. Then jump and switch your feet either in the same square or moving to the next square with your next foot. You can move one foot per square, or hit each square with both feet as you move up the ladder. Then repeat on the other side.
Carioca (you might call it Karaoke) – this requires a lot of hip twisting and torso rotation as well. If you are starting with your right foot closest to the ladder you will step with you left foot first. Both feet will hit each square just in the wrong progression of your direction. So step first with your left over your right, then back with your right, then repeat.
All drills require 4-6 cones and some free space. A backyard or field with about 20 yards of open space should work just fine.
The Drop Step Cone Drill
put cones about 7 yards from each other on one side, alternating in between on the other side, start up top and diagonally drop step to the one cone, then when you reach that one, back diagonally to the other side. Slowly work on your drop steps form and footwork then pick up the speed. You want your toes to heel, do not cross your feet.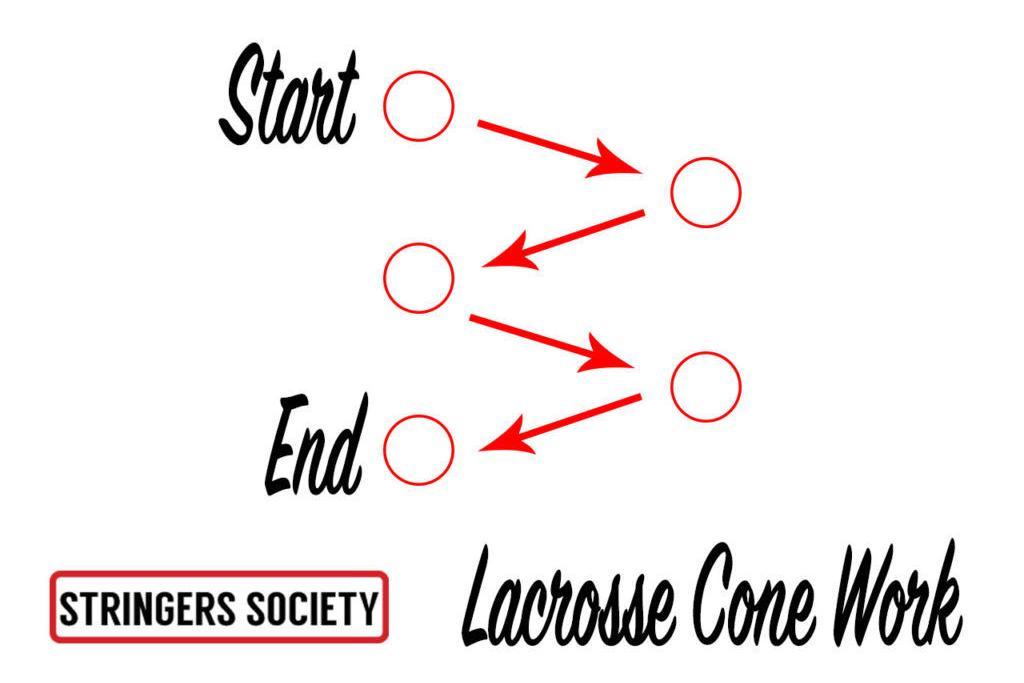 The Zig-Zag Cone Drill
Simple approaching cone drill back and forth, always focus on proper footwork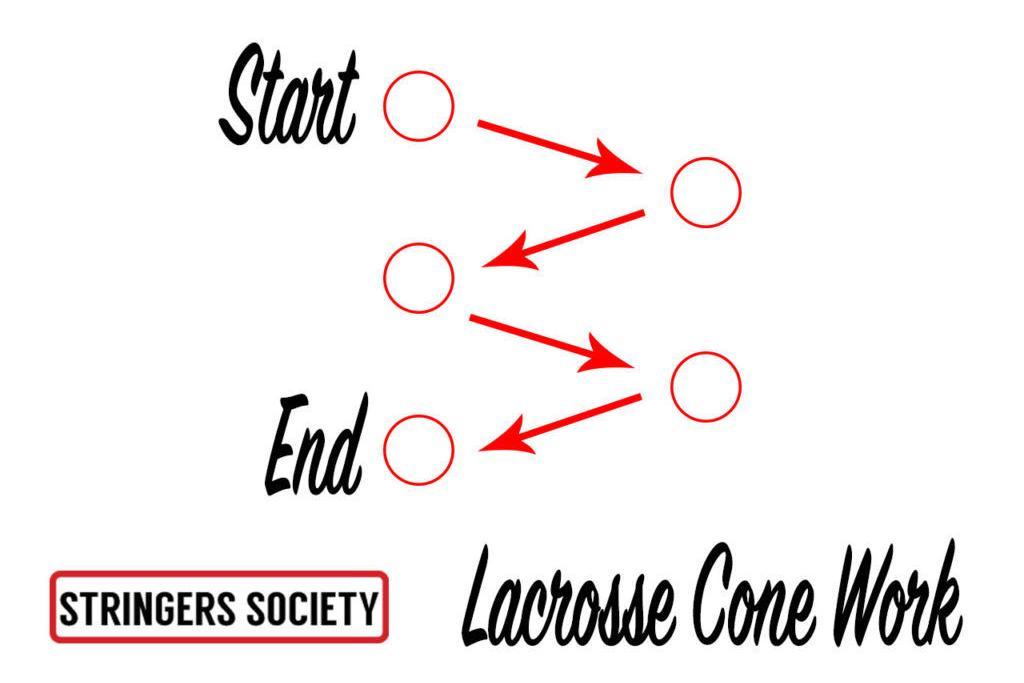 The Umbrella Cone Drill
works on defensive approaches, you are going to have a base cone, and 4 parts of your umbrella. You start at the base cone and attack your first cone approach it correctly, get topside, stick up field, then retreat back to the base cone the proper way, turn back inside stick up and to the inside, then once you reach the base cone back to the second cone and so on.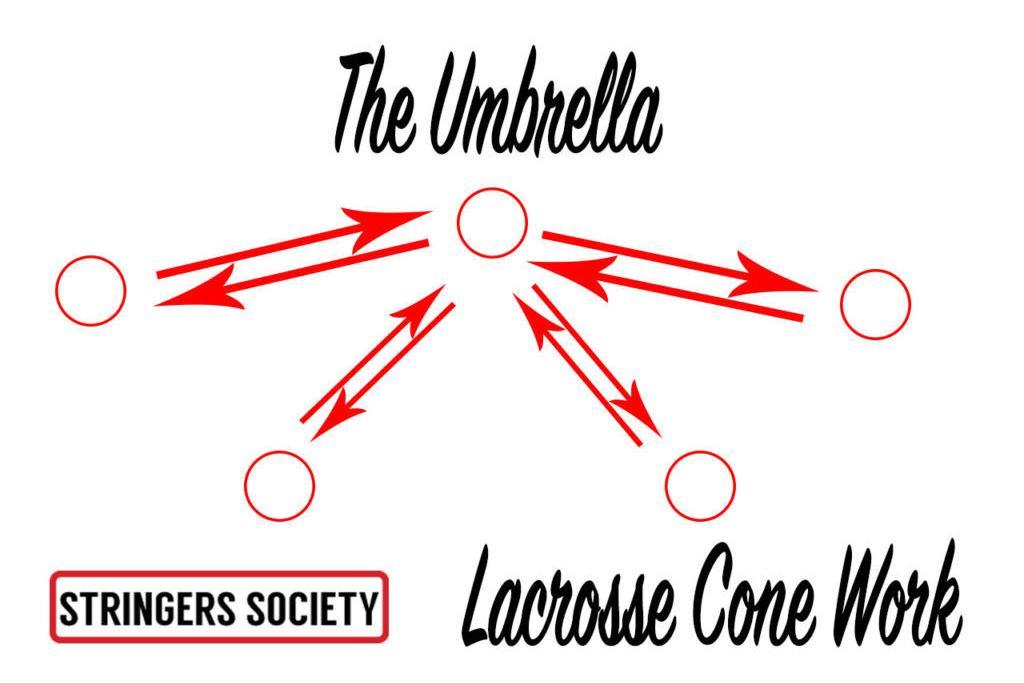 The W Cone Drill
works on change of direction going forwards to backward in a quick split. Set your cones up in a W about 5 to 7 yards apart from each other and approach the first cone sprinting at it break down, then back peddle to the other cone, then back forward. Focus on not wasting steps and taking too many back or when approaching coming in too hot and the defender blows by you.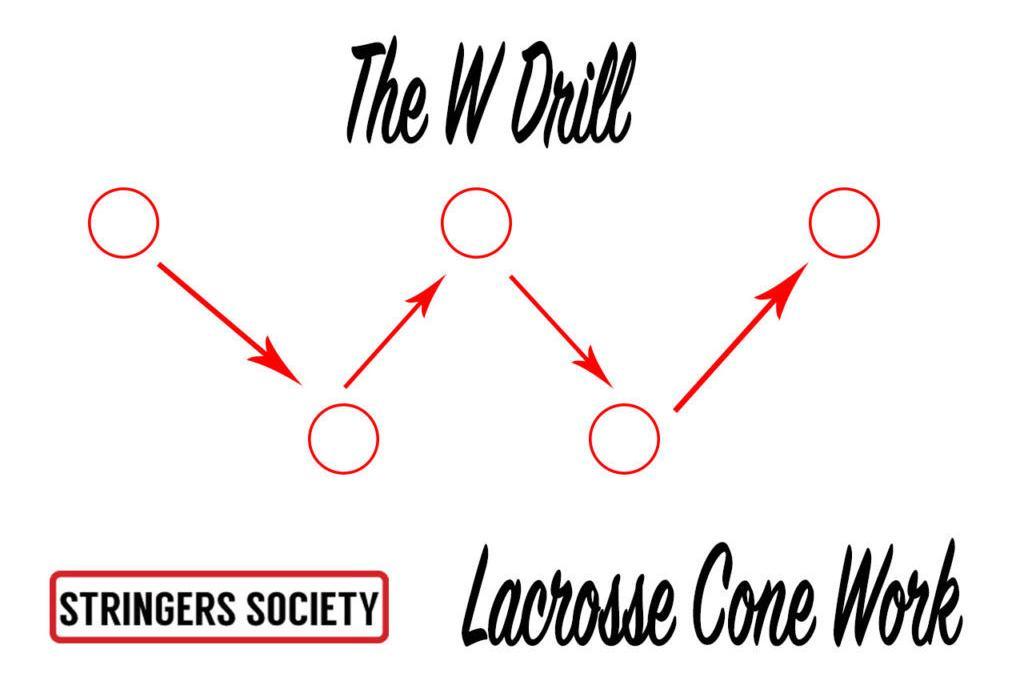 The T Cone Drill
works on lateral speed, sprint up to the first cone shuffle to the right cone, shuffle back to the left cone, shuffle back to the middle and back peddle back. Stay low and do not cross your feet