Get your hands on a piece of lacrosse history with the StringKing Mark 1. This is the first StringKing Lacrosse Head, which has been a massive hit since its release. Don't miss your chance to own the StringKing Mark 1 before it becomes unavailable.
Mark 1 Lacrosse Head Review
The Mark 1 was the first StringKing Lacrosse Head released but it's still a great option today. This bargain is an amazingly well-rounded head that can be used for any position. Some even consider the StringKing Mark 1 the perfect lacrosse head for just having a toss or introducing someone to lacrosse. One day, people will look back and remember how StringKing did such a great job with their first lacrosse head; the StringKing Mark 1.
StringKing Mark 1 Quick Facts
The StringKing Mark 1 lacrosse head offers a sturdy and practical design that incorporates the best features of their preferred heads. It is an excellent choice for players who aim for optimal performance and seek to avoid durability problems.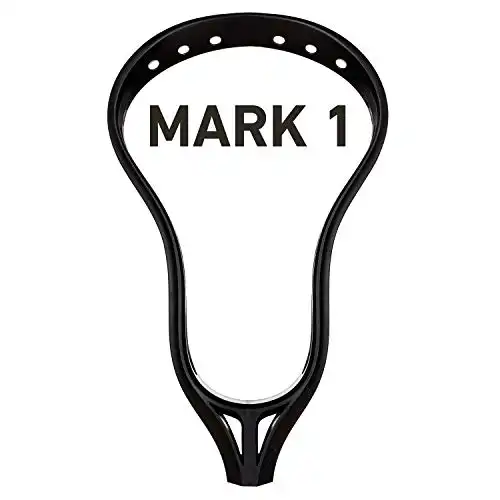 StringKing Men's Mark 1 Unstrung Lacrosse Head (Black)
The StringKing Mark 1 is a versatile, durable lacrosse head with a reputation for speed and accuracy. Its pocket-driven design allows for various placements, and the aggressive scoop makes ground ball pickups easy. Consider purchasing it before it becomes unavailable.
Pros:
Mark 1 is StringKing's first-ever lacrosse head.

An excellent option for casual play or beginners.

Features an ultra-stiff construction

Aggressive scoop design for easy ground balls.

Pocket-driven design with a unique side rail

A simple sidewall design
Buy on Amazon
We may receive a commission for your purchase at no extra cost. Thank you for your support. 🙏
11/28/2023 04:10 pm GMT
Ultra-stiff construction
When playing lacrosse, the head of the stick is specifically designed to avoid any bending or flexing while passing and shooting. This design provides players with higher levels of speed, accuracy, and consistency. Additionally, the construction of the head is made with superior materials, making it more durable and resistant to breakage, allowing players to use it for extended periods.
Aggressive Scoop
The StringKing Mark 1 lacrosse head has an aggressive forward tilt and a rounded scoop to facilitate attacking ground balls from any direction. This design enhances players' control and power when scooping the ball.
Pocket-driven design
The Mark 1 lacrosse head from StringKing features a distinctive side rail and face shape that is specifically crafted to accommodate mid-low to mid-high pockets.
Functionality drives style
The StringKing Mark 1 lacrosse head features a straightforward sidewall design that results in a lightweight, stiff, and long-lasting sidewall.