StringKing Lacrosse brought the heat with Type 4 and the new Tri-Twist technology that has reduced the weight of their mesh while increasing the strength. You also get a 6-month warranty on this lacrosse mesh, so you know that they trust the durability and performance in Type 4 over all other meshes they have created.
Type 4s and 4x Performance Mesh Review
The past couple of months, I have been messing around with both the StringKing 4x and 4s lacrosse mesh. You might remember our article on the StringKing Legend Complete lacrosse sticks that we did, and how great they are. In the article, we covered both the StringKing Legend Sr with Type 3s and the StringKing Legend Int with Type 3x. The first part of this review will focus on Type 4 vs. Type 3, using those sticks as a reference. Compared to Type 3x and 3s performance mesh, StringKing has decreased the hardness of both the Type 4x and 4s. Personally, I felt that this change helps StringKing's mesh lines; but, other stringers have complained that 4x has become too soft.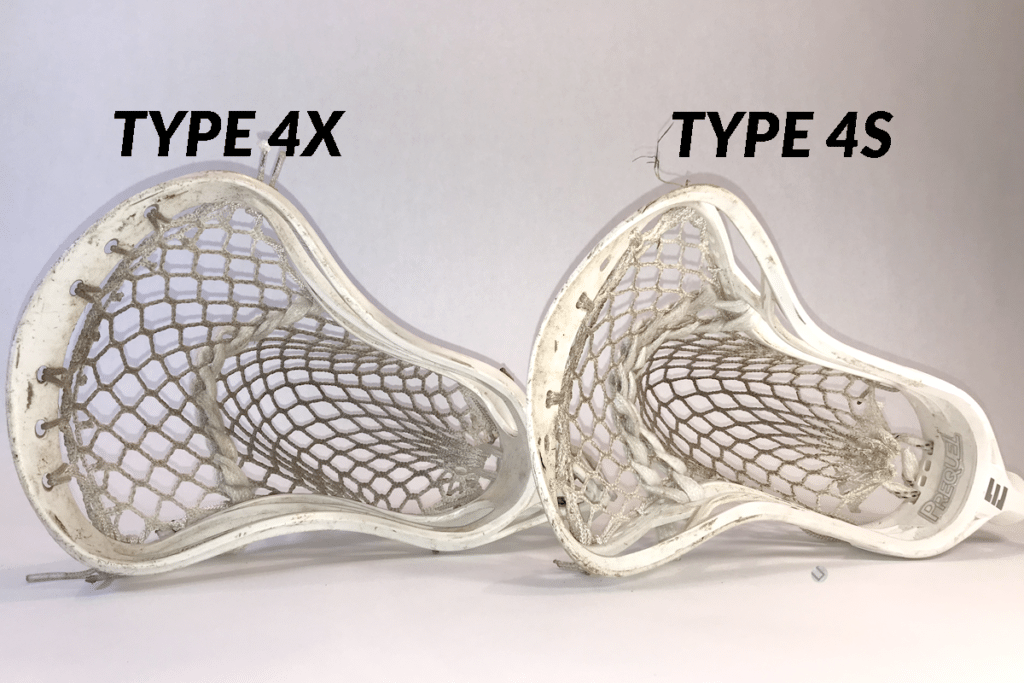 The price of the Type 4 mesh has stayed consistent with past product lines, coming in at $24.99 for just the mesh and $34.99 for the mesh kit; which also bumped down Type 3 mesh to $19.99. If the new Type 4's have become too soft for you, then you can now save some money on your preferred mesh. Just like how Type 3 improved upon the weave from TITE Tech to Twistex, Type 4 upgraded from Twistex to Tri-Twist Tech.
Compare and Contrast- Twistex vs Tri-Twist
Once you feel Tri-Twist from Type 4 you instantly think that Type 3 feels cheap and heavy. It's a strange realization, but you also feel yourself doubting your newfound opinion. Twistex mesh is still a high-quality product, yet when compared to Tri-Twist it seems like a $5 piece of mesh from the clearance bin. The extra light and extra strong construction of Type 4 mesh brings the same consistency of Type 3, just with a superior feel. Your connection to the ball is increased through a lack of extra fibers and the slightly bigger diamonds. Overall, you get the best qualities of Twistex with Tri-Twist, but you discover that less is more.
StringKing 4s Semi-Soft Lacrosse Mesh on Epoch Prequel
Less whip than Type 4x, due to the give of the mesh being less
Smoother release with less give in the pocket eliminating the tug factor
The hold really comes from your pattern and pocket placement, not the elasticity of mesh
Works well with gradual incline pockets for that true release shooter
17 Grams compared to type 3s which was 25 grams (8 grams lighter)
6 Month Warranty compared to the 3-month warranty on Type 3s (amazing)

StringKing 4x Semi-Hard Lacrosse Mesh on Warrior Evo 4x
Snappy pockets with a little extra tug work great with Type 4x
Little more hold than Type 4s, with a more inclined pocket with pulldowns
19 Grams compared to type 3x which was 26 grams (7 grams lighter)
6 Month Warranty compared to the 3-month warranty on Type 3x (still amazing)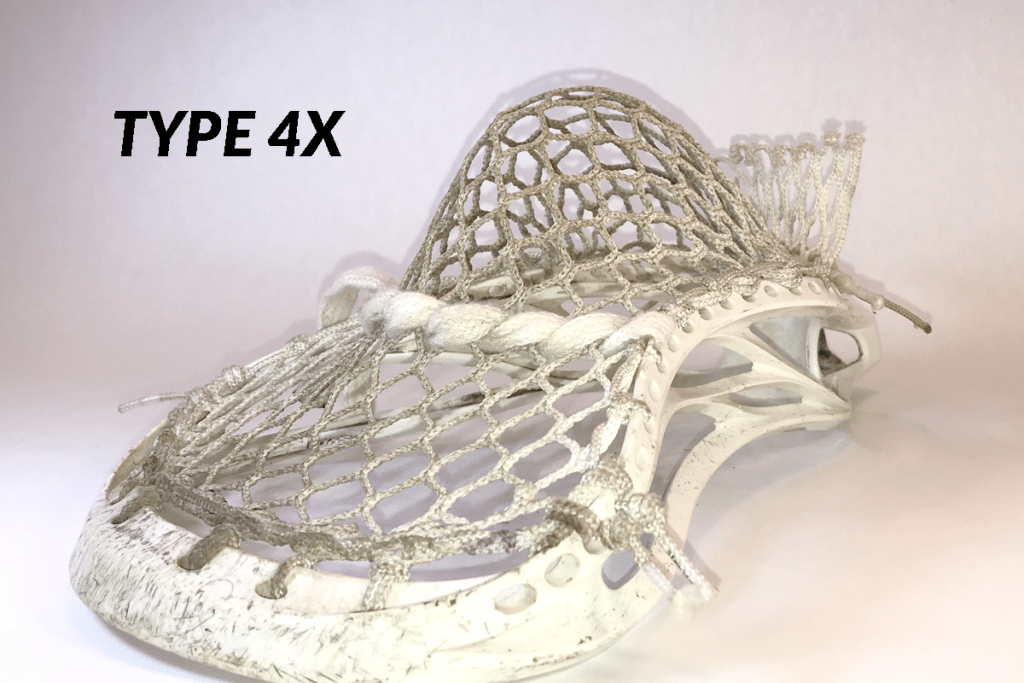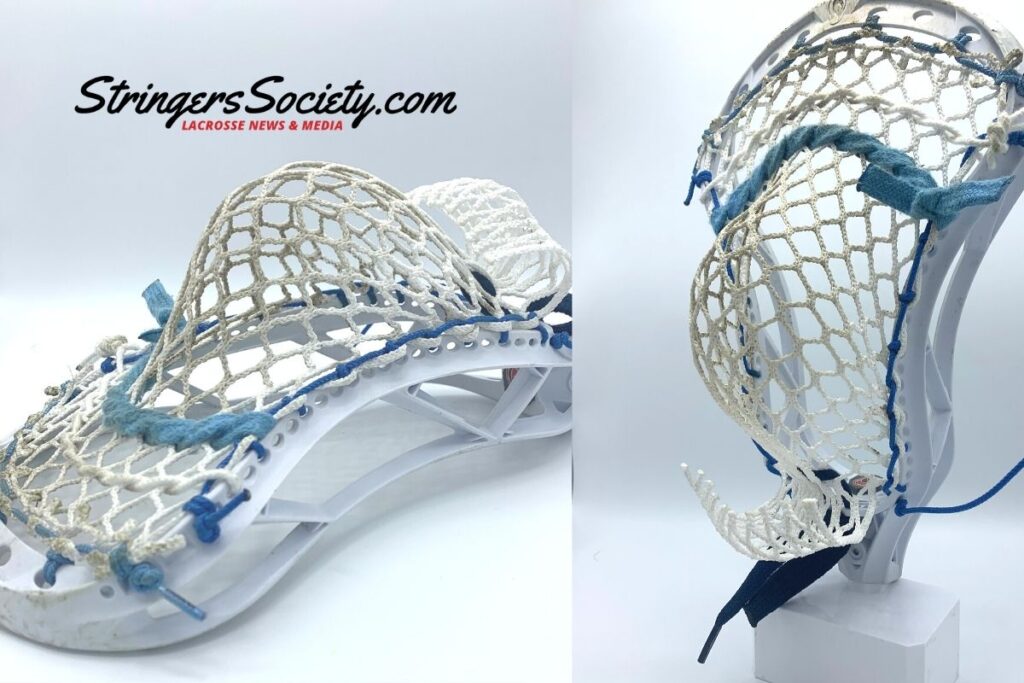 Final Thoughts – Type 4 Performance Mesh Review
Type 4x by StringKing easily hit my expectations compared to past product releases. Prior to the launch of Type 4, I always preferred the semi-soft version of StringKing's mesh. The previous semi-hard performance mesh tended to be a little stiff for my preference at first; but, after a solid month or two of use, it would break-in. With the release of Type 4 performance mesh, my preference has shifted towards the semi-hard version for a couple of reasons. While I can see how others may call type 4 "too soft", the advancements they have made really fit my stringing and playing style. I also think that the softness is just a result of the mesh's reduced weight and upgraded weave. Type 4 is an easy recommendation that has continued the excellence of StringKing's mesh game.