Rocket Mesh Lacrosse Mesh is made out of one of the world's strongest fibers, Dyneema. Just like how nylon/polyester fibers from normal hard/soft mesh have different characteristics than Fibers used in Otter or Hero Mesh, Rocket Mesh has its unique characteristics. They also coat each piece of performance mesh with a special polymer to create the best structure they can. This is purely for longevity and player performance.
Types of Rocket Lacrosse Mesh
Semi-Hard Performance Mesh

On The STX Professor
On The UA Prototype Head 

Semi-Soft Performance Mesh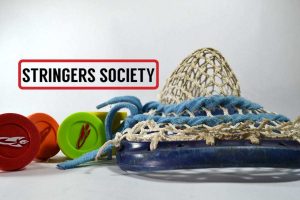 Dyneema Fibers is the Secret Sauce
All fibers have a stretch percentage that defines how much the mesh will stretch past its designed size. For nylon & polyester, that percentage is around 20-30%; but, Dyneema only stretches a maximum of 4% past its designed size. This means that once you string a pocket, that is the pocket you will have it perform the same for a long time.
Due to the primary fiber being Dyneema, Rocket Mesh is apparently 10x stronger than leading lacrosse mesh. Not only is Dyneema stronger than other fibers but it is also best for UV Protection & Abrasion Resistance.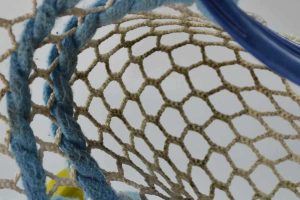 Summary: Rocket Mesh Lacrosse Mesh
The first thing that I thought when evaluating Rocket Mesh was the feeling it had. Compared to other lacrosse mesh, Rocket Mesh has a much smoother & softer lacrosse mesh. It was something that I had never experienced before when trying new mesh. It is somewhat difficult to explain because the feel of Rocket mesh is so different from every other mesh I have tried. For example, StringKing 3x Performance Mesh has a very rough texture with a very low stretch, and though many will disagree, I believe it takes a solid month of consistent use for the pocket to set. This is a very consistent piece of mesh and it breaks in faster than most other meshes, but Rocket Mesh comes ready. Because of such a low stretch rate, the mesh doesn't really need continuous wall ball or pounding.
Once you take Rocket Mesh out of the package you need to stretch it to string more than most pieces of mesh.
This is just because the fibers are so strong and resistant to stretching, but after a slight pocket pounding it was perfect.
Most mesh requires a small stretch to string and then stretches over time with use. Rocket mesh completely reverses this process.
I normally have to adjust my shooters once a week for a month after stringing a new piece of mesh because the stretch changes the whip, but not with Rocket Mesh.
There has been no need to adjust my setup since stringing it and stretching it out from the original shape which has been ideal. The low amount of stretch allowed me to string a much tighter channel without being worried about bagging or whip. This is exactly what stringers are looking for when stringing someone else's stick so that they don't have to keep coming back for tune-ups every week.
Conclusion: Rocket Mesh
Your pocket should require maintenance, not constant revisions because the mesh is letting you down. String your stick correctly the first time with Rocket Mesh and you won't have to change a thing thanks to Dyneema. You can support Rocket Mesh Lacrosse and buy a piece of Rocket Mesh Lacrosse Mesh in the Stringers Society Lacrosse Store.