Signature Lacrosse is currently an industry leader most well-known for creating the first "Premium Lacrosse Balls," but the reputation of Signature Lacrosse has taken a recent hit. While this wasn't massive news, it was still rumored and posted on social media that Signature Lacrosse balls were not NOCSAE certified products. This rumor gained some traction and caused speculation in the lacrosse community about whether the lacrosse balls they owned were safe. The claim essentially was that Signature Lacrosse was using another company to produce their lacrosse balls and stamp them with the NOCSAE seal of approval, despite being an unapproved version.
This claim's only "evidence" was pictures of Signature Lacrosse balls posted on the illegitimate vendor's site. The balls were posted as an example of a product that they made with a disclaimer that the balls do not meet NOCSAE standards for safety. In reality, this isn't very strong or convincing evidence of any foul play; but, social media is not always a rational place. As friends of Signature Lacrosse and advocates of the truth, we wanted to bring you the real story about Signature Lacrosse Premium Balls.
Are Signature Lacrosse Premium Balls NOCSAE Certified?
To answer quickly; yes. Now, what does that mean? What is NOCSAE? And how does one get certified? NOCSAE is a group, the National Operating Committee on Standards for Athletic Equipment, that sets standards for what is considered to be "safe" equipment in sports. They have been making these standards for sports for over 50 years now, and sports have truly gotten much safer. But NOCSAE only sets these standards and does not do the testing.
To be found to have passed NOCSAE certification, products are tested by SEI, the Saftey Equipment Institute, to determine whether they give the standard. SEI conducts these tests so that NOCSAE can't be in full control over who has available products and who doesn't.

Signature Lacrosse has passed NOCSAE certification through SEI multiple times because they have released multiple formulas of lacrosse balls. NOCSAE even has made adjustments to the current standards for lacrosse balls after the introduction of Signature Lacrosse Premium Balls to the market, but Signature Lacrosse Premium Balls still passed without issue.
Improving Standards with NOCSAE
In terms of lacrosse balls, NOCSAE has raised the standard for what is and what isn't acceptable several times in the past few years. Now, this was all done in the name of safety, and the standards have only allowed for some minor changes. One specific change was for lacrosse balls to be allowed to have a grippy or textured surface. This rule isn't applicable here, but it's an example of how the game has changed along with these standards from NOCSAE.
Signature Lacrosse has always taken safety extremely seriously and put their passion into creating the best lacrosse ball possible. The three main focuses of Signature Lacrosse when crafting their products are as follows: Safety, Performance anc Digital Visibility for lacrosse. Signature Lacrosse approached their vision and wanted to create a lacrosse ball that was safe for all levels of play for years and years to come. So Signature Lacrosse looked into how to actually develop a more consistent lacrosse ball and did exactly that. With the help of chemistry, preparation, and many really smart people, Signature Lacrosse reduced the variance of models, or manufacturing tolerance, by over 80%. This means that you get more lacrosse balls that were just like the other lacrosse balls you were just using. Signature Lacrosse really drove home this consistency in their product development to give players more out of every rep they take and make lacrosse more consistent overall.
By creating more uniformity, once the formula is considered "safe," all the balls produced after are going to be the same thing. A wide amount of variance means that the ball they used for testing could be very different from the ball you buy in–store, but Signature fixed that issue.
Signature Lacrosse and KSONE Uncovered
So why was Signature's ball even called into question? Why was the official ball of the NLL and the most used lacrosse ball in college lacrosse suddenly being thought of as a back-alley knock-ff by some on Instagram? How could people even make a claim attacking a company like this unless this was a case of whistleblowing on par with Pfizer? Well, here's your answer.
KSONE, a Chinese "lacrosse" goods manufacturer, had, and has, Signature Lacrosse balls pictured on their site. SEI, yes that SEI from before, has a warning on their site saying that KSONE balls, and the company in general, are basically frauds. Competitors of Signature Lacrosse noticed the pictures of Signature Lacrosse Premium Balls on the KSONE site after seeing the warning and began discrediting Signature. From there, the lacrosse community on Instagram saw the pictures and ran with it.
Doubt from the Community
Pearl Lacrosse, a subsidiary of Guardian Sports, has really been the one stoking the fire on this topic, and consumers have noticed. While one would think that this news would potentially damage the reputation of Signature Lacrosse and hurt their sales; however, according to inside data we received from Signature Lacrosse, the current sales of Signature Lacrosse Premium Balls have more than doubled compared to last years sales. Pearl Lacrosse posted to their regular feed and story about the KSONE/Signature snafu, and they independently submitted the pictures to Art or Lax. It's not subtle, but is it effective?
"We are built by the players, for the players; competition is something we encourage and focus on internally…We are constantly in competition and it naturally drives us… We are consistently in competition with ourselves… A question that gets tossed around a lot at the office is 'How can we beat our best?'… This is something that I take a lot of personal pride in because by focusing on building the best products we possibly can, and by constantly striving to beat our best, we will change the landscape of the sport with the innovations we will bring to market!" – Dan Soviero (Signature Lacrosse CEO on the recent attacks on the integrity of Signature Lacrosse)
A Muddied Venture
Pearl is trying to muddy the name of Signature, but CEO of Signature Dan Soviero loves the competition. He invites other companies to question the quality of his team's products because, in his heart, he knows they are second to none. Dan was also open to talking with me about the Signature/KSONE story from the Signature side. Up until now, Signature has just been getting attacked online and not responding. Here, we are going to hear what Signature Lacrosse has to say.
"I knew the day would come when a supplier of ours would try and go direct to the market to sell our brands products, but I genuinely did not think it would come from this partner…I had spent months with him and his family in China [sic] teaching them the game of lacrosse." Dan Soviero (on his relationship with KSONE representative Steven Pan)
It's true Signature Lacrosse was, at one point, working with KSONE in China. According to Dan and Signature, their partnership was based on allowing KSONE to use the Signature formula to make lacrosse balls that weren't necessarily for lacrosse. Lacrosse balls have become a commodity in athletic and orthopedic training and recovery because they are a great tool for a variety of things. KSONE would produce the cheapest rubber ball that resembled a lacrosse ball possible and then sell it without it being intended for lacrosse to make a profit and gain the demand that didn't need a NOCSAE certification on their ball.
Where Things Begin to Become Tricky
Because of this relationship, KSONE had access to Signature Lacrosse information and specifications for products. KSONE was able to produce "Signature" lacrosse balls if they wanted to, but they would not be produced with the permission of Signature. This is where the issue really arises and becomes more of a "if a tree falls in the woods and no one is around to hear it" debacle. KSONE had access to EVERYTHING needed to make an actual Signature Lacrosse Ball, except for the permission of Signature Lacrosse. So, they make a KSONE lacrosse ball and put pictures of Signature Lacrosse Premium Balls on their site for comparison. They could have even been Signature counterfeit balls produced by KSONE or stock images from the Signature site for all we know, but the pictures go up on the KSONE site. And did we forget to say that KSONE is branding their balls as NOCSAE certified?
Besides the stealing of the Signature Lacrosse ball, KSONE also tried to pass of Signature Contract lacrosse heads as their own. KSONE used the mold and formula for the Signature Contract to produce lacrosse heads with no branding and then attempted to sell them as their own. Luckily, Signature Lacrosse was tipped off by loyal lacrosse lovers including BurnedByLax. Dan, the CEO and founder of Signature Lacrosse, thanks all of those in the lacrosse community who brought this to their attention and cared enough to speak up.
The Signature and KSONE Debacle Continues
Now, no great play only has one act; and neither does this story. While we have already discussed KSONE selling "Signature" balls and saying they are NOCSAE certified, the exact opposite also happened. This is a little odd that this story mirrored itself so well in some type of Shakespearean tragedy, but here we are.
So, before KSONE was in the process of trying to covertly make counterfeit "Signature" lacrosse balls, they were also making their own lacrosse balls. These lacrosse balls have nothing to do with the Signature Lacrosse formula or otherwise, but were being produced in the same facility that Signature was trying to get access to for their own production of the first Signature Premium lacrosse ball. During this time, Signature was contacted by NOCSAE and informed that the ball they were currently selling to create a market base (not a Signature lacrosse ball) was not actually NOCSAE certified. Signature Lacrosse immediately began looking for a replacement lacrosse ball to satisfy pending and future orders. KSONE then conveniently informed Signature they would be happy to supply them with KSONE lacrosse balls in the meantime.
Fool Me Twice; Well, You Can't Fool Me Again
Signature Lacrosse and KSONE began a partnership that involved Signature moving KSONE lacrosse balls that were stamped "NOCSAE certified" without the actual approval of NOCSAE. KSONE sent doctored certification documents to Signature Lacrosse in an attempt to fool them into selling these fraudulent balls. We were given access to these documents, and they seem extremely legitimate. There's no surprise that these false documents could convince a purchaser that they were buying a safe lacrosse ball. Once Signature Lacrosse was contacted by NOCSAE about KSONE"s actual status, they immediately severed their ties with KSONE. It wasn't until later on that KSONE was either copying the Signature Lacrosse formula and claiming they were making NOCSAE approved balls or just printing the Signature logo on counterfeit balls.
The Best Product Forward
In an attempt to help players get more out of their lacrosse balls, Signature Lacrosse has improved their own formula and construction after already being a leader in the industry. But why? Signature Lacrosse was already selling lots of lacrosse balls and the provider of lacrosse balls to lots of teams across the country but still decided to change. And they did it for you! Signature Lacrosse doesn't want to be complacent or lazy, so they always try to improve themselves for the players.
Signature Lacrosse's team is comprised of former players who only want to make your life easier. Their purpose is to make lacrosse equipment as easy to use as possible because lacrosse is already a challenging sport for lots of players; especially when you are just picking up the sport for the first time. Your equipment should be the last thing you have to worry about when playing lacrosse, but for so many players it is their biggest problem.
The Signature Plan
Signature Lacrosse, Dan their CEO and founder, and the entire staff at Signature Lacrosse are committed to player-driven excellence. Everything that they produce is done from the perspective of an athlete, and they know how much athlete's hate feeling cheated.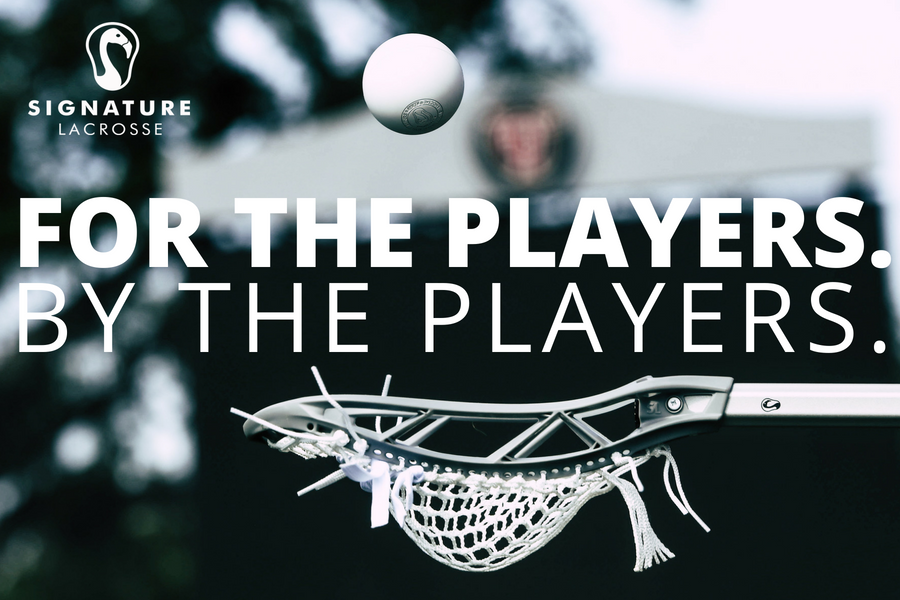 The Signature Plan is to make lacrosse products that exceed expectations, perform consistently, and solve the problems in the lacrosse market. This plan is exactly why Signature Lacrosse has worked so tirelessly to make the best lacrosse ball on the planet with a lower variance of quality, and higher quality in general, than ever seen before. And the effort and passion from the Signature Lacrosse team are not to be wasted by being replicated or mocked by a fraudulent brand attempting to pass off sloppy work as the work of another company. It's unfortunate that several players, teams, and stores were affected by KSONE balls finding their way into the market; however, Signature Lacrosse is a victim in this situation as well.
Signature Lacrosse is a lacrosse brand that always is willing to own their mistakes, stand by their vision, and embrace competition. This incident is not the brightest spot of their company's history; but, we all learn more from failures than from victories. Signature Lacrosse is always learning, and their team is always working to make lacrosse equipment the best that it can be; that's the Signature Plan.