In lacrosse, attackmen always have the main objective of putting the ball in the back of that net. Unfortunately, that "simple" task is easier said than done, and complex tools are often required to achieve the desired result. That tool, lacrosse attack heads, provides attackmen with the ability to control the lacrosse ball and manipulate gameplay like a sculptor with clay. Below, we examine some top-of-the-line lacrosse heads designed to give the modern lacrosse attackman the advantage over any defense that dares to face them.
Attack Lacrosse Head Features
A narrow face shape towards the throat for better ball control
Mid/Low pocket placement design
Constructed for accurate shooting and passing
Lightweight and durable design
A scoop that allows for easy-out groundballs
Best Men's Lacrosse Heads for Attack
Finding the best lacrosse head for an attackman requires some inward perspective. Only you can decide what the best lacrosse head is for an attackman, and we can only make you informed before you decide. Personal preference should always be the driving force in your evaluation of a lacrosse head because an attackman needs to feel comfortable and confident in their abilities at all times. Next, the qualities of price, durability, weight, shape, and stringability should all be considered in all of your choices.
ECD Mirage 2.0 Lacrosse Head
The ECD Mirage 2.0 Lacrosse Head is a lightweight and durable head that will work well for any offensive player, but especially any attackman. The Mirage 2.0 builds upon all the great features of the OG Mirage, which offensive players and stringers will both love. The Mirage has quickly become a "classic" and sells in stores like cider in the Fall.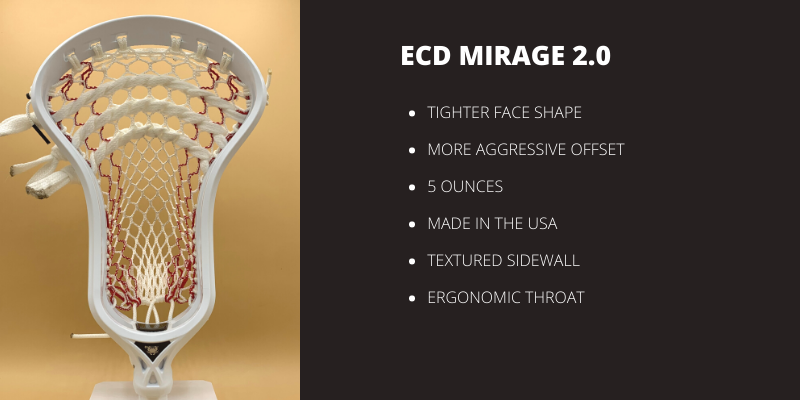 The Mirage 2.0 features an aggressive offset, tight face shape, stiff construction, and a perfect scoop. You'll notice a lot of similarities between this head and others in the same price range, but what makes the Mirage stand out from the pack is its durability, textured sidewalls, and higher pocket placement.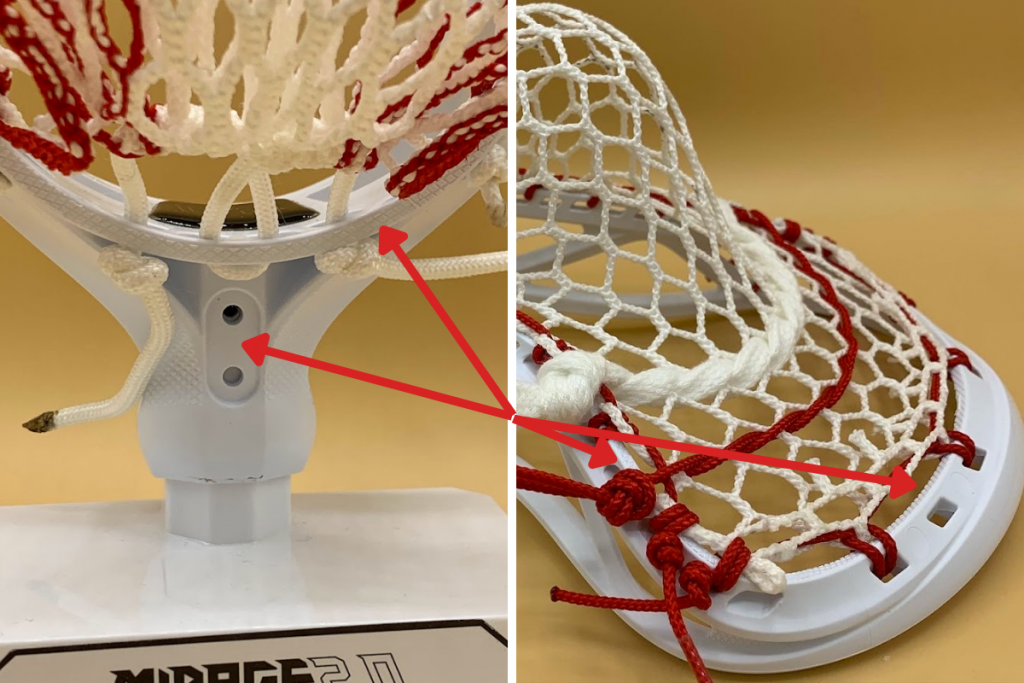 While most lacrosse heads on this list only include a single screw hole, the ECD Mirage has two screw holes and is the only head with an ergonomic throat. ECD didn't only emphasize innovation in the throat but they also added a textured sidewall design.
ECD Mirage 2.0 Unstrung Lacrosse Head
The Mirage 2.0 Lacrosse Head features a whole new level of performance with its aggressive offset, tight face shape, stiff construction, and perfect scoop.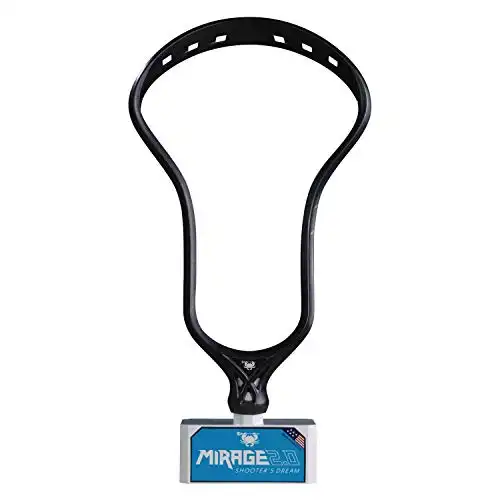 We earn a commission if you make a purchase, at no additional cost to you.
While it's a pain to unstring, the textured sidewalls of the Mirage allow for your sidewall knots to lock into place. Stringers will find it easier to place pockets and design new sidewall patterns due to this added feature. The ECD Mirage 2.0 sidewalls include 18 holes, which is 11 holes less than the Mark 2V, but this should be plenty.
---
Maverik Optik 3.0 Lacrosse Head
The Maverik Optik 3.0 lacrosse head is perfect for the player who wants a head that is both lightweight and durable.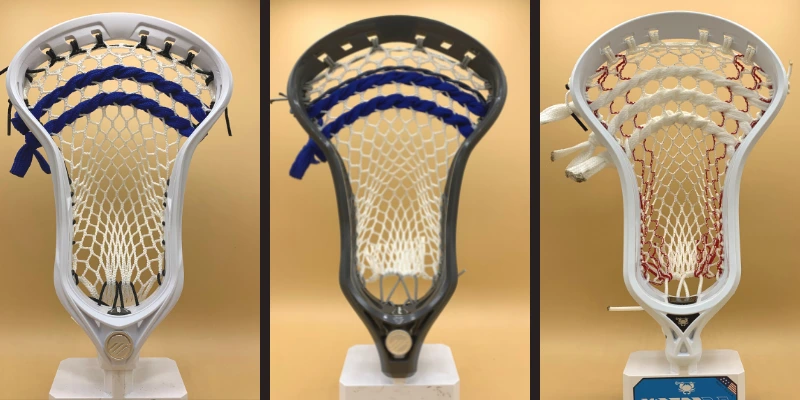 Made for the quarterback of the offense, the Optik 3.0 has a shorter throat, a more durable design, and an improved face shape that provides enough surface area to snag loose passes and grounballs.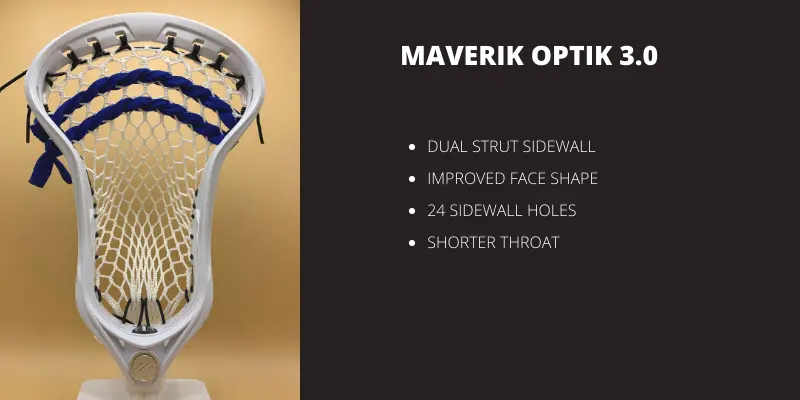 The big difference between the Optik 3.0 and Optik 2.0 is the shorter throat and improved face-shape. They both feature Tension lock, duratough material, and XRAIL Technology. The first lacrosse head pictured above is the Optik 3.0, which definitely looks much beefier than the Optik 2.0 and Mirage 2.0. Also, notice the improved face shape and shorter throat for an overall stouter design.
Maverik Optik 3.0
The Optik 3 Lacrosse Head is designed for superior performance on the field with increased offset, dual-strut sidewall, and optimal face shape.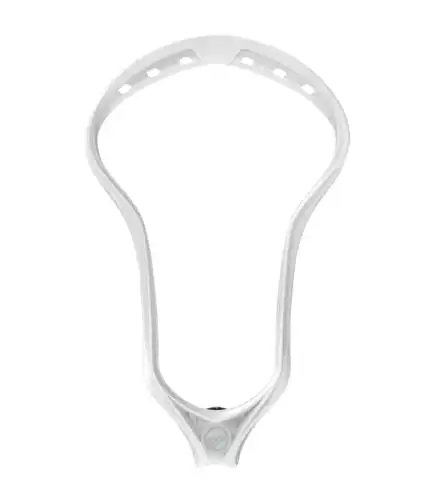 We earn a commission if you make a purchase, at no additional cost to you.
Compared to the ECD Mirage 2.0, which is designed for a mid to mid-high pocket, the Maverik Optik is designed for a low mid-pocket. Maverik also took a different approach from ECD on the throat, which is now short like a face-off head. This compressed style of head that still has a tight shape provides a lot of control with less for defenders to hit.
---
STX Surgeon 900 Lacrosse Head
STX Lacrosse has made a great push in product development over the years and has really improved upon some of its original STX lacrosse head designs. The Surgeon 900 has been one of the most improved lacrosse heads, from the scoop to the throat. It is also one of the lightest attack lacrosse heads STX has ever made, weighing in at only 4.4 ounces.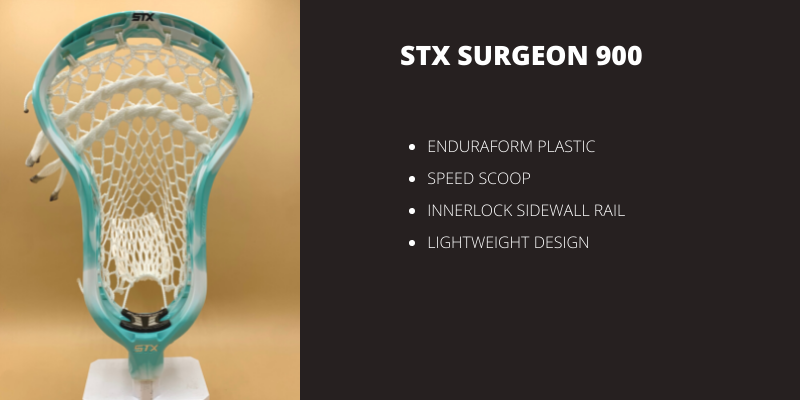 STX had a solid improvement in the Surgeon 900 that puts it above the Surgeon 700 for overall usability as well. The Surgeon 700 head features built-in handle support to reduce head rattle. Unfortunately, this feature made the Surgeon 700 incompatible with most carbon fiber handles that have a closed top. STX knew this reduced the number of players choosing their head, so they redesigned the throat to fit all shafts with the same security.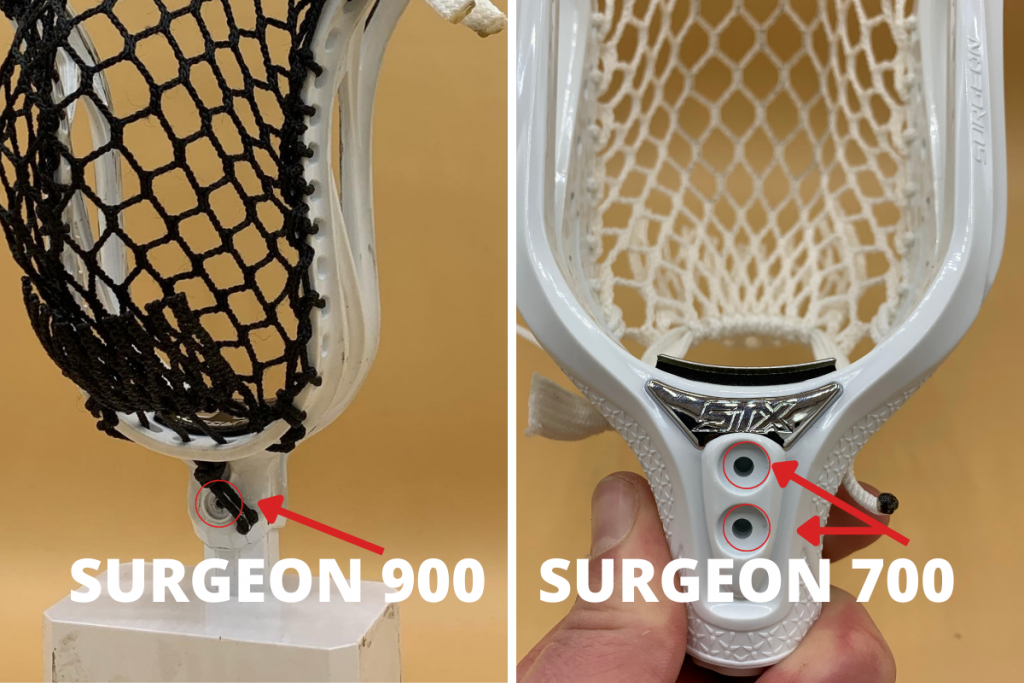 The Surgeon 900 reverted back to a design that's similar the Surgeon 500. This included moving back to a single screw hole on the back of the head compared to the double screw hole in the front on the surgeon 700.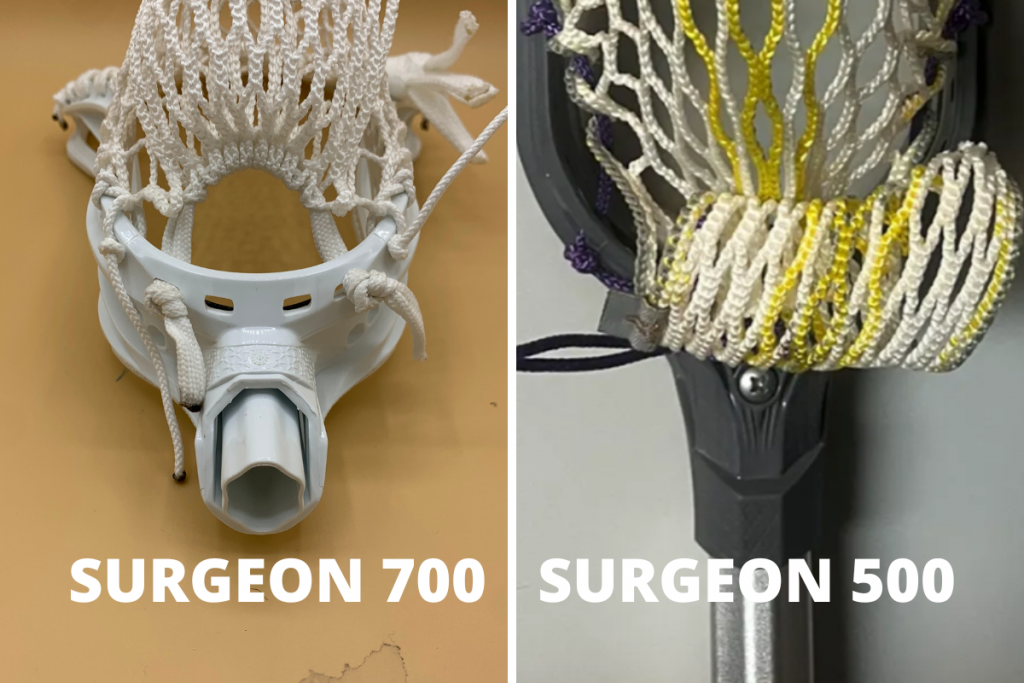 The STX Surgeon 900 Lacrosse Head is a light, accurate, and powerful attack head that really lets you rip the rock.
STX Surgeon 900 Unstrung Head, White
Revolutionize your lacrosse game with the new STX Surgeon 900 lacrosse head. This ultra-lightweight design offers optimal control and power to help you dominate on the field.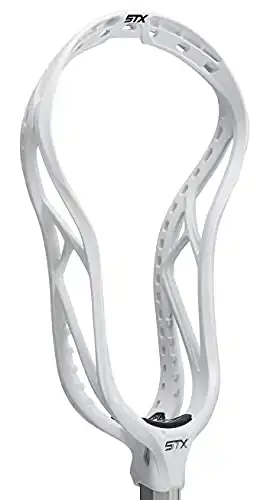 We earn a commission if you make a purchase, at no additional cost to you.
Equipped with STX's signature Speed Scoop, Innerlock Sidewall Rail, and Enduraform plastic, the Surgeon 900 head gives you the accuracy and power you need to dominate the competition.
StringKing Mark 2A
The Mark 2A lacrosse head is designed for low pocket placement, quick hands, and accurate shots. It gives offensive players exceptional control and allows for precise shooting right off catching a pass. Weighing 4.47 ounces, the Mark 2A is the second-lightest lacrosse head on this list.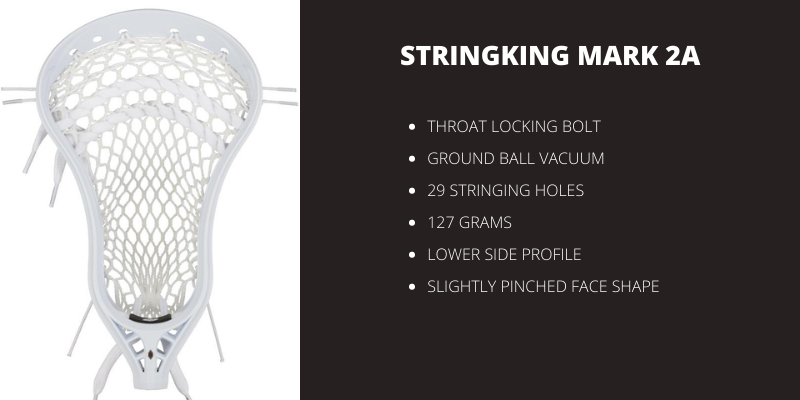 An impressive feat in the construction of the Mark 2A was the number of sidewall holes StringKing was able to fit in the design. With 29 stringing holes, the Mark 2V has the most sidewall holes on this list by a large margin.
StringKing Mark 2A Attack Lacrosse Head
The StringKing Men's Mark 2A Attack Lacrosse Head is perfect for offensive players who want exceptional control, quick hands, and accuracy. Enjoy the optimal balance of power and precision.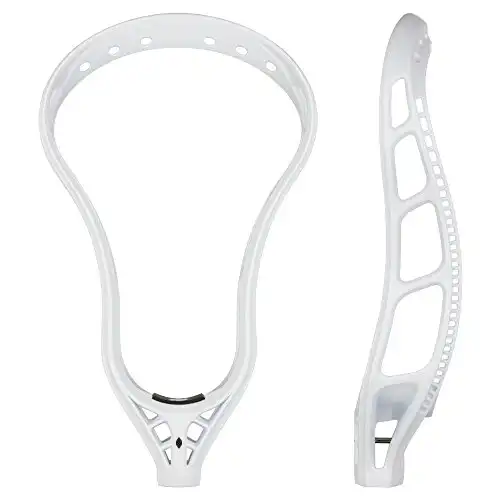 We earn a commission if you make a purchase, at no additional cost to you.
A downside of buying a Mark 2A Lacrosse Head is the locking bolt can be extra tricky to install. You will want to ensure that both screw holes on the front and back of the head are aligned perfectly. Another less noticeable downside to the Mark 2A is the lack of innovation around the throat. It would be nice to see StringKing evolve this shape that seems to have a more dated look as the years tick on.
Nike Vapor Elite
The Nike Vapor Elite lacrosse head is the lightest Nike head available, weighing in at 4.76 ounces – .84 ounces lighter than the Nike L3. Made with exclusive hyper-tough polymer, the Vapor Elite Head is incredibly durable and a lightweight option for any offensive player.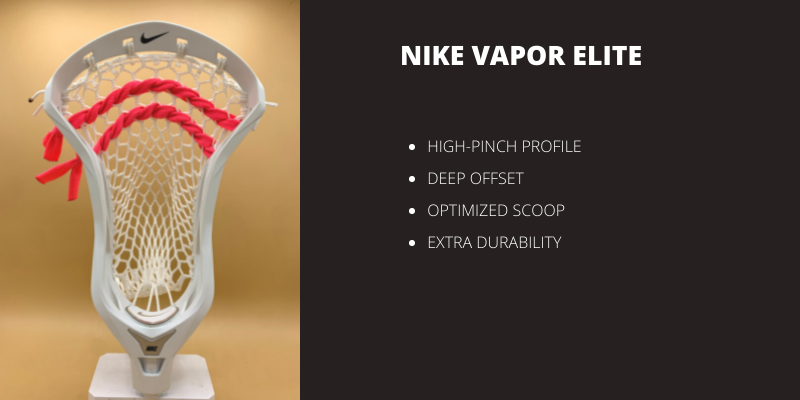 One plus side of the Vapor Elite Lacrosse Head is the Mid pocket placement and 16 sidewall holes. If you like a mid-high pocket placement, you might want to consider the Nike L3 Lacrosse Head, which has a tight face for enhanced control and accuracy during the game.
Nike Vapor Elite Lacrosse Head
Experience the lightest Nike lacrosse head available - the Nike Vapor Elite. At just 135g, it offers maximum performance on the field without compromising control and accuracy. Get yours today!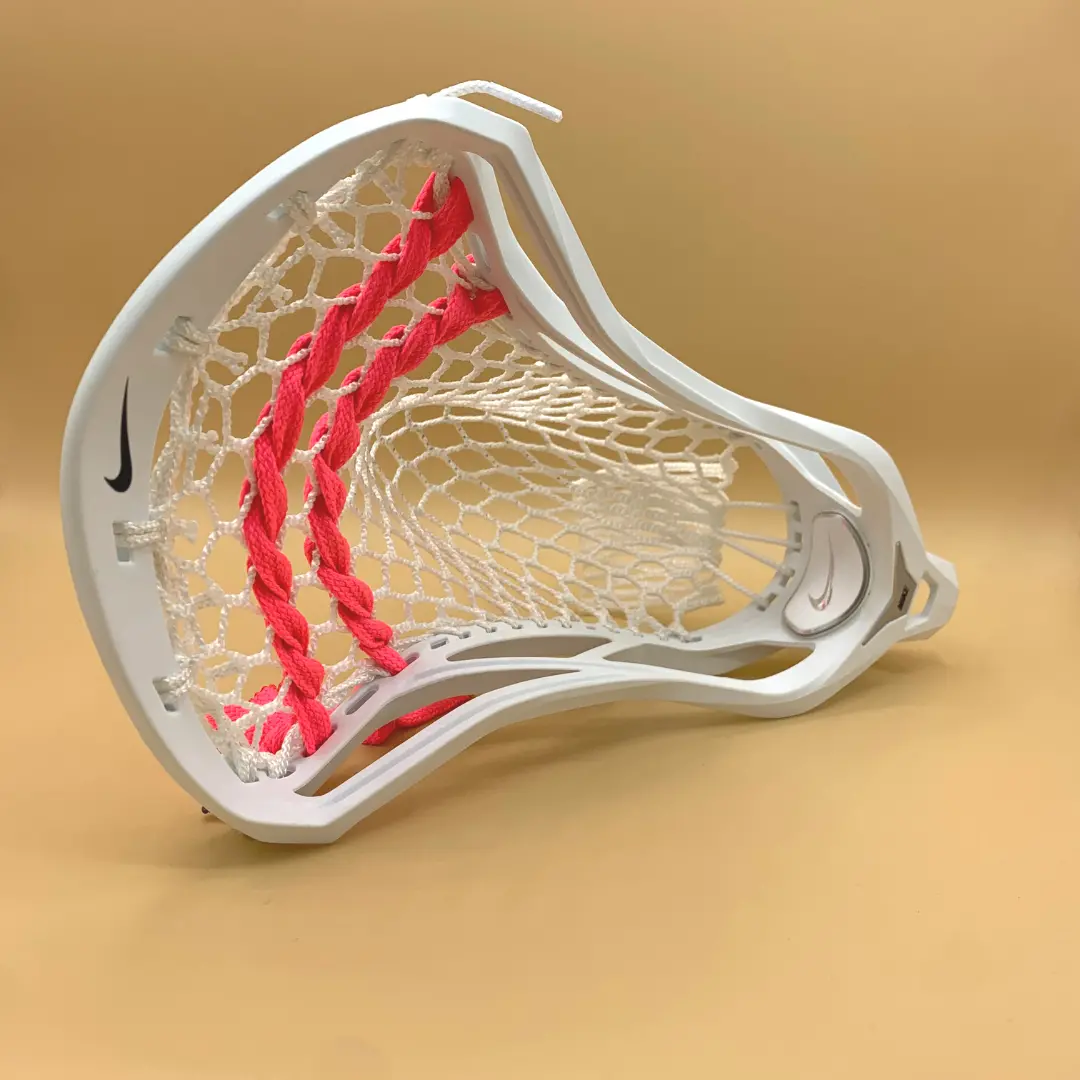 We earn a commission if you make a purchase, at no additional cost to you.
The Vapor Elite Lacrosse Head has a slightly lower pocket placement and improved durability, which makes it the optimal choice for a dodging attackman.
---
Attack Lacrosse Head FAQ
What is the Lightest Lacrosse Head?
The lightest currently legal for play lacrosse head is the STX Surgeon 900 Lacrosse Head which weighs 4.4 ounces.
What lacrosse head has the most sidewall holes?
Stringers looking for extra sidewall holes will want to check out the StringKing Mark 2A Lacrosse Head which has 29 holes or the Maverick Optik 3 which has 24 sidewall holes.
Custom Strung Attack Lacrosse Head
In the Stringers Society Lacrosse Shop, lacrosse stringing is free when you buy a new lacrosse head or you can fill out an order form.
To qualify, add your favorite mesh and strings to your order, and you'll get the option to upgrade to free stringing.
Free stringing is a great way to save money, so don't hesitate to add it to your order at Shop.StringersSociety.com!